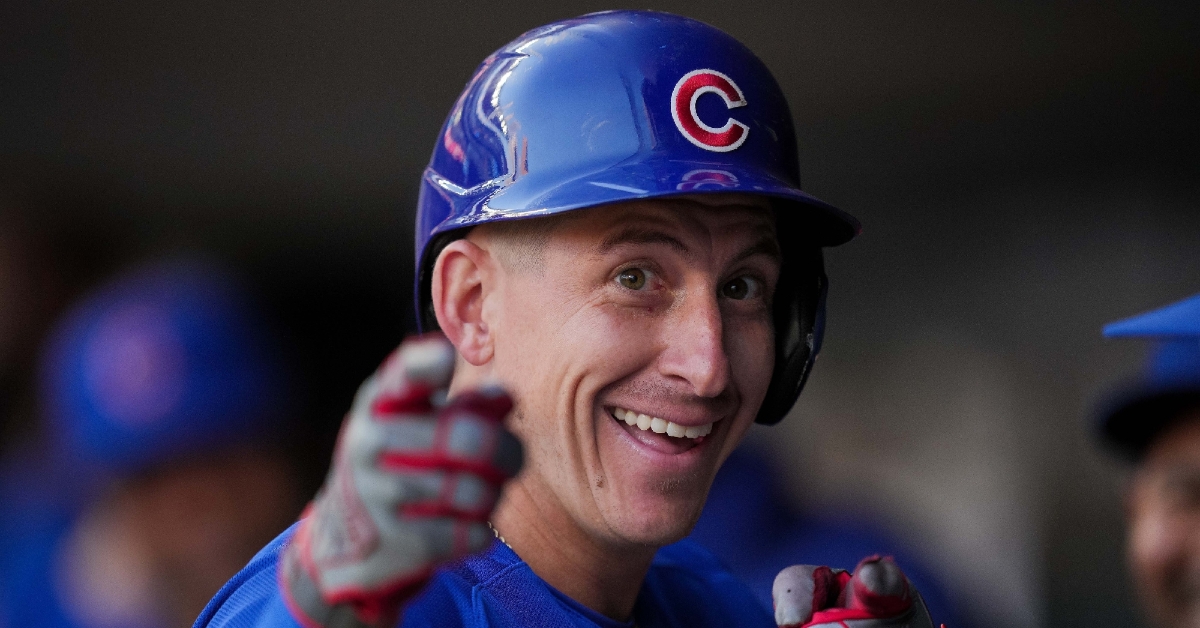 | | |
| --- | --- |
| Cubs News: 2021 Season Report Cards: Anthony Rizzo, Frank Schwindel, Alfonso Rivas | |
---
| | | |
| --- | --- | --- |
| Thursday, October 7, 2021, 9:57 AM | | |
For the first time in a decade, the Cubs might be in the market for a first baseman as Anthony Rizzo was traded to the New York Yankees in July. The de-facto captain of the Cubs for the better part of the last five years, Rizzo was nothing more than one of the most consistent players ever to don a Cubs uniform.
Along with consistent offensive numbers that landed near the top of almost every left-handed-hitting list in Cubs history, Rizzo played exceptional defense at first base earning several gold gloves and even a Platinum Glove. To say he will be missed if he never returns is an understatement as he was part of the heart and soul of this team.
Following his departure, the Cubs were treated to an unlikely hero turned into a star, with Frank Schwindel putting up numbers that many couldn't believe. Schwindel has done more than enough to earn a starting spot somewhere next season, and hopefully, that is with the Cubs.
Here are our season report card grades for the 2021 Cubs first basemen.
Anthony Rizzo
Now at 32 years old, Rizzo is nearing the end of his prime that has seen him become one of the more reliable hitters across the game. A .268 career hitter, Rizzo has logged 251 career homers, with all but nine coming as a member of the Chicago Cubs. From 2013-2019 Rizzo hit at least 23 homers a season while topping 90 RBIs in five of those seasons, including four consecutive 100 RBI seasons. His production was elite, and the Cubs reaped from it.
This season, however, was a different story as Rizzo has gone through his share of struggles. Sure, he still had a 22-homer season, but his 61 RBIs was a career-low taking away the 2020 Pandemic shortened season and his rookie year where he only played in 87 games. His .248 average was also the lowest since 2013 as something just looked off with him this season. Whether it is age, a chronic back injury, or just the stress of the trade game, Rizzo never looked himself this season.
Grade C+: Seeing a C next to Rizzo's name is shocking, but the reality is that he wasn't that good this season. You can go back to 2020 during the pandemic shortened season, and something hasn't looked right with him offensively. His average has declined immensely, he is striking out at a much higher rate, and his power numbers have evaporated in the blink of an eye.
That doesn't bode well for someone entering free agency at 33 years old and looking for a lengthy deal. Do I think Rizzo is done as a player? No, but something is going on with him that needs to be fixed. Hopefully, his next team can figure out that ultimately is because he is generally one of the most genuine guys in the game.
Frank Schwindel
When Rizzo departed, it created an opportunity for someone at first, and in came Frank Schwindel. Picked up from the Oakland Athletics as a waiver claim, Schwindel has always been known to have a good bat, but never had an opportunity with Oakland or Kansas City. Across eight minor league seasons, Schwindel managed to hit .285 with 134 homers. That included 17 homers in 54 games this season, with 16 of them coming with Las Vegas.
Once acquired by the Cubs, Chicago wasted no time getting him into the starting lineup where he emerged as an everyday player. Not only that, but Schwindel was one of the best hitters in baseball in the final two months, earning rookie of the month honors in both August and September. Given the pace he was hitting at, there is no way he can keep this up. However, if he can, the Cubs have a short-term option at first base.
In 64 games with the Cubs, Schwindel ripped the cover off the ball, hitting .326 in 242 at-bats. His 14 homers and 43 RBIs show he can hit for plenty of power, while his 20 doubles showed extra base capability. Essentially, what he did in two months was very similar to what Nicholas Castellanos did, and now the Cubs need to figure out how to keep him.
Grade A+: Without question, Schwindel was the best player on this roster over the final two months, and it wasn't even close. Every game that the Cubs played, it seemed like he would get either multiple hits or come through with a clutch hit. That is something this team has lacked for years, and Schwindel's approach at the plate was amazing.
The type of numbers he put up may have surprised some, but not the Cubs, as they knew the kind of hitter he was in the minors. For whatever reason, neither the Oakland A's nor Kansas City Royals gave him a chance to play every day, which forced him to last in the minors longer than most. With the Cubs giving him that chance, he has done more than prove he is worth a multi-year deal to be the teams opening day first baseman next season.
Just like Schwindel, Alfonso Rivas was acquired from Oakland, but he was acquired in 2019 as part of the Tony Kemp trade. A once top 30 prospect for the A's Rivas worked his way back onto the top 30 radar with the Cubs as several prospects graduated from that list.
Not known as a power-hitting first baseman, Rivas has excellent bat-to-ball skills, which seems to be the direction the Cubs are taking. He has also proven to be versatile as he showed the ability to play right field and first. Across his minor league tenure, which began in 2018, Rivas has put together a .288 average with 14 homers and 120 RBIs.
In 58 games with AAA Iowa this season, Rivas hit .284 with four homers and 32 RBIs. What also stands out is his patience at the plate accumulating 35 walks to 49 strikeouts. Not only does he have great bat-to-ball skills, but an excellent understanding of the strike zone.
Grade: Incomplete: If I am grading him based on his minor league season, he would get a B as I would like the power numbers to improve a bit. However, given he played in just 18 games with the Cubs, it is hard to give him a grade, although his .318 average is intriguing. Rivas did strike out more at the big-league level than the minors, but he still managed to hit the ball, which was a good sign for the future.