| | |
| --- | --- |
| 2021 Season Report Cards: Cubs Catchers | |
---
| | | |
| --- | --- | --- |
| Tuesday, October 5, 2021, 8:21 AM | | |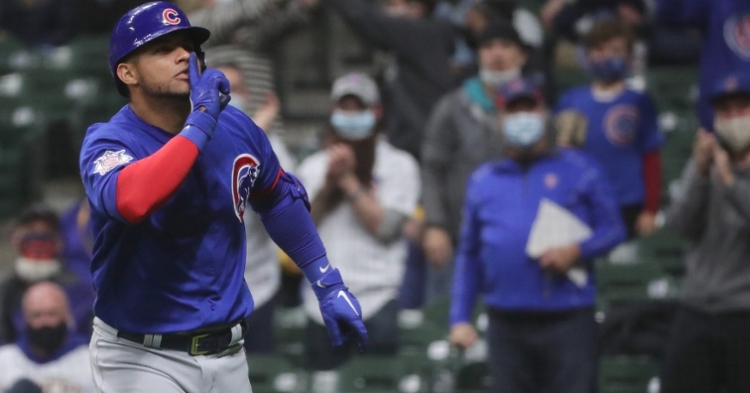 Now that the Cubs season is over, and the team is now focusing on the offseason in preparation for 2022, it is time to look back at the year that was. No, we will not look at the season as a whole and critique it under a microscope, but instead, position by position as this is the beginning of the season report card series.
Today, we start with the position that saw the tremendous turnover throughout the year, the catcher position. Outside of Willson Contreras that was about as durable as they come, the backup catcher position for the Cubs was an absolute nightmare as they went through 9 different backup catchers during the season. That was by far the most in baseball, and it wasn't until late in the season when they finally had the backup catcher they were looking for. Here are the grades for the Cubs season catchers.
WILLSON CONTRERAS
Despite all the trades and turnover this roster went through this season, one thing remained the same. That was Contreras playing catcher as he remains the final piece of the 2016 World Series core. Even though the average wasn't what you would expect from Contreras, he continued to produce at the plate connecting for 21 homers for the third 20-homer season of his career.
Along with that, he continues to improve his pitch framing and pitch selection behind the plate while still displaying a cannon for an arm to neutralize the running game. One thing that has stood out the most with Contreras is how tough he is, as he is as durable as they come. That durability wore off late in the season as he missed three weeks with a knee injury before hitting the IL with a hip injury during the St. Louis series. Still, he looks to be a big piece of this team going forward.
Grade B-: Contreras had a rather interesting, but still successful season this year. Take away his average for a minute which was the lowest of his career, and he was seeing the ball exceptionally well in September. Had he done that all season you are looking at a 280-285 hitter, which he has shown the potential to do. From a power side of things, Contreras continues to smack homers and drive in runs which he will be counted on to do moving forward. He is the final piece of the Core remaining, and if he can bounce back next season, look for him to be extended.
ROBINSON CHIRINOS
Although the backup catcher position was a revolving door this season, Chirinos seemed to stabilize it after signing a one-year contract in July. At 37 years old, the former Chicago Cubs farmhand returned to the organization where he started his career and did everything you want a backup catcher to do and more.
Not only did he see action in 47 games, with a lot of those coming as starts when Contreras went down, but Chirinos also got off to quite a tear hitting a .275 at one point before finishing the season at .227. His five homers and 15 RBIs are nothing to get excited about, but he did more than hold his own when you look at the Cubs backup position.
Grade B-: With the offseason officially underway, the Cubs will have to address their needs. One of those needs will be finding a backup catcher as both Austin Romine and Chirinos will hit free agency. Ideally, Miguel Amaya would be a great option, but after missing most of 2021 after having 2020 canceled, he is not ready. Look for the Cubs to bring back Chirinos once again as he gives them a perfect complement to Contreras.
AUSTIN ROMINE
Signed as a free agent this offseason, Austin Romine was supposed to be the backup to Anthony Rizzo and Contreras, given his versatility on the field. Instead, Romine suffered through a rough season where he missed time with an injury in spring before hitting the 60-day IL in April with a knee injury.
Once he returned, Romine had to rehab a few weeks in Iowa and Arizona before finally returning to the big-league roster. Now hoping to see consistent or at least more action, Romine fell to the NO. 3 catcher on the list, and had it not been for injuries late in the year would have played less than he did. For the season, Romine hit a .217 across 28 games, adding one homer and five RBIs. It was a lost season for someone who the Cubs were expecting big things out of.
Grade D: While most fans will give him an F based on his performance alone, I will be a bit more generous and give him a D. You can't blame him for the injuries as that is part of the game. However, it drastically hampered his season as he didn't see consistent action until late August. Brought in as someone who could provide the Cubs with some pop off the bench in sporadic starts, Romine never settled into groove and will now be looking for a one-year deal elsewhere next season.
OTHER CATCHERS: Tony Wolters, P.J. Higgins, Jose Lobaton, Taylor Gushue, Erick Castillo, and Tyler Payne all saw action behind the dish this season. Wolters saw the most action out of them, but they still played in less than 15 games. These men together earn an Incomplete for their grade, and it will be curious to see the plans of each of them beyond this season.