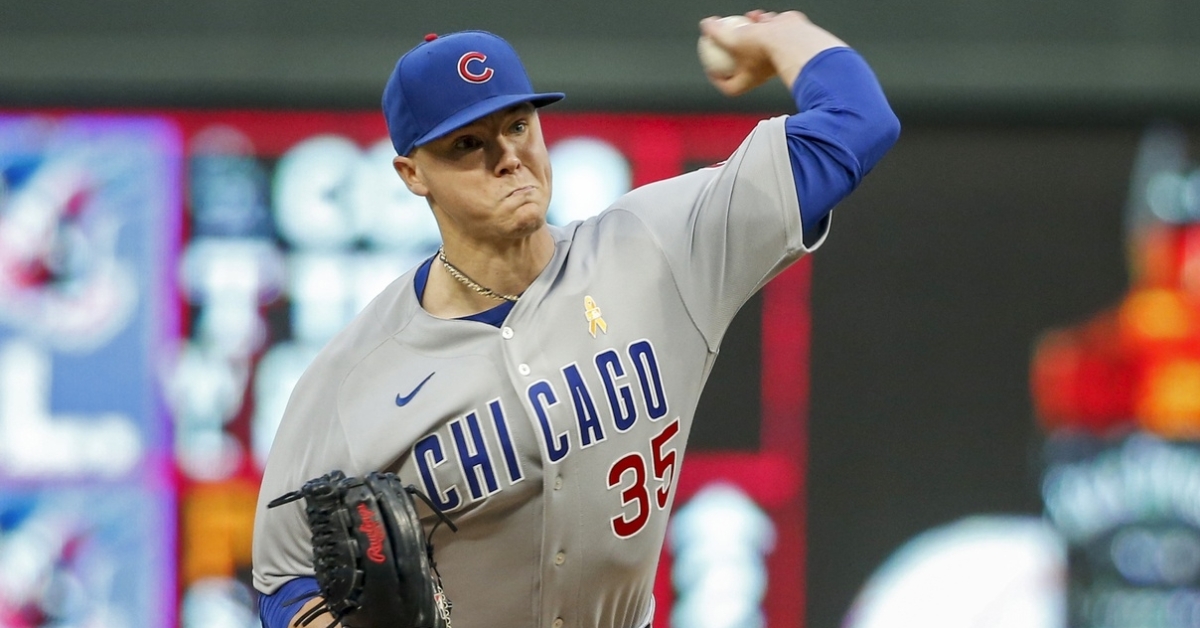 | | |
| --- | --- |
| Cubs News: 2021 Season Report Cards: Justin Steele, Keegan Thompson, Adrian Simpson | |
---
| | | |
| --- | --- | --- |
| Monday, October 18, 2021, 10:26 AM | | |
We are nearly complete with our season report card series as we continue to focus on the pitching side of things. Once again, starting pitching is the focus today, as today will be part three regarding starting pitching.
While six starters saw the brunt of the starts this season, the Cubs used 11 starters throughout the season, with nine making at least five starts this season. That typically isn't a recipe for success, but it is a significant stepping stone for an organization in transition mode. The more starters they use, the more pitchers they get to see as they try to piece together a roster capable of winning another World Series in the future.
One of the bigger surprises this season was seeing Steele not only reach the major leagues, but contributing as much as he did. However, looking back at his minor league career and it shouldn't surprise you. A once top 20 prospect, Steele has always had the stuff to be considered a big league option, but arm and shoulder injuries have hampered his development as a pro.
A fifth-round pick in 2014, the left-handed Steele was the Cubs lone lefty in the rotation this season and started to show the organization what he was about. Across his 89 game minor league career, which 80 of those games as starts, Steele struggled to win games, going 18-23, but he did post an impressive 3.44 ERA. His 144 walks and 345 strikeouts showed impressive command while limiting hitters to a .254 average, with lefties hitting sub .200.
Looking to make a name for himself on the major league roster in 2021, Steele emerged as a multi-inning reliever early in the season, where he flashed the impressive stuff the Cubs have seen over the years. After suffering a hamstring injury while running the bases, Steele was sent back to AAA, where the Cubs stretched him out to put him in the rotation for the second half of the season.
Not only did they do that, but Steele started nine games across the final few months of the season while appearing in 20 games total. He went on to post a 4-4 record with a 4.26 ERA, but saved his best performance for his final start of the season, going seven innings against the Pirates while striking out seven.
Grade: B: Steele had an up and downtime in the starting rotation, but the Cubs have to like what they saw out of him. Not only is he 26 years old with a long career ahead of him, but he is a lefty which this rotation desperately needs. There was a reason why Steele was a highly rated prospect in the past and had it not been for arm injuries, he would have been in the bigs a couple of years ago.
Now that the Cubs have seen what he can do both as a starter and reliever, they have some tough decisions ahead as they look to figure out his ideal role. Depending on what happens in free agency, look for him to at least open the season as a starter to have a lefty in the mix.
Much like Steele, Keegan Thompson was a surprise addition to the MLB roster this season and immediately contributed in a big way. A 2017 third-round pick, Thompson wasn't as highly regarded as Steele during his minor league career, but still showed a lot in plenty of action this season.
Thompson was outstanding across 39 games (33) starts in three minor league seasons, going 10-10 with an impressive 3.17 ERA. His 44 walks to 167 punchouts showed great ability to not only get guys out, but keep them off the bases while holding hitters to just a .218 career average. After emerging as a multi-inning relief threat out of the pen in May, the Cubs knew they needed starting rotation help and thus sent him to AAA to get stretched out.
During his time with Iowa, Thompson not only made four starts, but didn't allow an earned run in the process, walking five and striking out 16. Perhaps even more important was his batting average, where opponents hit just a .111. After posting a sub 2.5 ERA in 26 relief appearances, Thompson made six starts as the season went on and struggled to get through four innings most of the time.
For the season, his record was 3-3, but his 3.38 ERA was quite impressive. As was the case for Steele, Thompson saved his best outing for last when he held the Cardinals to one run in three innings in his final start walking one and striking out seven. That should give him plenty of confidence heading into the offseason.
Grade B: Thompson was someone I was very high on this offseason, and I was happy to see him get a chance. With 32 games under his belt, the Cubs have plenty of film to look at as he will most likely be on the opening day roster next season. Unlike the case with Steele, who should be ticketed for the rotation next season, I think Thompson will be more of a swingman next year as the Cubs look to find him a more permanent role with this team.
Adrian Sampson
Signed as a minor league free agent this season, the former fifth-round pick of the Pittsburgh Pirates emerged as one of the teams MVPs in September in terms of pitching. Primarily a minor league starter, Sampson has logged more than 150 career starts going 47-42 with a respectable 4.04 ERA.
This season, he was brought in to be a back-of-the-rotation depth starter and then emerged as Iowa's ace. In 14 starts, Sampson was 4-5 while his 4.96 ERA was less than appealing. However, as the season went on, Sampson posted an ERA right around 3.00, which is why the Cubs felt the need to call him up as the season went on.
Once he earned that call, Sampson was flat-out impressive pitching in 10 games, with five of them being starts. He may have been 1-2, but his 2.80 ERA while walking eight compared to 28 strikeouts was a promising site. Sampson will not overpower anyone, but he knows how to pitch and does what he needs to do to get outs.
Grade A-: Sampson was a lovely surprise this season, and the Cubs reaped in the rewards from it. Sampson has started 25 games as an MLB player, and things haven't gone as planned. Given what he showed towards the end of the season, it would have been interesting to see what he could have done as a full-time starter.
That was then, and this is now as he looked like a completely different pitcher this season. Not only did he do enough to at the very least earn consideration for 2021, but he may also have done enough to boot Alec Mills or Adbert Alzolay for the final rotation spot next season. This was one of those under-the-radar depth signings that paid off for Jed Hoyer this season.
Kohl Stewart, Robert Stock, and Cory Abbott combined to make five starts this season. While Abbott looked good in his lone start, the other didn't; therefore, their combined grade for the season would be a D-. If any of them were to return next season, my guess it would be Abbott, given he is a top 20 prospect who had a remarkable 2019 season.