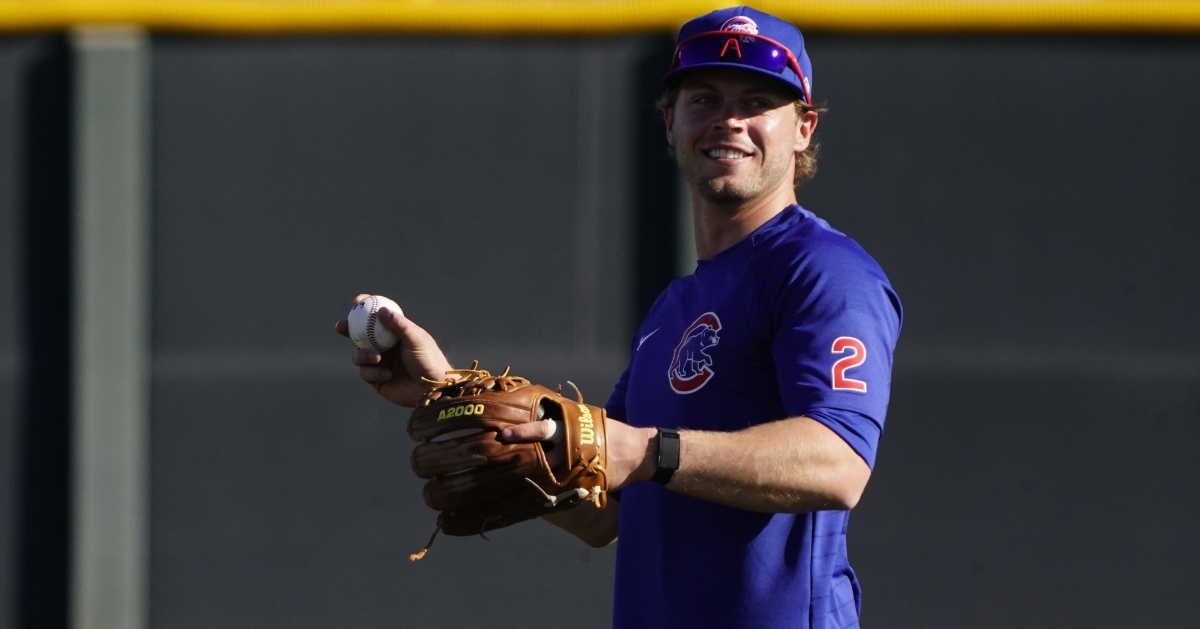 | | |
| --- | --- |
| Cubs News: 2021 Season Report Cards: Nico Hoerner, David Bote, Eric Sogard | |
---
We continue to move down the infield as we focus our 2021 season grades on the second base position. Over the last several years, this has been the one position on the infield that continues to be up for grabs. From Jason Kipnis in 2020, to David Bote and Nico Hoerner this season, the Cubs haven't had an everyday second baseman in quite some time, and it is getting frustrating.
However, after acquiring Nick Madrigal from the White Sox in a trade for Craig Kimbrel, the Cubs may finally have their second baseman if he recovers from his injury. It did the Cubs no good this season as he was lost for the remainder of the season after injuring his hamstring, but he appears to be on track to return better than he was this season. Here are our second base grades for the Cubs this season.
Nico Hoerner
No one has had a more frustrating start to their Cubs career than 2018 first-round pick Nico Hoerner. The shortstop turned second baseman continues to deal with injury issues as he has spent more time on the shelf than on the field. That is a big problem if he wants to continue being part of the Cubs plans, and it is up to him to figure out how to stay healthy.
Being healthy is the biggest key for him, as the Cubs almost certainly want his bat in the lineup. For his career, although brief, Hoerner has hit a .272 with three homers and 46 RBIs. This season he put together a .302 average and continued to show a contact-first approach at the plate. That is something this lineup needs and something the Cubs are hoping to get more of next season, especially from him.
Season Grade B-: I am going to be a little generous when it comes to Hoerner because you can't control injuries or getting hurt. However, the more injuries he continues to pile up, the more of a concern it is becoming as his durability is now a significant question. When healthy, no one will argue his hitting skills as he has proven to be a great hitter when in the lineup. He needs to do some serious soul-searching this offseason to figure out how to stay on the field.
David Bote
As frustrating as things have been for Hoerner in his major league career, David Bote is equally as disappointing as he is a hard player to figure out. A utility player by trade, Bote spends most of his time at third and second base, but made second base his home this season. The 2020 team RBI leader had a rough go of things this season, dealing with a shoulder injury that kept him out two months earlier in the season and then struggled to get a rhythm late.
Bote was the only player in this lineup to hit under .200 posting a .199 average to go with eight homers and 35 RBIs for the season. Put that up against his career mark, and you have just a .227 hitter with 32 homers and 138 RBIs. That goes to show you that although he doesn't hit a ton, when he puts the ball in play, it tends to do damage, but he needs to do that more consistently.
Season Grade D+: If it weren't for the production, he would get a lower grade, but none the less Bote had a rough season. For a guy who was a .278 career minor league hitter, Bote has yet to crack the .250 mark in the major leagues. While his production is typically consistent with a knack for coming through in big moments, the Cubs need to see more of that from him, especially since he has been signed for two more years. Given some of the trades made and players in the system, Bote will be an interesting topic going forward.
Eric Sogard: One of the sneaky good offseason pickups for the Cubs was bringing aboard Eric Sogard on a minor league deal. Although a late arrival to spring training, Sogard played exceptionally well and beat out Hoerner for the backup second baseman job. Once he made the team, he struggled to find consistent playing time as his production in the spring didn't carry over.
Although an excellent pinch hitter, Sogard struggled in almost every facet, hitting .249 with one homer and 12 RBIs. That goes right in line with his career mark, as he has been nothing more than a bench player minus one or two years. Sogard was eventually granted his release late in the season and didn't latch on with another team.
Season Grade C-: No one expected Sogard to play as he did in Milwaukee a few years ago, but I am sure Cubs fans were still expecting a little better from him. As a pinch hitter, he was exactly what this team needed as he seemed to thrive in that role off the bench. However, when inserted into the starting lineup, he was a liability both in the field and at the plate. No one will fault the Cubs for making this move, as these are moves teams make every season.
While Madrigal never played a game with the Cubs and Giambrone was only on the roster for a few days, they both are listed as second basemen. Given the lack of playing time from each, they receive an incomplete for their grade, but Madrigal should be the opening day starter next season.

Upgrade Your Account
Unlock premium boards and exclusive features (e.g. ad-free) by upgrading your account today.
Upgrade Now