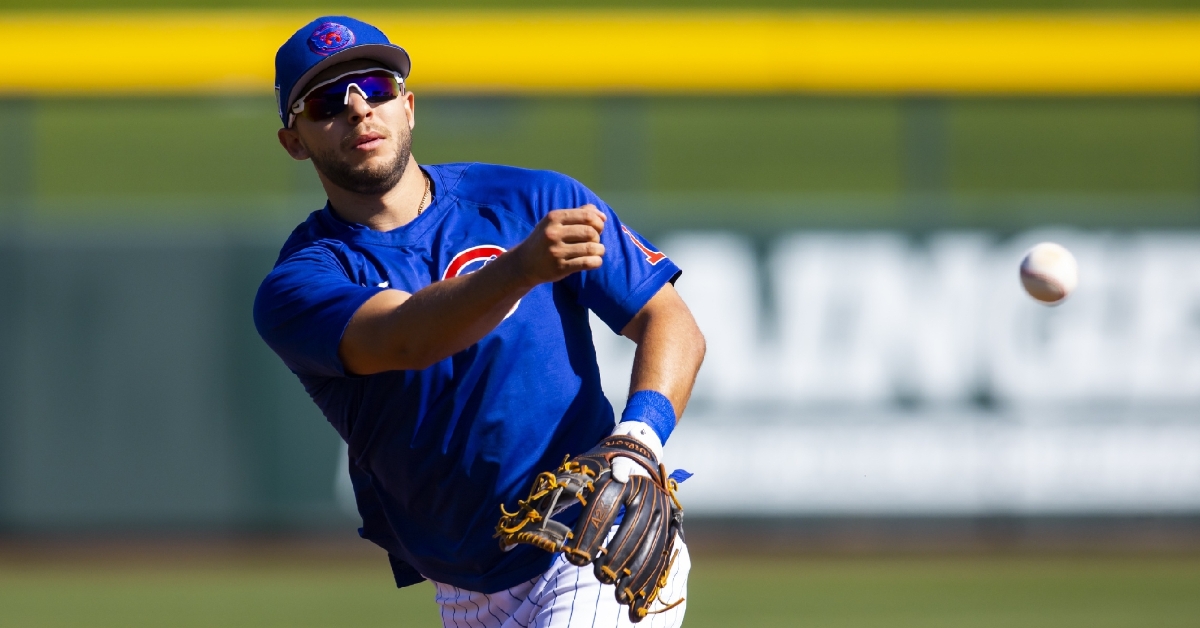 | | |
| --- | --- |
| Cubs News: 2022 Season Prediction: Nick Madrigal, Sergio Alcantara, more | |
---
As we continue to preview the Cubs roster, we move across the infield to second base, where things will look different and hopefully more consistent this season. For the most part, the Cubs had decent production from that position a season ago as Eric Sogard, Nico Hoerner, and David Bote spent a ton of time in that spot.
After the injuries started to pile up, you saw guys like Sergio Alcantara see some time, but it became Matt Duffy's spot in September. Duffy was one of the guys a lot of fans wanted to see return but he signed with the Angels.
For now, the Cubs do have an everyday second baseman and a couple of other candidates worthy of seeing time at that position.
Nick Madrigal
Nicknamed Nicky two strikes for his unique approach; Madrigal is one of the newest Cubs acquired in the Craig Kimbrel deal to the White Sox last season. Although he missed part of the first half and the entire second half with a hamstring injury that required surgery, Madrigal is healthy and ready to go for his new team.
Looking at his career stat line, Madrigal is precisely the type of hitter this lineup needs, especially near the top of the order. He is a contact first hitter who doesn't strike out a ton and can also hit for a high average. Although limited in action, logging just 303 at-bats the last two years, Madrigal has been nothing short of impressive where he has hit .317 over that time with two homers and 32 RBIs.
His 15 walks and 24 strikeouts also show you the type of player he is, as he knows how to put the ball in play to help his team win. What stands out the most when it comes to Madrigal is his two-strike approach where he ranked near the top in MLB with a .354 average. That is something this lineup lacked for years and something that will help them in a big way.
Prediction: 125 games, .298 average, four homers, 41 RBIs, 10 steals
I like Madrigal and knowing the Cubs are trying to do as a team, he fits them perfectly. A team that has lacked a true leadoff hitter for years look for Madrigal to be that guy or at least bat near the top of the lineup to make things happen.
The more comfortable at the plate he gets, the more power he will have, which still won't be a ton. This will be one of those moves that could help the Cubs in the long-term as Madrigal has a chance to be part of the Cubs next core.
Sergio Alcantara
Although he may not be on the active roster at this point, look for Alcantara to make this team on opening day due to injuries within the organization. There are far worse options if that is the case, as Alcantara had plenty of playing time last year and showed this team a ton of potential. The 25-year-old shortstop bounced around the diamond a ton last season, seeing all his action at SS or 2B.
Although he played well enough at both, SS was his best spot, but with Simmons in the fold, Alcantara may have to move back to 2B to get more playing time. In 89 games last season, the switch-hitting Alcantara struggled, but he also had plenty of moments where it felt like he could be a valuable option for this team.
His .205 average needs to come up, but Alcantara showed some surprising pop with five homers and 17 RBIs. He also brings the speed factor to the table as he was fun to watch running the bases. I like what he brings, and this guy could be a utility infielder for a team that wants utility-type players.
Prediction: 97 games, .247 average, six homers, 23 RBIs, 12 steals
Much like last season, Alcantara will have plenty of action on the field even if it is split up. While he should make the opening day roster, he won't last long as the health of the returning players will determine his fate. Even if sent down, look for him to be one of the first players called up during the season, as I expect to see him plenty of times this year.
While those two will be the primary second base candidates, look for Hoerner to get some time and Robel Garcia should he figure out his contact issues and get back to the 2019 form. The Cubs could also use Jonathan Villar to fill the holes that need to be filled in the infield.