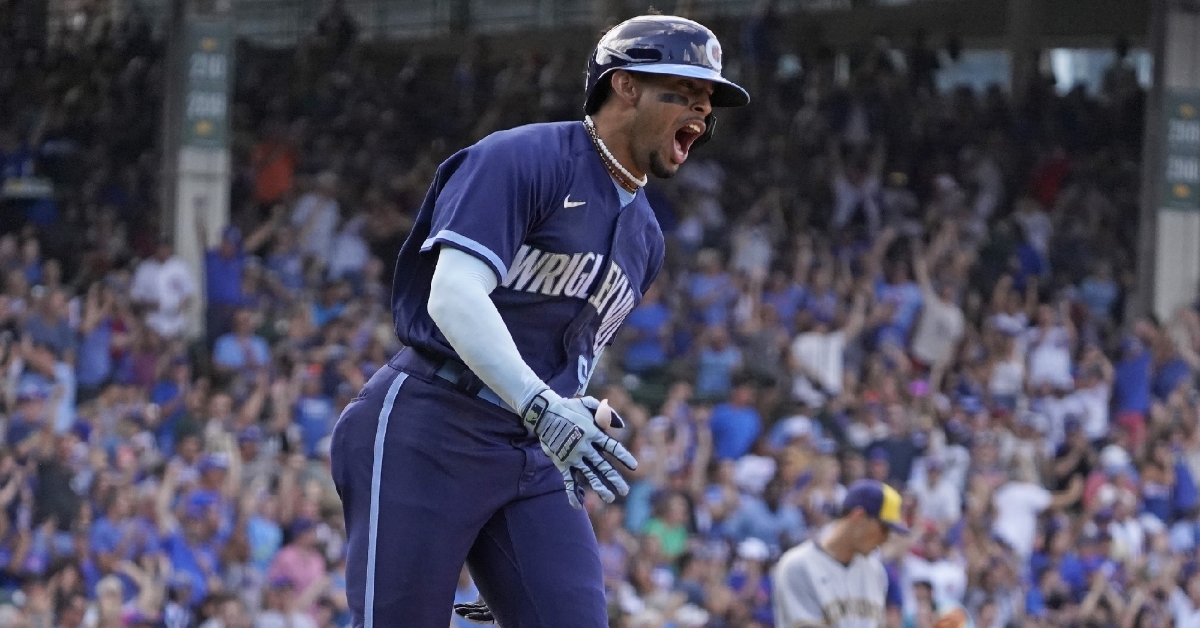 | | |
| --- | --- |
| 2022 Season Report Cards: Cubs centerfielders | |
---
| | | |
| --- | --- | --- |
| Sunday, October 16, 2022, 9:01 AM | | |
We continue to move across the outfield pasture and venture into center field.
Sure, the Cubs have some in-house options such as Brennen Davis, Nelson Velazquez, and Christopher Morel, but you know they will also look at the free-agent market to see what is out there. Ideally, this is one of those situations where I would let a young kid play and take his bumps and bruises as an everyday player.
Christopher Morel
Speaking of young guys, at just 23 years old, Morel is one of the youngest players on this roster and burst onto the scene in 2022. A top 20 prospect when the season began, Morel was a AA player that many felt would wind up in AAA by the season's end.
After about two months of strong play for the Tennessee Smokies, the Cubs felt it was time to promote him, but instead of sending him to AAA, they sent him straight to the Majors, where he could showcase his stuff.
Right from the moment he arrived, you could see how much of a fan favorite he would be as his raw ability started to take over. Sure, hitting .235 isn't going to impress anyone, but his 16 homers, 47 RBIs, and 10 stolen bases were among the National League lead for rookies.
Add in the ability to play all over the diamond, and Morel will be an integral part of this team's future. The next big question is where he ultimately lands on the diamond, but he showed plenty of potential across the five positions he played this season.
Grade B+: No one expected Morel to be in the majors when the season started. The fact that he got here and then went on to produce the way he did shows you how good this kid can be.
Sure there were struggles, as you might expect, but for all the struggles came a boatload of production, which this team desperately needed. Morel is part of this team's future, and Cubs fans worldwide will love watching him for years to come.
After putting together a very impressive second half in 2021 that saw him hit .336 after the all-star break and become the everyday Center Fielder, Ortega did more than enough to earn the opportunity again. Expecting to sit out against lefties, but do most of his damage against righties, year two with the Cubs didn't go as planned.
Not only did he miss the final three weeks with a broken finger, but when he played, the results were few and far between what he did in the past. He hit a .241 with seven homers and 35 RBIs as his future beyond this season is officially in question.
Grade C-: When the season started, most Cubs fans expected Ortega to be in the lineup, but they didn't know the type of player they would have. At some point, you had to think his second-half hitting was unsustainable, but even at that, no one expected him to fall off as quickly as he did.
Knowing that I find it very difficult to see Ortega back in Chicago next season. It may not be because they want to get rid of him, but instead, they want to give him an opportunity to start, which he won't do here.
When the Cubs brought in Heyward following the 2015 season, he was coming off a career year and cashed in because of it. Seven years later, this could go down as one of the worst contracts in Cubs history, as Heyward never lived up to his billing.
Sure, he gave you gold glove defense for most of his career, but even that went away the last two seasons, making it impossible to use him on the field. Take this season, for example. Yes, injuries had a part in it, but he hit just a .204 with one homer and 10 RBIs. That made the decision very easy to not only place him on the IL, but to release him this offseason.
Grade F: The Heyward tenure was a bumpy ride, but the Cubs can finally say they are off that contract. For what it is worth, had it not been for his speech in game seven, who knows how the world series would have turned out?
Because of that speech, Cubs fans are forever grateful for the man, but wish he could have been a better hitter at the plate. Now a free agent for the first time in eight seasons, It will be interesting to see who has enough faith in him to bring him aboard next season.