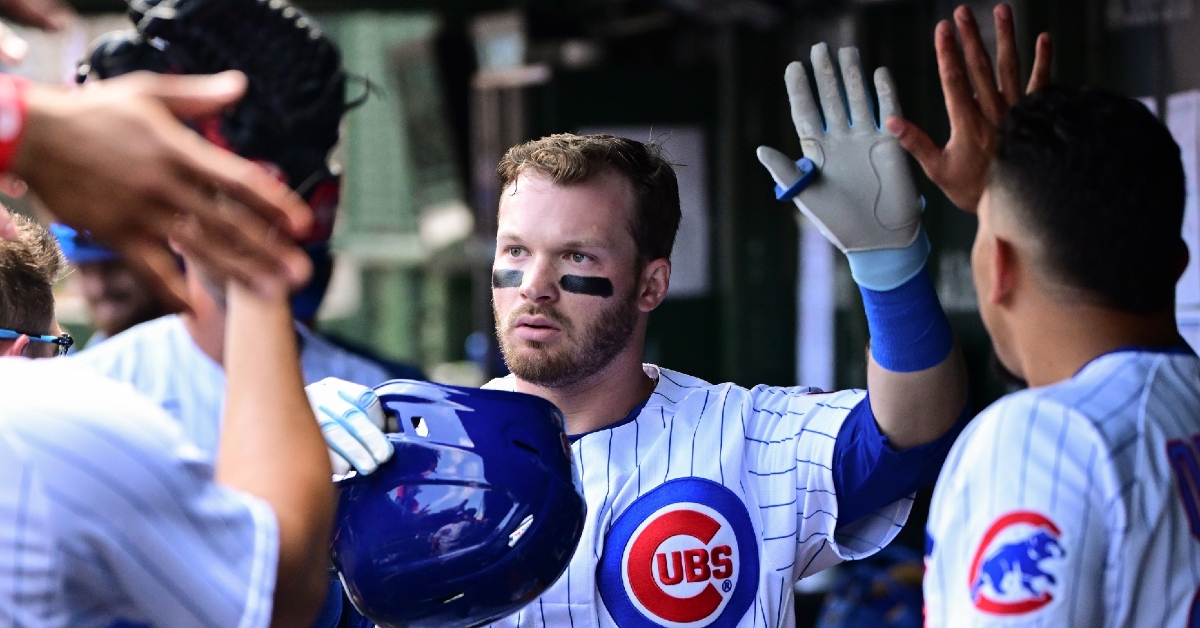 | | |
| --- | --- |
| 2022 Season Report Cards: Cubs left fielders | |
---
| | | |
| --- | --- | --- |
| Saturday, October 15, 2022, 9:20 AM | | |
We continue to venture down our position report cards as we get out of the infield and move to the outfield. Of all the positions on this team, this seems to be the only spot where the organization could be set heading into the 2023 season.
Players will need days off, and additional help will be added, but look for the outfield to look very similar to how it looked when the season finished this year.
It took Ian Happ roughly six years to figure it out consistently, but this was by far his most consistent and best season of baseball. Ever since bursting onto the scene as a rookie in 2017, Happ had all the potential in the world, but didn't show it consistently enough.
That led to him bouncing between AAA and the majors for two years before starting to put things together in 2020. Granted, that was the COVID-shortened season, but Happ began to show the consistency the Cubs were hoping for that season.
2021 saw Happ put together his best overall power season, but a .226 average had fans wondering how long the Cubs would be able to keep playing him. If 2022 is any indication, Happ will be around for the long haul, as he proved he is worth every penny of an extension.
Not only did he hit a career-best .271, but he did that without ever really going through a long cold streak. His power numbers were a bit down as he finished the season with 17 homers, but his 72 RBIs were a career-high. The one aspect of his game he put on full display this season was gold glove defense in left field.
Grade A: I admit I was one of those who felt the Cubs should cut ties with Happ early in his career, but I have been proved wrong. The Happ the Cubs saw this season was the one they had been waiting for since his rookie season.
He was about as consistent as you can be and did that in the field and at the plate. With all the changes going around this organization, Happ should be one of the select few to garner some sort of contract extension. He deserves it.
Clint (Jackson) Frazier
Clint or Jackson, whatever you want to call him, was a free agent acquisition this season who was signed to a one-year deal. Primarily a platoon player during his time with the Yankees, Frazier has dealt with injury issues his entire career, which has hindered his production at the plate.
When healthy, he showed the Yankees plenty of bright spots that had him ranked as one of their top prospects for years. Hoping for a fresh start and a new opportunity, Frazier latched on with the Cubs, and things have gone south ever since. Despite his impressive showing in the spring, Frazier played in less than 20 games with Chicago before an Appendectomy forced him to miss about a month of action.
Once he returned, the Cubs stashed him in AAA with no plans of getting him back to the club. That is a tough pill to swallow for a player who has dealt with this his entire career, and now it looks like he will deal with it again.
Grade F: Many fans were excited to see what Frazier could do this season. Knowing what he did with the Yankees and expecting to get, at worst, a platoon role this season, things never worked out, and the Cubs had his services for less than a month.
That is not what anyone expected, nor should they have, so it was a good idea to send him to AAA. Once there, he had an opportunity to earn a spot on this roster, but the results never came.
With Happ playing nearly 85% of the team's games in left field, there was not a lot of playing time to go around, and when there was time, the production wasn't great. Besides Frazier, guys like Narcisco Crook and Michael Hermosillo saw a handful of games, although their best days came at the AAA level this season.
Of those two, look for the Cubs to hold on to Crook. He showed much more than anyone would have expected from him this season, and when on the major league roster this year, he provided a nice spark for an offense desperate for one.