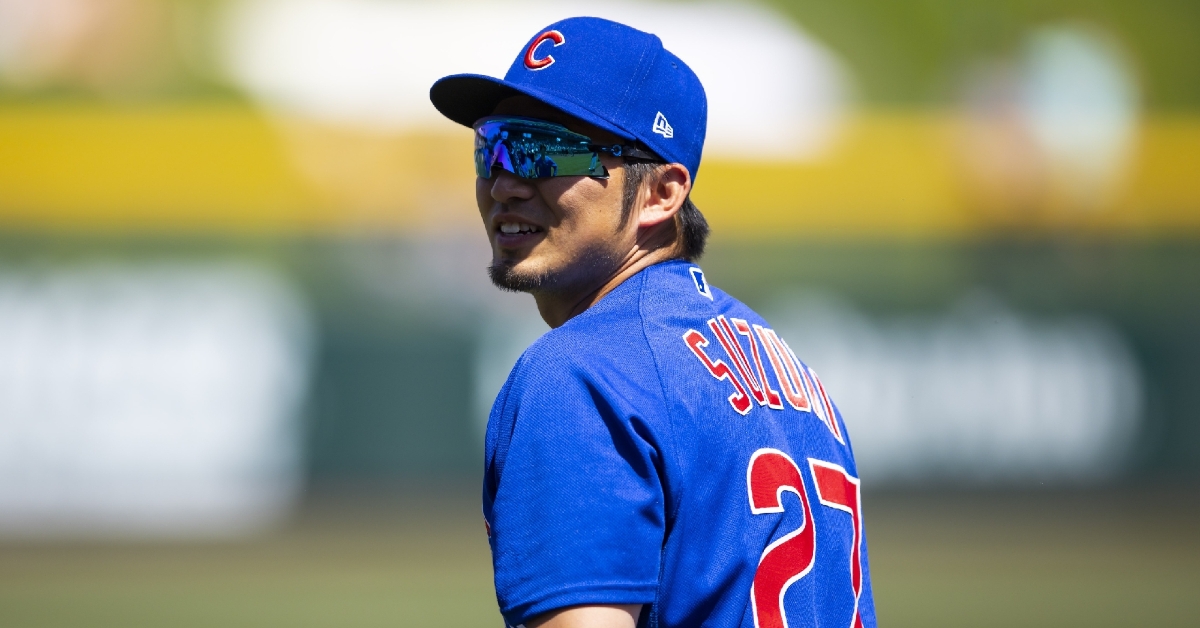 | | |
| --- | --- |
| 2022 Season Report Cards: Cubs right fielders including Seiya Suzuki | |
---
| | | |
| --- | --- | --- |
| Monday, October 17, 2022, 11:22 AM | | |
Time flies when you are having fun. Since the Cubs season has ended, there hasn't been much fun, but it has still been fun to recap the season and look ahead to what is to come.
Like last season, the Chicago Cubs will undergo a drastic roster shakeup this off-season. The only difference is that this roster shakeup could be aimed at contending for a playoff spot instead of just trying to put a team on the field.
No one will argue that the 2022 season went a little better than people expected, especially during the second half when this team went 39-31. That has to give everyone hope, as a portion of that second-half roster will be the focal point for this season.
Today we have reached the final position area to grade as right field takes center stage:
There wasn't a lot the Cubs did in adding position players last season, but Suzuki was the team's prized possession. The Japanese star was posted following another massive season overseas and signed a five-year 85 million dollar contract with the Cubs, 100 million if you include the 15 million dollar posting fee.
Known for his 30-plus homer power and .300 plus average, Cubs fans were expecting a ton from Suzuki this season. Say what you want about this season, but fans have to consider that making an adjustment from Japan to the states takes time, and it took Suzuki a little time to figure things out.
Suzuki posted a .262 average for the season, which included a .291 average after returning from the IL. His power was slightly less than some expected, as he finished with 14 homers and 46 RBIs, but expect those to go up next season. His 42BB/110K was way lower than his career BB/K ratio, as that will only get better with more major league experience.
Season Grade B: Suzuki was always a mystery coming into the season, knowing what he did in Japan and what people expected from him. Then you look at his first month of the season, where he posted eye-popping numbers with fans thinking MVP when the season ended.
Eventually, pitchers adjusted to him, and he went into a massive slide before getting hurt, coming back and bouncing back to adjust back. The sky is the limit for this man, and I expect a better season next year and an outstanding Cubs career by the time his contract is over.
One of the more intriguing pieces and perhaps the biggest topics of discussion this offseason will surround the status of Nelson Velazquez on next year's roster. Coming off a 2021 campaign that saw Velazquez hit .270 with 20 homers and 73 RBIs, many fans thought he had a chance to make the opening-day roster this season.
However, a rough spring saw him land in AA to open the season before jumping to AAA. Granted, his average was not great, hitting .241 this season, but across his 56 games, he hit 15 homers and drove in 32. Those numbers caught the Cubs eyes enough to add him to the Major League roster, where he spent a significant amount of time.
Once he reached the majors, Velazquez was not playing as much as he expected as the Cubs continued to give Jason Heyward playing time he didn't deserve. That prevented Velazquez from developing and showing his potential, hurting him this season.
Eventually, Heyward was placed on the season-ending IL, which opened the door for Velazquez to see more time. Velazquez saw action in 77 games, but struggled with just a .205 average. He hit six homers and drove in 26, but his final few weeks gave the Cubs optimism as he was on a tear.
Grade C: It is hard to grade Velazquez, mainly because he was held back the first two months he was on this team. Once he started to get more playing time, you could see his potential, but there were a ton of growing pains that have some wondering if he was called up too early.
With Alexander Canario having the season he had this year and potentially threatening for a major league roster spot next year, Velazquez needs to have a massive spring to ensure his spot in 2023. Regardless, he is someone the Cubs will hang onto as he provides them with an excellent depth option that can play all over the outfield.
Franmil Reyes
Listed as the team's full-time DH, which is what he played, Reyes is also a right fielder and saw a few games in that spot in September. Claimed off of waivers in August, Reyes was viewed as a steal of a pickup and could be a massive attribute to this team next season.
Known for prodigious power, Reyes had an extremely rough go of things with Cleveland this season, which was why he was released. In desperate need of power, the Cubs took a chance on him, and now the question is what they do with him moving forward.
Reyes played in 118 games and struggled with a career-worst .221 average. However, he hit a .234 with the Cubs, which isn't great, but it was better than his Cleveland numbers. His 14 homers and 47 RBIs were well down from his career marks, but in 48 games with the Cubs, he hit five homers while driving in 19.
With the offseason now in front of him, Reyes will have plenty of time to do a mental reset in hopes of latching on with the Cubs for the 2023 season. When you look at his contract numbers, Reyes will make around 6-7 million which is not a ton, but could that be too rich for the Cubs to spend on a full-time DH. Expect him to be one of the most significant discussions in the coming months.
Grade C: I am giving Reyes a slight pass this season, mainly because he was consistent up to 2022. Then you add in his struggles and going to a different team late in the season, and you can tell he went through some mental hurdles.
Reyes will never be a high-average hitter, but hitting .250 is not out of the question. The Cubs are not going to pay this man to hit for average. If they retain him, he is being brought in for his power numbers which will be a massive asset to a lineup that struggled in that category last season.