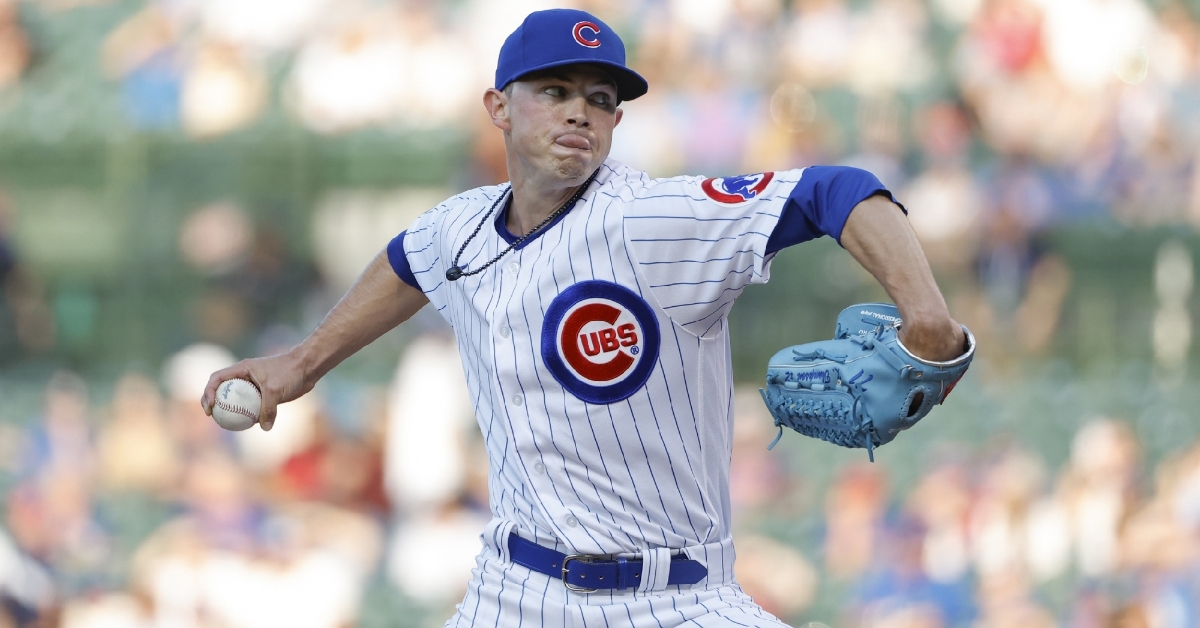 | | |
| --- | --- |
| 2022 Season Report Cards: Cubs starting pitchers part 2 | |
---
| | | |
| --- | --- | --- |
| Wednesday, October 19, 2022, 7:36 AM | | |
We continue to move through the starting rotation as we get to the bottom half. This was supposed to be anchored by a pair of free-agent lefties, but injuries through the bottom half for a loop all season.
Despite that, the Cubs made do with several changes that allowed the team to get through those injuries and continue to get better as the season went on. Given the emergence of guys like Justin Steele, this will be an intriguing piece of the Cubs team in 2023.
Thompson had to be one of the team MVPs for the Cubs, at least from a pitcher side of things. As the season went on, the not-so-secret weapon spent time in relief and as a starter as he made 17 starts while also appearing in 12 games in relief.
Granted, his numbers were much better out of the pen than as a starter, but Thompson still led the team in wins with 10 and finished the season 10-5 with a 3.76 ERA. As a starter, that ERA was north of 4.7 while hovering around 2.2 as a reliever. That right there is the biggest question with Thompson, as the Cubs need to figure out his ideal role in 2023.
Grade A: Thompson was a fan favorite all season and a nightmare for hitters to face. When he came into the game in relief, it was game over as he gave the Cubs multiple innings of dominating relief and left hitters frustrated.
As a starter, Thompson had those moments, but they were not as frequent, which is a question going forward. Thompson has shown he can handle starter duties in the majors, but that may not be his best role. He could be best suited to come out of the pen as a multi-inning threat. If that is the case, it won't bother him or the Cubs, as he was as lethal as they come in those situations.
When the Cubs claimed Wade Miley off of waivers from the Reds in December 2021, it was considered a steal of a pick-up. The 35-year-old has had an up-and-down career, but has continued to get better over the last five seasons, including a 12-7 season with the Reds in 2021 that saw him post a 3.37 ERA.
With that being said, the Cubs wasted little time inking him to a one-year 10 million dollar deal as he was expected to anchor down the back end of the rotation. When the season started, the plan was to get three or four good months out of Miley and then flip him at the deadline for future assets.
Instead, Miley endured a miserable season that saw him experience several elbow and shoulder injuries. Because of that, he made just nine appearances in 2022, with eight of them coming as starts. That was not the season the Cubs expected, but when he was in the rotation, he gave the Cubs everything they were hoping for as he went 2-2 with a 3.16 ERA.
Grade C-: Miley was frustrating all season long as he missed the first month of the season and then appeared in just nine games after that. Considering what he gave the Cubs when he was on the mound, you have to wonder what things could have been had he been healthy all season.
If this team was still in rebuild mode, he is someone I would love to see come back on another one-year deal. However, the Cubs are in a better position next year than they were, so I expect Miley to move on and try to latch on with another team.
Signed as another free agent, the 33-year-old Smyly inked a one-year 6.5 million dollar deal with an option for year two. Expected to be the team's No. 5 starter, Smyly went through a few injuries throughout the season, but take that away, and he was about as good as the Cubs could have hoped.
Injuries aside, Smyly still made 22 starts and proved to be consistent and reliable when on the mound. Over those 22 starts, he gave the Cubs 106 innings and posted a 7-8 record with a 3.47 ERA. That right there is what stands out as a 3.47 ERA from a No. 5 starter is considered elite.
Grade B: Smyly has endured a rough MLB career, as a rough injury history has prevented him from reaching his full potential. However, when he is healthy and given a chance, Smyly has continued to prove he can be a reliable starter and showed that all season long.
Of all the pending free agents that the Cubs have, Smyly could be the one that returns to this team on a pitcher's side. The Cubs love him, he loves the Cubs, and he has reiterated that he wants to return to this team. The feelings are mutual, as the Cubs have begun talking to his representatives about a possible contract extension.