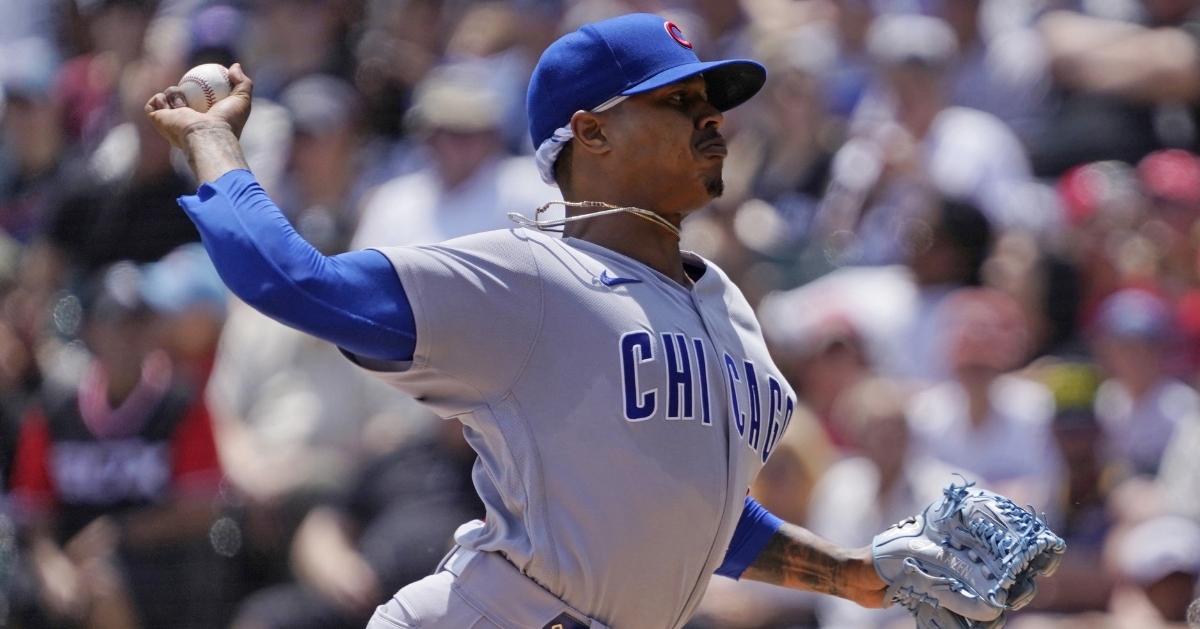 | | |
| --- | --- |
| 2023 Season Projections: Cubs Starting Pitchers | |
---
| | | |
| --- | --- | --- |
| Thursday, March 2, 2023, 9:00 AM | | |
Now that the offensive projections have gone through, it is time to shift our focus to the pitching staff, particularly the starting pitching. Believe it or not, this was the strength of the Cubs during the second half, as their 3.02 combined Starter ERA after July 1 was third in baseball and only behind the Houston Astros and Los Angeles Dodgers.
To say that is impressive wouldn't do it, just as the Cubs showed plenty of promise as the season went on. In 2023, the Cubs return quite a bit of that staff from last season while adding a few new faces. This team theoretically has nine or 10 guys battling for five spots, but in reality, three guys are fighting for the final spot in this year's rotation.
You can never have too much pitching in an organization, and the Cubs have the makings of having plenty of depth across the board. How much of that depth will be seen is another question, but this team is set for a while.
In the second season of his three-year deal, Stroman was the Cubs big acquisition last offseason and was acquired just before the Lockout began. After missing a few starts early in the season due to COVID and shoulder fatigue, Stroman struggled to get things going and went until the end of August before he could get his first Wrigley Field win. Still, he was on a roll during the second half and finished the season as the Cubs second hottest pitcher.
Prediction: 12-9, 3.36 ERA, and 171 K
Stroman may not be your typical ace, but on this staff, he is the ace by default. This guy won't put up gaudy numbers, but he is very consistent with his craft which is all you can ask for. Look for him to have a much better season this year, as he will keep the Cubs in plenty of games this season.
You could argue that Justin Steele was the ace of this staff last season, especially after June 5. During an off day, Steele met with Jon Lester as the two of them discussed all things pitching. Following that meeting, Steele was lights out across his final 15 starts posting a team-best 2.27 ERA and putting up numbers not seen since Lester. He would be my number two heading into the season, but he could be slated for the No. 3 spot.
Prediction: 14-9, 3.56 ERA, and 167K
Steele showed plenty of growth last season, which was a good sign for a team that has struggled to develop homegrown pitching. This season, however, he is not going to sneak up on anyone, as they will be ready for him. Regardless, look for him to have another solid season, as this is the Cubs best lefty since Lester.
Jameson Taillon
While Stroman was the big pitching acquisition last season, Taillon takes the cake this year as he returns to the NL Central on a four-year deal. After battling through several injury-plagued seasons with the Yankees, Taillon stepped up in a big way last season, going 14-5 with a 3.91 ERA across 31 starts. Now back in the NL, he is out to prove he still has plenty left in the tank.
Prediction: 17-7, 3.41 ERA, and 189 K.
I may be in the minority on this, but I feel Taillon will have the best season of all the Cubs starters. This guy has spent the last three seasons pitching in the brutal AL East and has held up well. Now back in the NL, and the NL Central for that matter, he has an opportunity to go out and have a tremendous season.
Welcome back, old friend. After putting together a solid showing in 2022 and not having his option picked up at the end of the season, Smyly made it very clear that he wanted to return to Chicago this season. The feeling was mutual as the Cubs had to make some roster moves to put him in a position to return and thus signed him to a two-year deal.
Prediction: 7-10, 4.14 ERA, and 131K
Smyly had a solid season last year, even if the results didn't show. Expected to be the team's No. 4 starter to open the season, it might be a struggle for the Southpaw this season. While I expect him to pitch consistently, the inconsistencies with this lineup will hurt him as the season goes on.
Named as one of three finalists for the No. 5 spot, Sampson appears to be the front-runner, especially after another great showing in the rotation in 2022. That makes two straight years where Sampson has made 29 combined starts and has posted a 3.45 ERA in those starts. That is no small sample size, and this guy deserves the opportunity to start the year in the rotation.
Prediction: 8-8. 3.59 ERA and 147K
Much like Smyly, Sampson could go through some struggles this season, but should be able to keep the Cubs in most games. Remember, he was a former Top 30 prospect in the Rangers system, but for whatever reason, he couldn't put it together until he arrived in Chicago. Out of Minor League options, the job is his to lose to start the season, and it will be interesting to see how things play out this spring.
As expected, injuries will happen throughout the course of a season, and how you adapt to those injuries can keep you successful. While no one wants to see injuries, the Cubs have plenty of depth to help them get by, as Hayden Wesneski, Javier Assad, and even Caleb Kilian have an opportunity to make starts this season.
Wesneski is the most intriguing option of that group, as he is also in the running for the fifth starting spot. You could even see David Ross go with a six-man rotation early on, and if that is the case, look for Wesneski to grab that spot and finish the season 8-5 with a 3.17 ERA and 127 K. The Cubs also face a tough decision on Kyle Hendricks and what to do with him when he returns from off-season shoulder surgery. This is a great problem to have, and the Cubs will make the most of it.

Upgrade Your Account
Unlock premium boards and exclusive features (e.g. ad-free) by upgrading your account today.
Upgrade Now

Tags: Cubs Baseball
,
Marcus Stroman
,
Justin Steele
,
Jon Lester
,
Drew Smyly
,
Adrian Sampson
,
Hayden Wesneski
,
Javier Assad
,
Caleb Kilian
,
David Ross
,
Kyle Hendricks