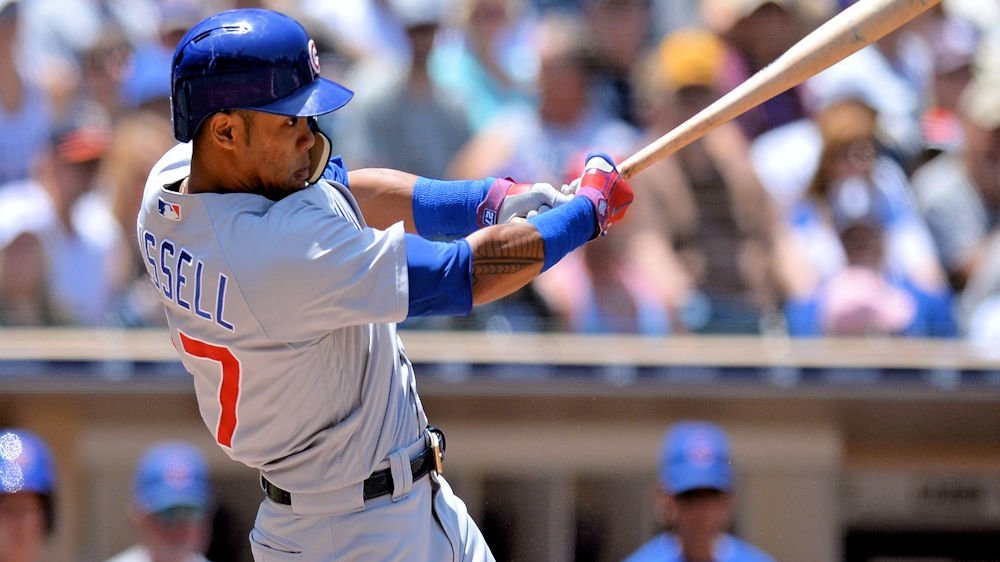 | | |
| --- | --- |
| A look at the MLB Non-tenders: A League of their own | |
---
| | | |
| --- | --- | --- |
| Tuesday, December 3, 2019, 6:01 PM | | |
It's been 27 years since the movie was released, but I finally got around to watching A League of Their Own for the first time last night. Call me slow, but I'm on a roll – in the previous four months, I've also managed to watch (the first time each) "The Sandlot," "42" and "Field of Dreams"; … go me. The movie wasn't the premise for this article, but before I get to the nuts and bolts, not even Tom Hanks could save this one for me; if for no other reason, listening to Rosie O'Donnell for two hours made me want to run ice picks through my eardrums.
The movie aired on MLB Network, so throughout the film, an MLB ticker showing MLB's non-tenders ran along the bottom of the screen; talk about enough names to form a league of their own.
It was no surprise that the Cubs non-tendered Addison Russell, but even after expecting it to happen for two years, it still seems odd that Russell won't even be playing in Iowa next summer. The league is generally good about allowing second chances – the Cubs even better – but even with new life, Russell failed ever to re-establish himself as the premier shortstop that everyone thought he had the potential to be.
In Theo Epstein's statement about why the Cubs non-tendered Russell, he cited Russell's expected arbitration salary not lining up with how the Cubs envisioned using him.
"We decided to non-tender Addison Russell today simply because the role we expected him to play for the 2020 Cubs was inconsistent with how he would have been treated in the salary arbitration process." -Theo Epstein
He went on to compliment Russell on his work toward rehabilitating himself after the domestic violence issues and vowed continued support for Russell and his ex-wife. With that, Russell became a free agent in an already crowded market.
Surprisingly to some, Albert Almora Jr. was tendered a contract, but other than Danny Hultzen, everyone else received contracts.
The #Cubs today announced the following roster moves: pic.twitter.com/uJfK4W42fv

— Chicago Cubs (@Cubs) December 2, 2019
While the majority of the NL Central was relatively quiet for non-tenders, Milwaukee went ballistic, non-tendering five, which was good enough for the most in Major League Baseball this winter. LHP Alex Claudio was shown the door, as was righty Junior Guerra. The Crew sent righty Jimmy Nelson packing, then weakened their infield by not offering contracts to either Tyler Saladino or Travis Shaw.
Cincinnati was busy bolstering their roster but still managed to find time to non-tender righty Kevin Gausman and SS/2B Jose Peraza, while the Pirates parted ways with catcher Elias Diaz. St. Louis? Crickets.
In the National League West, a total of ten were non-tendered, including: Yimi Garcia (Dodgers); Caleb Joseph, Steven Souza Jr. and Taijuan Walker of the D-Backs; Tyler Anderson, Rico Garcia, Joey Rickard and Kevin Pillar of the Giants; and Pedro Avila and Miguel Diaz from the Padres – Colorado tendered contracts to all of their players.
Moving to the NL East, the Mets and Marlins kept everyone on their roster, but the Braves will be losing Charlie Culberson, John Ryan Murphy, and Rafael Ortega, while the Nationals failed to tender deals to Koda Glover (who announced his retirement yesterday) and Javy Guerra. Meanwhile, the Phillies waved goodbye to Cesar Hernandez and Maikel Franco.
Over in the American League East, The Yankees and Baltimore hung onto everyone, while the Rays bid farewell to Guillermo Heredia. Boston failed to tender contracts to Marco Hernandez, and Josh Osich and the Jays did the same for Jason Adam, Derek Law, and Luke Maile.
In the AL West The Astros cut Aaron Sanchez loose, the Angels disposed of Kevan Smith, and Oakland said goodbye to Ryan Buchter, Josh Phegley and perhaps the biggest of all non-tendered names – Blake Treinen. The Rangers failed to tender contracts to Ian Gibaut and Wei-Chieh Huang, while Tim Beckham and Domingo Santana will be packing up and leaving Seattle.
Finally, in the AL Central, Minnesota bid adieu to CJ Cron and Trevor Hildenberger; the Tribe said goodbye to James Hoyt and Kevin Plawecki; the Chi-Sox did away with Ryan Burr, Yolmer Sanchez, and Caleb Frare, while the Royals let Humberto Arteaga, Cheslor Cuthbert, Jesse Hahn, and Erick Mejia walk. Detroit kept everyone on their roster.
In addition to the ton of free agents already available, this group increases the pool by a total of 51 men, which is great for teams looking for bargains (think "Cubs"); not so great if you're a free agent looking to score big. Not that everybody on the non-tender list will score a huge contract in free agency, but there are some very notable names joining the existing class of free agents (Blake Treinen, Jose Peraza, Yolmer Sanchez, and Alex Claudio, to name just a few).
The basic rule of supply and demand says that the more there is of something, the less it should cost, but that knife cuts both ways. While the Cubs may get a deal on a centerfielder or relief arm, Theo may find it harder to mover trade pieces with the new influx of talent that hit the open market last night. Once you combine these guys with the 300+ free agents already out there, you have just about enough talent and bodies to make a league of their own.