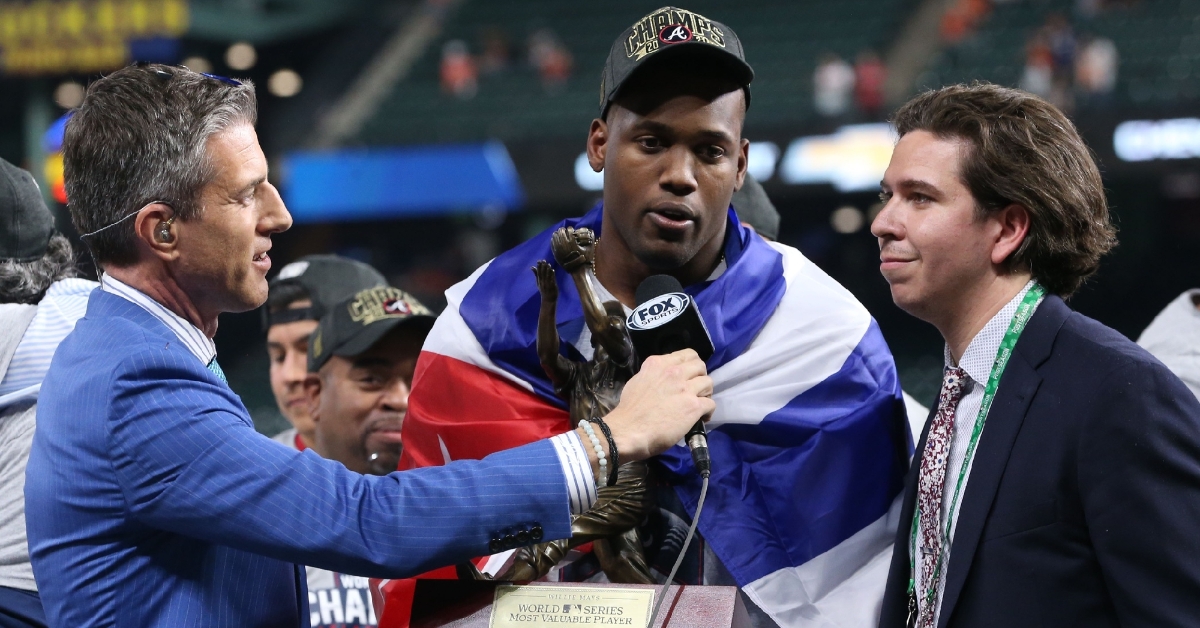 | | |
| --- | --- |
| Braves clinch title as former Cubs have key roles | |
---
Five years ago this week, the Chicago Cubs won their first World Series in 108 years. The day finally came after the Cubs came back from a 3-1 series deficit, and after nearly blowing the game, prevailed in a 10-inning thriller that may go down as the best game in MLB history.
It was epic, it was thrilling, it was magic, it was everything and more for Cubs fans who had waited their entire life for the words to be uttered, "The Cubs win the World Series!" The Cubs had the best team in baseball, and they looked prime to stay as one of the league's best teams for the next half-decade minimum.
Last night, former Cubs Jorge Soler, Joc Pederson, Jesse Chavez, and the Braves won the 2021 World Series. Unfortunately for Cubs fans, it served as a reminder of how far the Cubs are from being that team that runs the table and wins a championship.
So what happened? How did the Cubs go from the league's up-and-coming dynasty to a glorious one-hit wonder?
There is obviously a lot that has changed since that rainy November night in Cleveland now five years ago.
On the field, the only players on the roster that remain from that team are Kyle Hendricks, Jason Hayward, and Willson Contreras. The only member of the coaching staff that was involved in 2016 was David Ross, the now manager who served as Jon Lester's personal catcher. The front office has also seen plenty of turnover with Jed Hoyer getting promoted to President of Baseball operations and many other executives moving on and getting hired elsewhere — as well as the Cubs hiring from outside of the organization to fill holes. Oh, and Chad Noble the bullpen catcher is still on the staff.
This once perfectly constructed roster and exemplary organization are now one filled with question marks and holes.
Part of what hurt the Cubs during this era of baseball is the fact that the organization promised to be a "player development machine" and instead struggled to churn out major league talent, especially at pitcher. While Kris Bryant was an absolute slam dunk of a draft pick, the Cubs' other draft picks will be looked back on without the same revere. Albert Almora could be considered a bust, Kyle Schwarber was productive but inconsistent and eventually non tendered, Ian Happ is still a work in progress, as for Nico Hoerner, Ed Howard, and the rest it is far too early to tell.
Sticking with hitters, Javier Baez and Willson Contreras were homegrown but acquired by Jim Hendry and the older Cubs' regime. Jorge Soler was a good international acquisition by Theo Epstein and Jed Hoyer, but he was used as trade bait to fix the Cubs' pitching problem. In addition, Addison Russell was a welcomed addition at shortstop at the time but eventually turned out to lack the character that the Cubs wanted their players to exude. Ben Zobrist, Jason Hayward, Dexter Fowler, and David Ross were all free agent signings. Anthony Rizzo, Chris Coghlan, Tommy La Stella, and Miguel Montero were acquired through trade.
On the pitching side of things, only one pitcher was homegrown, Rob Zastrzny, and he pitched just 16 innings that entire season. Most of the pitchers were acquired via trade like Jake Arrieta, Kyle Hendricks, Carl Edwards Jr, Justin Grimm, Aroldis Chapman, Pedro Strop, Mike Montgomery, and Travis Wood. The rest were acquired through free agency, such as Jon Lester, John Lackey, Jason Hammell, and Trevor Cahill. Only Hector Rondon was acquired through the rule five draft.
After that magical season, the Cubs had a few things happen naturally. Ross, among others, retired. Lester, Lackey, Arrieta, and Zobrist aged and never performed as well again. Russell got involved in domestic violence issues and is no longer in the MLB. Players like Dexter Fowler and Tommy La Stella signed elsewhere. Almora, Schwarber, Edwards Jr, and others never quite developed into what the Cubs had expected.
Most of that is natural, after all, a World Series only happens when everything falls together. However, if the Cubs had the player development machine they promised, they should be able to plug in the holes with homegrown talent and use their money — as a top-5 revenue generator in the sport — to supplement their team.
Instead what ended up happening is the Cubs failed to develop that talent, instead they traded the talent that they did have to acquire pitching and threw money at the rest of their pitching problems. The Cubs dealt top prospect Gleyber Torres to the Yankees for Aroldis Chapman. They gave slugger Daniel Vogelbach to the Mariners for Mike Montgomery. They gave Dylan Cease and Eloy Jimenez to the White Sox for Jose Quintana. They dealt Jorge Soler for Wade Davis.
The Cubs used their money to acquire players like Yu Darvish, Tyler Chatwood, Craig Kimbrel, Cole Hamels, Brandon Morrow, and more — most of which did not pan out, and the ones who did were when the Cubs were past their competitive window.
So instead of having one of the best rosters in baseball and one of the best farm systems, the Cubs ultimately turned into a team with a weak farm system that failed to develop starting pitching. The Cubs threw money at that problem. While that always presented a temporary solution, the Cubs did not have the money to supplement their offense in free agency (the Cubs signed Daniel Descalso for less than five million the year Bryce Harper and Manny Machado made 300+ million) thus putting far too much faith in their homegrown pieces and never having enough money to afford to extend them. Then to supplement the offense, the Cubs were forced to use what prospects they had left to acquire pieces like Nicholas Castellanos via trade — and once again could not afford him when free agency rolled around because the Cubs needed to pay pitchers.
This, of course, places the Cubs in a far too familiar spot. Staring another rebuild in the eyes while watching another team experience what the Cubs felt five years ago.

Tags: Cubs Baseball
,
Jorge Soler
,
Joc Pederson
,
Kyle Hendricks
,
Willson Contreras
,
David Ross
,
Jon Lester
,
Kris Bryant
,
Albert Almora
,
Kyle Schwarber
,
Ian Happ
,
,
Addison Russell
,
Ben Zobrist
,
Dexter Fowler
,
Anthony Rizzo
,
Chris Coghlan
,
Tommy La Stella
,
Miguel Montero
,
Jake Arrieta
,
Justin Grimm
,
Aroldis Chapman
,
Pedro Strop
,
Mike Montgomery
,
Travis Wood
,
John Lackey
,
Trevor Cahill
,
Hector Rondon
,
Jose Quintana
,
Wade Davis
,
Yu Darvish
,
Tyler Chatwood
,
Craig Kimbrel
,
Cole Hamels
,
Brandon Morrow
,
Daniel Descalso
,
Chad Noble
,
Theo Epstein