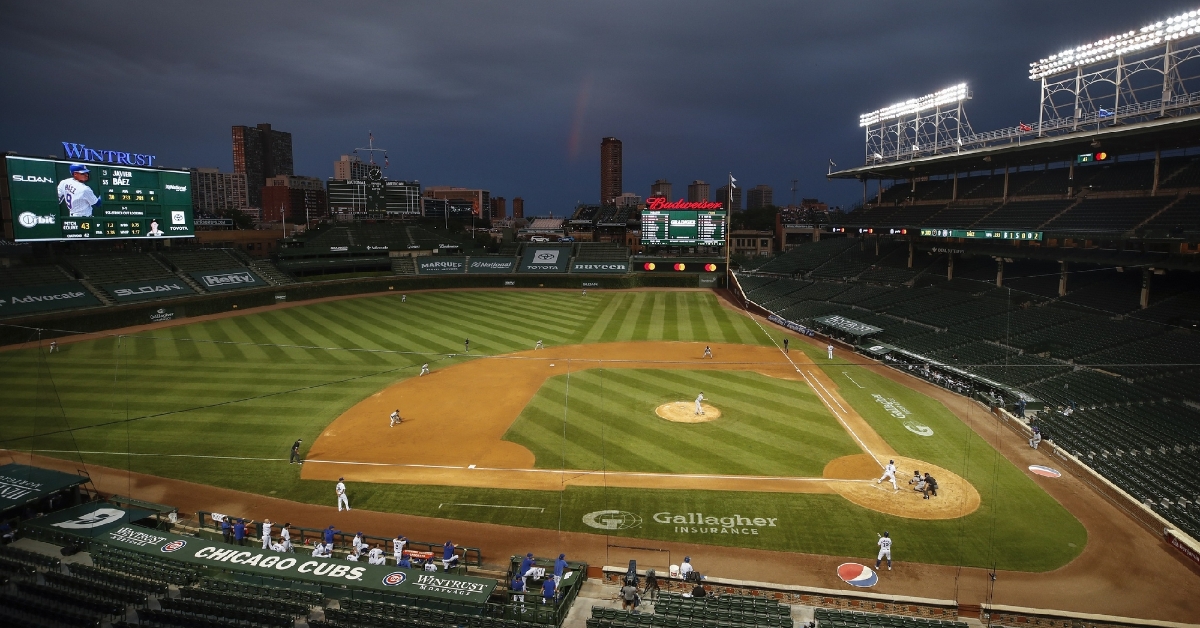 | | |
| --- | --- |
| Breakdown of Cubs in Instructional League | |
---
Once the regular season ended, teams were figuring out how to give their minor league players some extra work especially considering there was no season or no Arizona Fall League. The solution was for individual organizations to put together an instructional league held in Arizona. The Cubs were one of those teams to do just that, and for the most part, the League has gone well.
This was supposed to be the final week of the instructional league games. Unfortunately, the Cubs were one of three organizations hit with COVID this week, joining the Dodgers and another organization, so all games are done this week. That could mean the end of the line for the organizational players this season.
Before COVID went through camp, the Cubs had plenty of players at the instructional League, with most of them having success. Most of the names shouldn't come as a surprise when you look at how the organization values them, but some big names left off the list, which surprised me. The Cubs had 46 players at the instructional league this season, with 20 of them being pitchers. That is a massive total when you look at how many players were left off the South Bend roster this year.
Here is a position by position breakdown of who was at camp and who was not.
Pitchers (20): When looking at the Pitchers, some of the names shouldn't surprise you at all. You have the teams, minor league pitcher of the year, in No.12 prospect Cory Abbott leading the way along with No. 17 prospect Chris Clarke and No. 20 prospect Richard Gallardo. All three are viewed highly by the organization hence the extra they wanted them to put in.
Other names fans should be familiar with are Peyton Remy and Cam Sanders from the South Bend 2019 championship team, Bailey Reid, and this year's fifth-round pick Koen Moreno as those three look to make giant leaps next season. The rest of the pitchers include Josh Burgmann, Danis Correa, Brad Depperman, Manual Espinoza, Jose Gonzalez, Bryan Hudson, Gabriel Jarimillo, 2020 undrafted free agent Ben Leeper, Joel Machado, Erling Moreno, Eduarniel Nunez, Jerrick Suiter, and 2020 fourth-round pick Luke Little.
Some surprising names left off were 2019 first-round pick Ryan Jensen, 2019 third-round pick Michael McAvene, Tyson Miller, and top prospect Brailyn Marquez. Of these three, Marquez, I thought was a shoo-in for sure when you consider the work he put in at South Bend this summer along with his major league debut. Kohl Franklin and Burl Carraway were also not on that list because they appeared to reach their innings limit at the South Bend site this summer.
Catchers (5): Whenever you talk about the Cubs catching prospects, No. 3 prospect Miguel Amaya immediately comes to mind. Amaya is considered the long-term option for this organization, but he was not in Mesa for instructional league work. A big reason for that was Amaya worked with many pitchers in the South Bend site this summer, and the organization felt he got enough work during that time. What about the Catchers that took the field in Mesa?
No. 14 prospect Ethan Hearn and No. 15 prospect Ronnier Quintero led the way in terms of instructional league backstops. Hearn was a sixth-round selection that signed for around 950,000, while Quintero was the top international backstop on the market a few seasons ago and signed for just under three million. Neither of them has been on the field much, with Hearn seeing 23 games of action while Quintero has yet to make his pro debut. Their at-bats were crucial in Mesa. Pablo Aliendo, Bryce Windham, and Cam Balego joined them in Mesa.
Infielders (11): Of all the groups in Mesa, the infield group was loaded with the most talent and was the one group to watch the most. It all started with this year's top draft pick and NO. 4 prospect in Ed Howard, who swung the bat well. He added some weight during the offseason and is starting to develop more power at the plate. He is still quite a few years away but is beginning to turn heads sooner rather than later.
Other big names that saw more action were No. 9 prospect Chase Strumpf who was taken in the second round of the 2019 draft, No. 11 prospect Christopher Morel who spent most of the summer in South Bend, No. 24 prospect Kevin Made, No. 25 Rafael Morel and No.28 Alfonso Rivas a first baseman formally in the Oakland system. Fellow first baseman and 2020 undrafted rookie Matt Mervis joined them along with Fabian Pertuz, Luis Vazquez, Luis Verdugo, and Andy Weber.
Outfielders (10): Much like the infield, the outfield was loaded with some talented players, and No. 2 prospect Brennan Davis led the way. The Cubs' former 2018 draft pick missed tons of time with injuries last season but made lasting impressions with the bat. Those impressions carried over to this summer with South Bend and eventually to Mesa. Davis is by far the best offensive prospect the Cubs have right now and should find his way into Chicago real soon.
No. 5 prospect Cole Roederer was another big name outfielder to find time in Mesa. Upon being drafted in 2018, Roederer was projected to be one of the Cubs system's best pure hitters. 2019 didn't show that, but that isn't to say Roederer won't be a great player. The more experience he gets, the better he will be. 2020 third-round pick and the organizations No. 19 prospect Jordan Nwogu also saw action in Mesa as the Cubs needed to get him some at-bats this season.
Other names that saw action were Eugene/South Bend OF Edmond Americaan, South Bend OF Yonathan Perlaza, South Bend OF Nelson Velazquez, South Bend OF Jared Young, and 2020 undrafted free agent Jacob Wetzel. Two of the surprising names in all the instructional LeagueLeague happened to be on the Cubs and played the outfield position.
Often fans tend to forget about the Arizona and Dominican Summer Leagues, but these two players are worth keeping tabs on. Yohendrick Pinango is a high contact speedy outfielder who could turn into a legitimate leadoff type hitter down the Cubs road. Felix Stevens also saw some time in Mesa. Stevens has been a guy I have been extremely high on given his body type and comparison to Jorge Soler. The Cubs future is in good hands with these players, so seeing them get at-bats in some regard this fall will help them come 2021.

Tags: Cubs Baseball
,
Cory Abbott
,
Richard Gallardo
,
Peyton Remy
,
Cam Sanders
,
Bryan Hudson
,
Erling Moreno
,
Eduarniel Nunez
,
Jerrick Suiter
,
Ryan Jensen
,
Michael McAvene
,
Tyson Miller
,
Brailyn Marquez
,
Kohl Franklin
,
Miguel Amaya
,
Cam Balego
,
Chase Strumpf
,
Christopher Morel
,
Alfonso Rivas
,
Luis Vazquez
,
Andy Weber
,
Cole Roederer
,
Edmond Americaan
,
Yonathan Perlaza
,
Nelson Velazquez
,
Jared Young
,
Jorge Soler