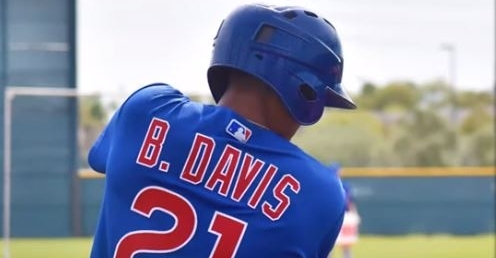 | | |
| --- | --- |
| Brennen Davis injury is concerning for Cubs | |
---
| | | |
| --- | --- | --- |
| Tuesday, November 8, 2022, 10:32 AM | | |
When the Cubs selected Brennen Davis in the second round of the 2018 MLB draft, it was a pick filled with upside. On paper, Davis was one of the best athletes in his draft class, but many scouts were wondering if baseball was his true calling.
A multi-sport star in high school, Davis decided to focus on baseball despite injuring his hamstring during his senior season. Note the injury during his freshman season, as that is what this column will ultimately be about. Upon being drafted, Davis has gone on to show his true potential and has proven that a second-round selection was more than worth it.
Immediately following the 2018 draft, Davis was on his way to Arizona, where he spent time in the ACL. Across 18 games, Davis went on to hit .298 with no homers, but three RBIs. It was in 2019 when Davis started to break out as he made a name for himself in South Bend.
Not only did Davis hit a .305 that season, but he connected for eight homers and 30 RBIs. The eight homers were the second most on the team, and he did that in just 50 games as he dealt with a series of wrist injuries. 2020 was supposed to be the next step in Davis' career, only to have COVID wipe out the 2020 season and forced Davis to head to Arizona to get extended work.
Back in the mix in 2021, Davis opened the season with AA Tennessee and was then promoted to AAA Iowa by the season's end. During the season, he hit .260, but his power started to show as he had 19 homers and 53 RBIs, with three coming at AAA. That was in 99 games, as Davis missed more time with an injury.
Now comes the 2022 season, where some thought Davis would not only contend for an opening day spot, but would overtake the starting CF job in the process. That never happened as Davis struggled mightily in the spring and then went on to hit just .180 with five homers and 17 RBIs. That was not what the Cubs expected, but he was limited to just 53 games after dealing with a back injury.
That back injury continues to linger as he played in a handful of games in the Arizona Fall League before being shut down due to back soreness. At this point, Davis has not only lost an entire year of development, but two of the last three years as COVID added to it.
No one is saying he is a bust at this point, but you have to wonder if the Cubs are growing concerned about his back, especially considering how limited he has been this season. Chicago knows all too well about back injuries, with Anthony Rizzo seemingly always missing time with lower back injuries.
Davis is a much different case, as he is not even 24 years old and is already dealing with back issues. That is something that has always plagued him since turning pro as the kid can't stay healthy. It is almost painful to watch at this point because you can see the potential in him, but he can't stay on the field to unleash that potential.
Looking at his career thus far, many thought Davis would be in the MLB right now, and I have to admit I was one of them. However, you can't predict injuries, and if those injuries continue, you have to wonder if the Cubs will ultimately move on from him. Back injuries, especially chronic back one, can be the end of a player's career, and Davis may be on the verge of a lingering back injury that could last over time.
That is not what the Cubs want to hear, but it is time for them to face the reality of the situation. His inability to stay healthy has prevented him from developing at the rate the Cubs expected and, thus, has seen other guys chase him down in the prospect rankings.
Pete Crow-Armstrong has surpassed Davis as the organization's top prospect, but guys like Kevin Alcantara and Alexander Canario are knocking at the door. Had Canario not suffered a severe and potential career-altering injury two weeks ago, I was willing to bet that he would have passed Davis up this season.
Now that he has been shut down for the rest of 2022, Davis can take the extra time off to get right and use it as a mental reset. Come spring, he will have a lot to prove, as the 2023 season will be huge for his future in the organization.
Not only does he need to go out and prove he is ready to hit at the next level, but he needs to prove he can stay healthy and last an entire season.