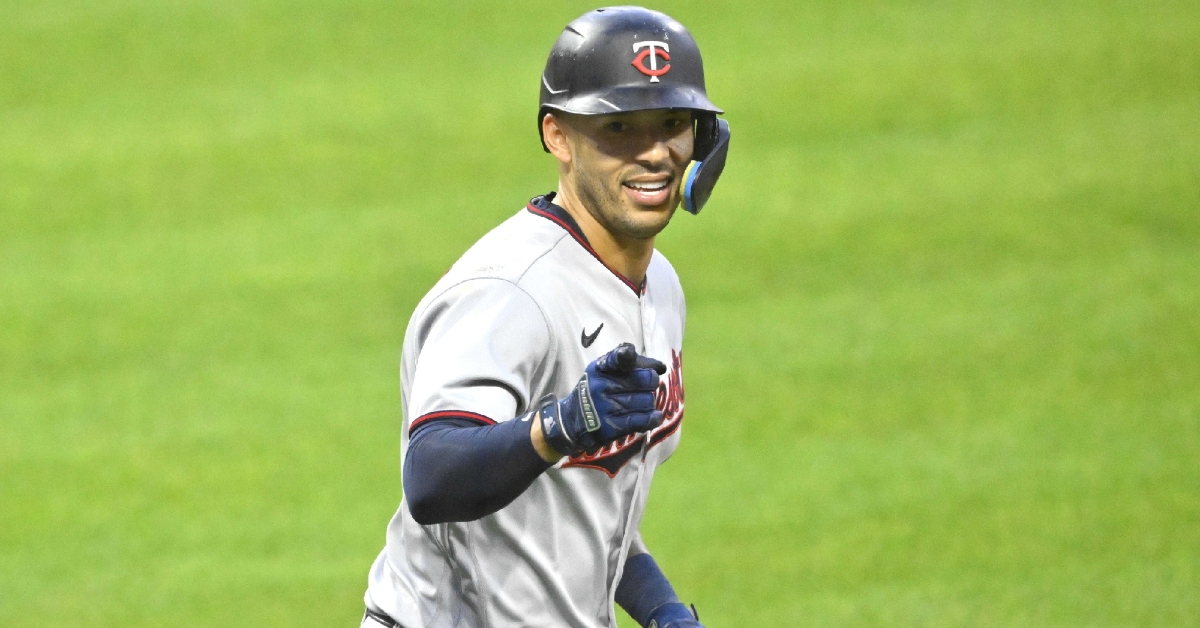 | | |
| --- | --- |
| Carlos Correa to Cubs starting to gain more traction | |
---
Free agency officially begins on Thursday, which means the busiest part of the MLB offseason is about to get underway. For the Chicago Cubs, it means the beginning of a new era, as this team has the money and resources to spend big and help construct the next great Cubs team.
A lot of that success will have to come from the minors and their prospects coming through the system, but not all of the holes can be filled that way. For the ones that can't look for the Cubs to be players in free agency, especially in the highly coveted SS market.
With guys like Carlos Correa, Trea Turner, Xander Bogaerts, and Dansby Swanson, someone will land a high-profile shortstop for seven years. The Cubs are hoping to be one of those teams, although it is still being determined who they prefer.
If you ask most fans, Turner is the man they want as he is the youngest of the group while possibly offering the most potential out of all of them. However, one name that has been linked to the Cubs going back to last season and will once again this season is Correa.
He may not be the fan's first option to play shortstop, but he could be the Cubs top priority, and the MLB landscape feels the same. Correa had an up-and-down campaign in his only season with the Twins, as he just 22 homers for his lowest total since 2016 and the second lowest of his career.
His 64 RBIs were also an issue, as that was the lowest total for his career, not counting the COVID-shortened season. There could be a lot that contributed to his struggles that we may never know, but he made up for the lack of power with a .291 average which was also the second-highest mark of his career.
That alone is worth noting as Correa is a .279 career, but has shown the ability to hit for a higher average like this season. If the Cubs are interested in Correa and all signs point to them being very interested, the next question would be how many years they take a chance on him and how much?
Once that is determined, it becomes a question about what Correa you would get. Would you get the one from this season willing to sacrifice some of his power for a higher average? Or, would you get the 35 to 40-homer guy who would be content hitting in the .260s as long as he produced?
It is an interesting argument, but the Cubs would be thrilled if Correa signed with them and landed somewhere between those lines. I know what you are thinking. Why would the Cubs go after one of these shortstops when they have Nico Hoerner playing great at SS?
The plan has been to move Hoerner back to 2B or a utility player, but that can only be done if they take a swing at a SS. If that does happen, it would also have a lasting effect on Nick Madrigal, as he appears to be the odd one out right now.
Acquired in the Craig Kimbrel trade in 2021, Madrigal was unable to appear in a game for the Cubs that season as he was recovering from a severe hamstring injury. Once he returned to the field this season, things were somewhat a struggle, and that is something Madrigal never experienced during his tenure with the White Sox.
Madrigal always had the reputation of a contact-first type of player who was going to hit north of .300 with little to no power. He started to show signs of that last season after returning from an injury, but that was about all there was for success as he hit in the .240s and just seven RBIs.
He will need to do way better than that in 2023 if he expects to stick around, but his days as a starter could be numbered if Hoerner is moved to second. Even if he goes from a starter to a role player, Madrigal still has a ton of value if he comes off the bench, and that is something the Cubs want and need.
Madrigal is a proven hitter and has done it everywhere he has played, so the Cubs are confident he can do it again. He is also a great defender, and everyone knows how important a good defense is.
This will be one of the bigger domino effects of free agency, depending on what happens at shortstop this offseason.