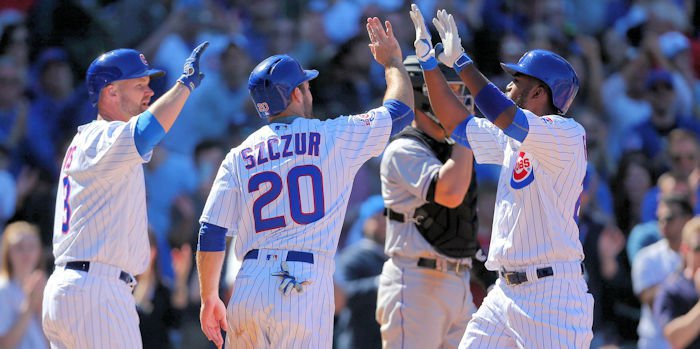 | | |
| --- | --- |
| Chicago Cubs 2016 roster -- Where are they now? (Part 3) | |
---
It is no secret among Cubs fans that the 2016 Cubs were the best team in the history of the franchise. While a decent chunk of the core of that championship-winning team remains intact, as years go by, more and more players have gone their separate ways.
While many Cubs fans have spent their quarantined days by watching and reliving the magic of the 2016 Cubs, I assume some have begun to wonder what some of these players are doing now.
Check out the update on the 2016 Cubs roster, right now, in 2020.
Here are last names from R-Z:
2016 Recap: Richard was a fixture in the Cubs bullpen in 2015, but saw his role decrease in 2016. Richard appeared in 25 games as a lefty specialist but was dealt to the Padres before the season ended.
Where is he now: Richard played for the Padres until 2018, played 2019 with the Blue Jays and is currently still looking to be rostered in 2020.
2016 Recap: Rendon was a valuable closer for the Cubs for the first half of the season, but the addition of Chapman led to Rondon being used as a crucial set-up man for the 2016 club. Rendon had 18 saves and pitched to a 3.53 ERA in 2016 and was responsible for some of the biggest outs the Cubs had to record that season.
Where is he now: After spending the first five years of his career with the Cubs, Rondon nearly won a World Series with the Astros. The Diamondbacks have since signed him.
2016 Recap: Grandpa Rossy played his famous last season with the Cubs in 2016 and it ended in an epic fashion. Ross hit 10 homers in 2016 including his 100th of his career, but he was known more so as Jon Lester's personal catcher. However — his famous moment came in game seven of the World Series where he homered off of Andrew Miller and was later carried off the field by Anthony Rizzo and Jason Heyward.
Where is he now: Ross has since retired and became an ESPN broadcaster as well as special assistant for a few years. However, Ross is now the manager of the Chicago Cubs.
2016 Recap: Easily, the best year of Russell's career was in 2016. Russell was the National League's starting shortstop, as he homered 21 times and drove in 95 runs to pace the league's most potent lineups. Russell thrilled the Wrigley crowd with electric defensive plays and big hits all year — but no hit was more significant than his grand slam in game six of the World Series.
Where is he now: Unfortunately for Russell and his family — his career has been on a downward slope ever since. Russell spent 2017-2019 with the Cubs, playing poorly on the field and bouncing between the majors and minor leagues while also dealing with and serving a suspension for domestic abuse. He is currently a free agent, still looking for a team in 2020.
2016 Recap: Smith may have the most generic name in history — but he is one of the harder Cubs to remember from 2016. He pitched in just 16 games in 2016 and earned a 1-1 record for the World Champion Cubs.
Where is he now: Smith has continued his tour of the big leagues, and currently resides on the Astros where h has been since 2018.
2016 Recap: Soler debuted with the Cubs in 2014 and was an offensive factor throughout the 2016 season. While it is often forgotten that he was a contributor to the 2016 team, he just never seemed to fit with the Cubs. Soler did have a pair of hits in the 2016 World Series, and his contributions should not be overlooked.
Where is he now: After the 2016 season, the Cubs traded Soler to the Royals for closer Wade Davis. Soler is coming off of a season in which he led the AL in home runs with 48, ten more than the next closest Cub. He will be a Royal in 2020.
2016 Recap: Strop was one of the best relievers for the Cubs in 2016, and is arguably the best in Cubs history. For Strop, 2016 was one of his best years. The righty with the slanted hat appeared in 54 games and pitched to a 2.85 ERA as well as not giving up a single run in three World Series Appearances.
Where is he now: After spending the last seven years of his 11-year career with the Cubs, they could not afford to bring him back. Strop signed a deal with the division-rival Reds, which is where he will play in 2020.
2016 Recap: Szczur's most prominent contribution in 2016 may have been lending Anthony Rizzo his bat during the NLCS — and he played a significant role for the World Champion Cubs. He batted .259 with five homers that season and was often called upon as a defensive replacement late in games.
Where is he now: Szczur was traded to the Padres in May of 2018 and spent 2018 with San Diego. His 2019 season was spent with the Diamondbacks minor league system primarily, and he is currently trying to make the roster with Philadelphia.
2016 Recap: He may have played only half a season with the Cubs before heading back over to the New York Yankees, but in his 29 appearances, he pitched well. Although his ERA was a reasonably high 5.91 as a Cub, he went 3-2 in 35 innings. Warren did not finish the season with the team, but he can say he was a World Series Champion.
Where is he now: Warren is currently a free agent following a 4-1 season with the Padres in 2019.
2016 Recap: Travis Wood is one of the most interesting stories from the 2016 team. Wood made the transition from starter to a reliever during his five-year stint with the Cubs and performed admirably out of the pen in 2015-2016. As a lefty specialist, Wood was 4-0 with a 2.95 ERA in 2016 and is remembered for homering in game two of the NLDS at Wrigley Field as well as crushing beers at the World Series parade.
Where is he now: After playing for multiple teams in 2017, Wood has since retired and is out of baseball.
2016 Recap: Zastryzny was not frequently used in 2016, but he appeared in 8 games and pitched admirably. The homegrown Cubs talent pitched to a 1-0 record and a 1.13 ERA in 2016 on his way to earning a ring in his rookie year.
Where is he now: Zastryzny did not play in 2019 as the Cubs released him, but has since signed with the Baltimore Orioles and was invited to Spring Training.
2016 Recap: Zobrist was one of the most influential Cubs during the 2016 season. On his way to earning an all-star starting nod, Zobrist hit 18 homers, drove in 76 RBIs as well playing above-average defense all across the diamond. Zobrist will forever be remembered for his clutch go-ahead RBI double in the top of the tenth inning of game seven of the 2016 World Series — earning him World Series MVP honors.
Where is he now: Zobrist finished out his four year deal with the Cubs in 2019 and seems content to retire from baseball.
We hope you enjoyed our 2016 Chicago Cubs World Series Champion Roster Update — stay tuned for updates on the Coaching Staff.

Tags: Cubs Baseball
,
Clayton Richard
,
Hector Rondon
,
David Ross
,
Jon Lester
,
Anthony Rizzo
,
Jason Heyward
,
Addison Russell
,
Joe Smith
,
Jorge Soler
,
Wade Davis
,
Pedro Strop
,
Matt Szczur
,
Adam Warren
,
Travis Wood
,
Rob Zastryzny
,
Ben Zobrist