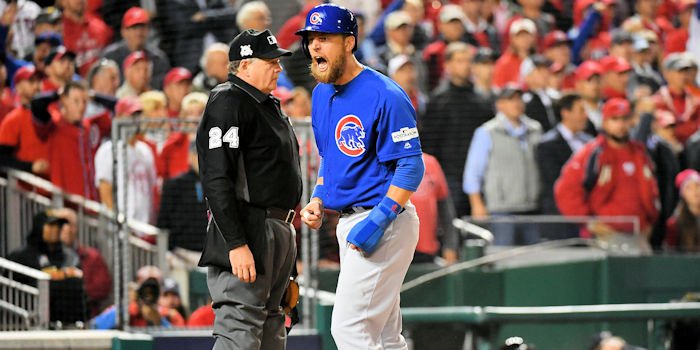 | | |
| --- | --- |
| Chicago Cubs: Likely candidates for September roster call-up | |
---
| | | |
| --- | --- | --- |
| Sunday, August 18, 2019, 6:09 PM | | |
September 1st is always a fun time for Major league baseball as teams can expand their rosters from 25 to 40 players. Although most teams try to stay around 30-32 this year is especially unique as it will be the last time 40 players are allowed. Starting next year, MLB has ruled that the September roster expansion will go from 40 to 26 players. That will make next year even that more difficult in terms of picking the right guy.
For now, we get to enjoy one more year of endless callups and additions as teams will undoubtedly be looking to fill not only their bench and bullpen. Here is a list of some players that I think are locks to return once the rosters expand.
Injured: We all know the Cubs are dealing with their fair share of injuries, but those players are on the mend soon. Steve Cishek, Craig Kimbrel, Daniel Descalso and Willson Contreras have all been bitten by the injury bug and are working their way back. Once healthy all four will be back on the roster giving the Cubs their starting catcher back and a bat that hopefully can produce off the bench.
Hitters: Some hitters to look for that are not injured are three no brainers in my opinion as Albert Almora, Ben Zobrist and Robel Garcia all should get a call back to Chicago in September. Almora who was demoted on Friday is hoping a brief stay in the minors can get his head right much like it did for Addison Russel with his latest stay. Almora may not start as often as he would like but would be used in many pinch-hitting and defensive substitution situations.
Zobrist is a compelling case because he technically is available before Sept. The problem with him is should the Cubs wait until Sept 1 to call him up he would no longer be available for the postseason. I don't see the Cubs waiting that long and my prediction is he gets called up on August 30 for Tony Kemp with Kemp then returning two days later.
Garcia impressed the Cubs with his immense power and continues to mash the ball in AAA. Although his strikeout numbers are through the roof, his bat makes him a must in terms of a power bat off the bench. That is the role I see him playing in September as he is not only a switch hitter but one who can change the game with one swing from both sides of the plate.
If we want to talk about production in AAA and who deserves callups, then Trent Giambrone, Mark Zagunis, Jim Adduci and Taylor Davis would be on that list. With the addition of Jonathan Lucroy, I think that solidifies Davis in AAA with the rest of them too far down on the depth chart. Not to mention Iowa on is the verge of making the playoffs for the first time in nearly a decade, they can't completely gut their roster as they still need to put a contending team on the field.
Pitchers: Switching over to pitchers, this becomes a bit trickier since the Cubs have practically gone through the entire AAA rotation at some point. I also feel this is a position that will add more the roster as the month goes on dependent on what Iowa does in the postseason. Randy Rosario and Danny Hultzen are two names that I think will be up immediately once those rosters expand. Both are not only throwing well in AAA but are lefties giving the Cubs needed depth in that spot.
Some others to keep a watch on are James Norwood, Dillon Maples, and Alec Mills as all three have seen time in the bigs this year. Duane Underwood is one of the mystery men as of right now as his position on the team is based on the health of the pen. Should Kimbrel and Cishek come back before Sept 1, then Underwood would be sent to Iowa to return a short while later. Since coming to Chicago, he has shown that his ability to throw out of the pen compared to a starter was the right move giving the Cubs a valuable weapon down the stretch.
Two more players we may also see happen to be starters in both Adbert Alzolay and Colin Rea. I can tell you this, had Alzolay not injured himself in July I think he would be on this team right now contributing in some way. With Iowa needing him in their rotation if they want to contend for the AAA title Alzolay will need to wait a few weeks to take the mound in Chicago again. Once their season comes to an end, you can bet Alzolay will be back up and throwing out of the pen.
The final player that I think gets the call is Rea and rightfully so. Not only has he become the Cubs ace pitching to a 12-3 record and 3.50 ERA, but that ERA is also good for the top spot in all the Pacific Coast League. Rea was signed as a minor league free agent this winter and is not on the current 40-man roster. Had he been, he would have been in Chicago a long time ago making starts for the injured Hamels and Hendricks.
Keep in mind all these names are subject to change based on injuries, playoff situation, and production, but these names are the ones that I see as the most likely options for callups. I don't believe the Cubs will stretch the max and get to 40 players, but 34 or 35 is not out of the question as I expect 18 pitchers and 17 batters throughout September. Get your pencils and scorecards ready because September could turn into a spring training type of game.

Tags: Cubs Baseball
,
Steve Cishek
,
Daniel Descalso
,
Willson Contreras
,
Ben Zobrist
,
Robel Garcia
,
Trent Giambrone
,
Mark Zagunis
,
Jim Adduci
,
Taylor Davis
,
Randy Rosario
,
James Norwood
,
Dillon Maples
,
,
Duane Underwood
,
Adbert Alzolay
,
Colin Rea