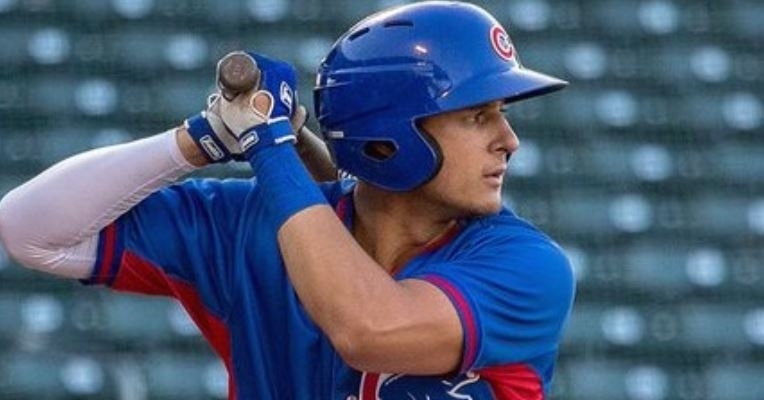 | | |
| --- | --- |
| Chicago Cubs Top 30 Prospect Rankings for 2021 Part 5 | |
---
| | | |
| --- | --- | --- |
| Tuesday, April 6, 2021, 8:57 AM | | |
The next part of our top prospect series comes with a lot of anticipation as we have reached the top 10 players in the system. This is the part of the list where the elite prospects start to separate themselves from the rest of the prospects, as these guys are often considered difference makers.
In most cases, these would typically be the players on the cusp of making their MLB debut to being just one year away. For the Cubs, most of these players have a lot more developing to do, but that doesn't change the fact that the franchise is in good hands.
Known for drafting big-time bats out of college, Theo Epstein followed that plan in 2019 when he took Strumpf in the second round. The UCLA stud put his name on the map when he homered in his first at-bat after being drafted. Since that point, he has continued to develop into a great hitter and more good years are ahead.
Across his first 29 professional games spanning across three levels, Strumpf has hit a 244 to go with three homers and 17 RBI's. That is not what has the Cubs excited about him as it has been his work ethic across the past season. Not only was he invited to their Alternate site last year, but he then went onto participate in the instructional fall league, where many felt he was the best overall hitter.
This year, Strumpf has found himself in countless spring games and has even left the yard once this Spring. His compact right-handed stroke will allow him to be a good hitter while developing into a 20-homer player. His bat will lead him to the most success, but his defense is still adequate to be an everyday player.
Knowing the Cubs needed to stock up on hard-throwing pitchers, the teams elected to draft Jensen with their first-round pick in 2019. Known for having the best fastball in his class, Jensen has no trouble averaging 96 but can top out at 99. After struggling to post a 5.84 ERA in his first two seasons in college, Jensen dominated as a junior, so his stock rose significantly.
While his fastball is overpowering, his 89 MPH changeup and 85 MPH slider have the makings of being quality secondary pitches. However, the command has always been his issue, and that continued in his first professional season. Despite posting a 2.25 ERA in six games, Jensen walked 14 hitters in 12 innings of work while striking out 19. I know the Cubs have long-term plans to make him a front-line starter, but when you look at his pitching style, he may be better suited to take on a closer role in the future.
Older brother of Rafael who landed earlier on this list, 2015 international free agent Christopher Morel continues to be an intriguing piece in the Cubs system. Not only does his right-handed swing produce some of the best bat speed in the system, but teams are lining up to see if the Cubs are willing to part with him whenever they talk trades.
A 243-career hitter in 188 minor league games, Morel is coming off a 2019 season where he hit a career-high 284 to go with six homers and 31 RBI's. His problem continues to be his overall plate discipline which has been on display in his limited spring action.
Should he figure out a more consistent plate discipline, Morel can become an average hitter while posting plus power. Not only does he have pull side power, but great opposite-field power and has no trouble showing that off. Ticket to start at the hot corner for Tennessee this season. Look for the Cubs to maybe move Morel around a bit and try to bank on his athleticism.
Once viewed as the top prospect in the Cubs system, Alzolay has fallen to No. 7 and will fall off the prospect list should he make one start this season. Alzolay was looked at for the No. 5 spot out of camp but a rough spring coupled with one more option year has him ticketed to be the Iowa ace early on.
Armed with a 93-95 MPH heater, Alzolay also uses an 86 MPH change and 82 MPH curve to offset a hitters timing. He also developed a new slider that sits around 84, which became his outpitch a season ago. Known as a strike-thrower, Alzolay has struggled a bit in his brief Major league experience going 2-2 with a 4.54 ERA, 22 walks, and 42 Strikeouts.
Going back to his minor league career, Alzolay has gone 33-27 thus far with a solid 3.63 ERA. If his injury history is finally behind him, Alzolay will continue to develop as he looks to finally cement himself on the Cubs roster. Look for him to be called up at some point this season and take over a starting spot next season.
Once a top 30 prospect who sat around 27, Kohl Franklin is the fastest moving pitcher in the system as the 2018 sixth-round pick moves up to six. His progression as a player earned him an invite to Spring, but he never saw action.
At least not yet.
Forget about his 1-4 record across 14 starts but instead, look at his 3.02 ERA and his 25BB to 60K ratio. Along with that, Franklin is a prime example of what professional development can do for a player. Once someone who sat around 88 with his fastball, Franklin now sits around 93 and has been seen hitting 97 consistently. To compliment that, Franklin has both a tremendous change and knuckle-curve using a high spin rate to get those pitches to work.
Franklin is a freakishly athletic pitcher and has no trouble repeating his delivery on the mound. A few years away from contributing, Franklin has the makings of becoming a front-line starter for years to come.