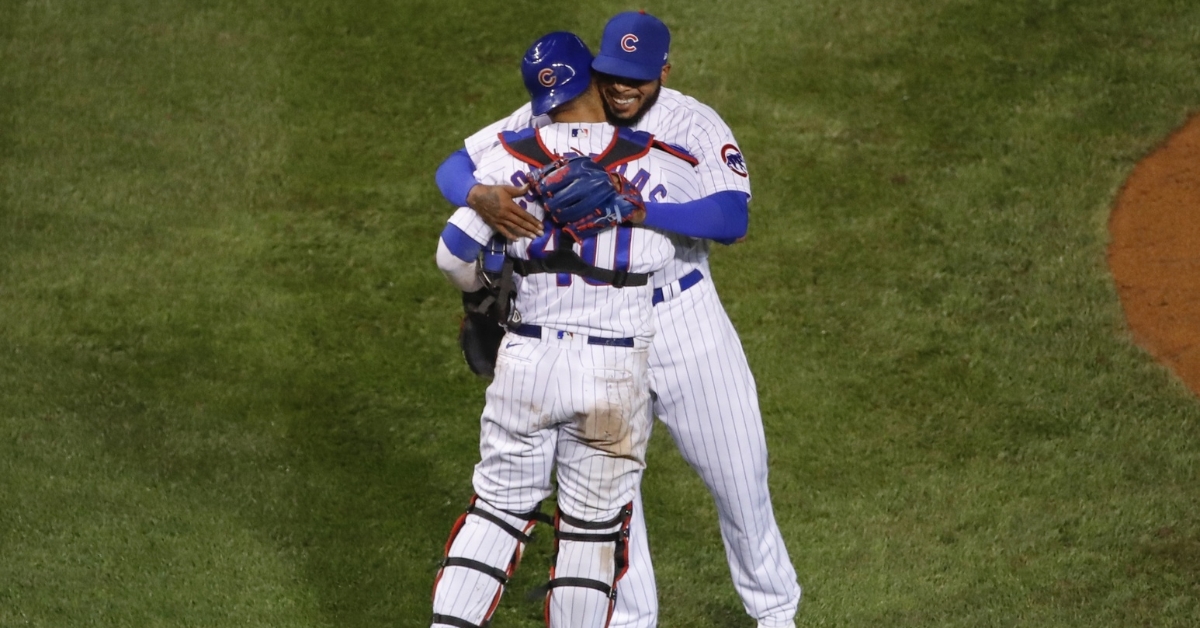 | | |
| --- | --- |
| Commentary: Cubs should bring back Jeremy Jeffress | |
---
| | | |
| --- | --- | --- |
| Thursday, January 21, 2021, 10:06 AM | | |
The Cubs won the division last season, but another early postseason exit didn't sit well with fans or ownership. That forced the Cubs hand to make lots of wholesale changes, and the fans are experiencing firsthand just how much change they wanted to make.
There was a lot of bad with the Cubs last season, especially on offense, as they never could settle into a consistent groove. That is why they ranked 29th out of 30 teams in batting average, but for good measure, all five teams in the division ranked 20th or lower in hitting. While hitting struggled all season, the pitching was a strong point as the Cubs received consistent starting pitching all season long.
Kyle Hendricks continued to do his thing, Yu Darvish emerged as a CY Young candidate, and even guys like Tyler Chatwood and Alec Mills showed potential at times. While the starting pitching was the one area the Cubs saw consistency, the bullpen was a whole different story as they endured one of the more drastic turnarounds.
After posting the 28th worst ERA through the first two weeks of the season, the Cubs began to tinker with things and slowly got better. By the time September rolled around, the Cubs had ranked in the top 10 in bullpen ERA, including posting the best bullpen ERA during September. Pretty impressive when you look at some of the names in their pen.
Perhaps no one on the pitching staff was more important than Jeremey Jeffress last season, who is once again a free agent. Jeffress was signed to a veteran's minimum contract last season and quickly emerged as the Cubs most trusted arm. Sure, some of his outings were dramatic at times, but for the most part, he took care of business, especially when it came down to holding the closer role after Craig Kimbrel struggled.
Jeffress is looking for more than 810K this season, but the Cubs would be foolish to let him move on, especially for only two or three million a season. Chicago needs to stop sitting back and let the market take shape. They need to do something now before it is too late, and Jeffress should be one of their top priorities at this point.
Age aside, as he is approaching 34 this season, and Jeffress continues to be not only one of the more reliable relievers but one of those most trusted relievers in baseball. He has been doing this a long time, too, as this season will be his 12th in baseball, spending most of his career with Kansas City and Milwaukee.
Jeffress has always been a back of the bullpen type of pitching who has seen action as both a set-up man and a closer. Across his 414 career games, compiling nearly 425 innings of work and the numbers speak for themselves. Jeffress has posted a 32-12 record with a solid 3.08 ERA. Jeffress has logged 76 holds, including a career-high 23 in 2015 to go along with 52 saves. More than half of those saves came in 2016, where he went 27 for 28 in save opportunities.
As good as Jeffress has been over his career, his best work has come in two of the past three seasons.
2018 happened to be his best year after he returned to Milwaukee. Not only did he pitch in a career-high 73 games that season, but he threw nearly 80 innings, going 8-1 in relief. He posted a ridiculous 1.29 ERA while earning 18 holds and 15 saves. Jeffress also struck out a career-high 89 hitters as he put together an impressive season.
2019 was a different story as injuries hampered him, and he posted a 5.04 ERA across 48 games. That type of performance left many feeling as if he was done, but the Cubs took a chance on him only to see it pay off.
Last year, Jeffress saw action in 22 games throwing 23 1/3 innings in the process. His 4-1 record was excellent, as was his eight saves after stepping in for Kimbrel.
What the Cubs found most impressive was his 1.54 ERA, as for the second time in three years, he posted a sub 2.00 ERA. His outings were not always the cleanest, but he got the job done, and the Cubs were lucky to have him last season.
Now they need to figure out a way to bring him back so they can get the last few good seasons out of his arm.
Jeffress was always someone who could run the fastball in at 95-97 with one of the best cutters in the game. Granted, that cutter is still his go-to pitch, but since his shoulder issues emerged in 2019, the velocity dipped into the 91-92 range.
What was promising last season is as the season went on, Jeffress' velocity increased as he was consistently in the 93-94 range by the end of the year, topping out at 95. He used his curve more than ever last season also, so he is adapting with age.
No one expects him to put together a season like last year or one from 2018, for that matter again. However, 2019 was not the norm for this man, and his track record proves it. The Cubs need him back. He stabilized that pen and is a leader both on and off the field. Make it happen; Cubs go get Jeffress.