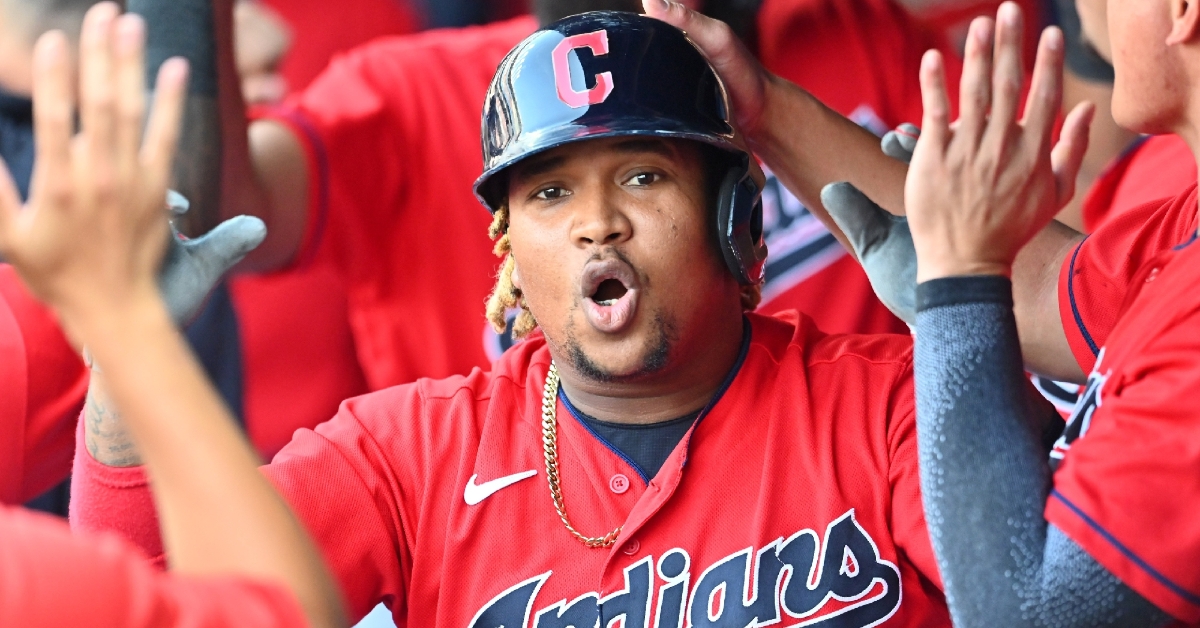 | | |
| --- | --- |
| Commentary: Cubs should kick the tires on a Jose Ramirez trade | |
---
| | | |
| --- | --- | --- |
| Wednesday, November 3, 2021, 4:34 PM | | |
Now that the World Series is officially over, and congrats to the Atlanta Braves, the 2021 MLB offseason can officially begin. Although it isn't officially free agency yet, this is the portion of the offseason when teams start to plan out qualifying offers and focus on team needs and desires heading into next season.
This is also the part of the offseason known as the Hot-Stove portion, as the trade market could begin to heat up in the coming weeks. We have already heard a Willson Contreras trade proposal to the Cubs, and unless they can reach an agreement on an extension this offseason, expect trade talks to hover around Contreras all offseason.
He may not be alone in the trade market either, as the Cubs have a few players who may find themselves on the trade block depending on what the new-look front office has in mind. To make things a bit more interesting, the Cubs may look to acquire pieces through the trade market, and Cleveland Indians 3B Jose Ramirez has not only started to see his name linked to the Cubs, but it would make a ton of sense for the Cubs to grab him.
For starters, Carter Hawkins is the Cubs new GM after previously working with the Indians as the team's assistant GM. He knows Ramirez very well and knows a lot about the Indians plan for the future, considering he was just there. Should the club elect to place Ramirez on the block, would Hawkins be willing to help his old team on the trade market to have them help him out.
The more you look at Ramirez being traded, the more it makes sense, especially when you consider what Cleveland has gone through this season. Much like the Cubs, Cleveland underwent some serious housecleaning last offseason and gutted a lot of that roster. They entered 2021 with one of the lowest payrolls in the MLB and could continue to cut payroll in the coming weeks.
After trading Francisco Lindor to the Mets, along with Carlos Carrasco, Michael Clevinger, and Adam Cimber, the Indians had 40 million dollars committed to their payroll at one point during the offseason. After adding Eddie Rosario and several other pieces, that increased to 50 million, but that is the highest number it reached during the season.
Not only that, but looking ahead to next season and Ramirez takes up a large chunk of the committed salary dollars and is the only player signed for 2022 at this point on a multi-year deal. If you look at what he could be earning in arbitration awards over those two years, it comes out to 37 million dollars. The Lindor and Carrasco deal was made for financial reasons, yet this team remained in contention for quite a while.
After falling out of contention around the deadline, the Indians unloaded most of their critical contributors at that point and are now facing a crossroads much like the Cubs. That is why I see Ramirez being a trade candidate this offseason, as Cleveland may want to unload their final huge contract on the books. As things sit right now, Ramirez will earn 11 million in 2022 with a two million dollar buyout. He also has a 13 million dollar option for 2023.
Since releasing him would allow another team to sign him, giving Cleveland nothing in return, I can't imagine that happening, so look for them to pick up his option and then pursue a trade. As weird as it may sound, the Cubs make a ton of sense and can afford a player of Ramirez's caliber. Not only is he a young switch hitter who will turn 30 next season, but he has already won three silver slugger awards to go with finishing in the top three in MVP voting three times. Although a better hitter from the left side, Ramirez has never hit below .255 and has logged a .278 career average since coming to the show in 2013.
In 2016 and 2017, Ramirez was at his best, hitting 312 and 318 in each of those seasons, logging 29 homers in 2017. That was followed up with a career-best 39 homer 105 RBI season in 2018, although his average took a significant dip down to .270. After hitting a career-worst .255 in 2019. Ramirez bounced back in 2020 with a .292 mark before hitting .266 this season.
Once again, Ramirez was at his best this year, hitting 36 homers to go with 103 RBIs proving that he not only has plenty left to give, but was the only real offensive threat for Cleveland. So far for his career, Ramirez has connected for 163 homers and has shown some decent speed adding 154 stolen bases on 189 tries. That is a fantastic success rate.
What stands out the most in terms of his game has to be his plate coverage and discipline, where he has taken nearly as many walks (404) to strikeouts (491). That is why he typically has one of the better OBP in the game and would be a huge get for this current Cubs team. Not only do the Cubs have an opening at 3B, but Ramirez is precisely the player this roster needs.
Not only is he young and controllable for a few seasons, but you could extend him beyond his current status to get plenty out of him. He is a switch hitter, which the Cubs love, and he provides power from both sides of the plate, something this team will need much more of this season. His speed on the bases will come in handy, and his overall approach at the plate is the type of hitter the new regime is looking for.
Hawkins knows Ramirez and the Cleveland organization well, so I expect him to kick the tires on this one. Getting Ramirez will be a massive move for the Cubs, but it won't come cheap as the Indians are looking for prospects much like the Cubs. If I were Hawkins, I would look to package David Bote in the deal. Bote has two years left of team control and has proven to be a clutch hitter, but just not an everyday player. He would give Cleveland plenty of versatility.
Also, look for Ian Happ to maybe have his name thrown around, but I don't see the Cubs willing to part with him yet. As far as prospects go, you would have to think that Chase Strumpf or Christopher Morel would be included in that deal. Both of them play third base, and both would be great future replacements for Ramirez. Look for Kevin Made or other shortstops to possibly be dealt as the Indians look to find Lindor's replacement.
This is all just smoke and mirrors at this point, but at some point, Cleveland will look to unload their last remaining big contract. Ramirez will be an attractive piece and one I think the Cubs would benefit from having. Cheers to the start of what could be a fascinating offseason in more ways than one.