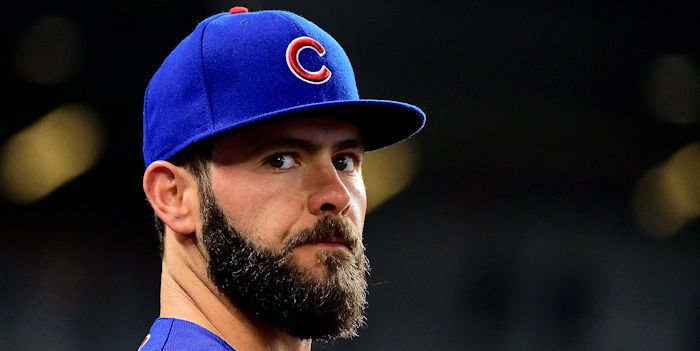 | | |
| --- | --- |
| Commentary: Jake Arrieta needs to come home to Cubs | |
---
The Cubs have been known to be on the wrong side of trades for much of their history. You can even go back to recent seasons where the Cubs traded Eloy Jimenez and Dylan Cease for Jose Quintana as well as Jorge Soler for one year of Wade Davis. The Aroldis Chapman for Glayber Torres trade still hurts, but at least the franchise got what they long desired with that deal.
Even through all the bad deals, the Cubs have also found a way to strike gold in some other deals and no trade was better than the one Theo Epstein and company pulled off with the Baltimore Orioles in 2014. In a deal that sent starter Scott Feldman and backup catcher Steve Clevenger to Baltimore, the Cubs in return received reliever Pedro Strop and Starter Jake Arrieta.
At the time, this appeared to be a trade aimed at clearing cap for the rebuilding Cubs, but no one expected this trade to turn out the way it did. Strop went on to spend the next seven seasons with the Cubs in which he becomes one of the best relievers in team history. His 2.83 career ERA ranks third in franchise history among relievers, while he also holds the team record for holds. Take away his injury-plagued 2019 season and Strop had a great, but often overlooked Cubs career.
Arrieta on the other hand was a gold mine and given he is once again a free agent; it would be great for him to return home where he belongs. Prior to coming to Chicago, Arrieta was very similar to that of Tyler Chatwood. Obviously Arrieta was slightly better in terms of production, but it was all about command with Arrieta where it seemed he never knew where his pitches were going.
The year Arrieta was traded saw him go 5-4 with a 4.78 ERA across 14 starts. That didn't scare Epstein away as he picked him up and stashed him in the minor leagues for a few weeks in hopes of working out the kinks. That appeared to be the right decision as Arrieta started to emerge as a dominating force in 2014.
Despite missing five weeks with shoulder tendinitis that season, Arrieta showed his potential going 10-5 with a 2.53 ERA across 25 starts. His 41BB and 167K was also a telling story as it showed how much greatly his command improved. Then came 2015, the year where Arrieta put his name on the map. Not only did he go from middle of the rotation arm to ace, but he solidified himself as the game's best pitcher that season taking home the NL Cy Young award.
Arrieta went 22-6 that season and posted a ridiculous 1.77 ERA in 33 starts. What is more impressive about that was his post-All-star mark of 12-1 with a 0.72 ERA in 14 starts. His 48 walks and 236 strikeouts were downright impressive as he simply dominated hitters. Arrieta also went on to win the Wildcard game that season as he proved to be the ace of the Cubs staff.
Across his final two years in Chicago, Arrieta wasn't nearly as dominating as he once was but still managed to go 32-18 with a reliable 3.39 ERA. Couple that with his first few seasons and Arrieta put together a run of 64-29 with a 2.64 ERA. That type of production set him up for a healthy free-agent contract in which he signed with Philadelphia for three years and 75 million.
Upon arriving in Philly, things never were quite the same, as Arrieta never reached the success the Phillies had hoped. His best season was in 2018 where he went 10-11 with a 3.96 ERA but followed that up with a 12-12 mark the past two seasons with a 4.87 ERA as injuries have certainly taken their toll on him.
For his career, Arrieta has won 103 games compared to 74 losses and has posted a solid 3.76 ERA across that same time frame. Given that he is now approaching 34 years old, the best days are long behind Arrieta, but if the price can be had and comes reasonable enough, he should come home.
Whether that means a one- or two-year deal, Arrieta will always be remembered as a Cub and for what he did, and fans will never forget that. It was a hard day to find out he wasn't returning, but fans understood why. Arrieta as much as he loved this city seemed to want to go in a different direction in terms of his future. He had a chance to cash in during free agency and did just that.
Granted things didn't work out how he nor the Phillies had hoped, but that could be a good thing for anyone interested in him this offseason. If his numbers would have been in line with his Cubs tenure, Arrieta would be one of the hottest names on the free-agent market this season. With his numbers falling the way they did; he now becomes a back of the rotation arm that can come at a cheaper price. The Cubs need to consider bringing him back home.