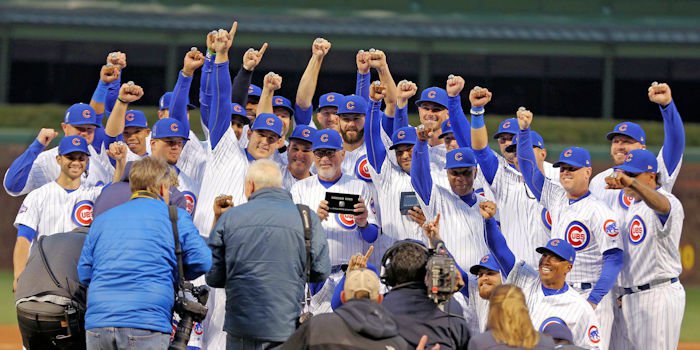 | | |
| --- | --- |
| Commentary: The Ultimate Cubs lineup | |
---
| | | |
| --- | --- | --- |
| Friday, April 21, 2017, 11:35 AM | | |
CHICAGO -- The Cubs start to the 2017 season has been less than stellar, despite winning their first three series. After jumping out to a quick respectable 6-3 start, the defending champs lost four in a row, and the record dipped down below .500 before rebounding and taking the Brewers series with a walk-off homer by Addison Russell. The last time the Cubs record was under .500? April 10, 2015, when they started off the year 1-2.
With a number of stars the Cubs have on their roster, sometimes that becomes an issue when it comes to playing time. It is a great problem to have, however, Joe Maddon has already spit out multiple different rosters early in the season. Quick disclaimer: the Cubs have ridiculous depth. They have the advantage of being able to throw out different rosters any given day, and still, have a great chance to win that game.
However, only nine of these players can take the field at once so let's take a look at every position's depth to help better understand the rosters that the Cubs throw out there.
Catcher: Wilson Contreras and Miguel Montero. Schwarber is listed as 3rd string catcher but I don't think we will see him behind the plate this year with Contreras and Montero performing well. We have seen Contreras get more starts here in the early going, however Montero's bat is what will keep him in the lineup. Contreras is young and is getting better and better behind the plate every day and he has a solid bat, he will start more this year.
First Base: Anthony Rizzo. Kris Bryant is a backup. Rizzo will get 95% of the starts here as long as there is no injuries to him this season.
Second Base: Javier Baez and Ben Zobrist are going to take the majority of starts here this year. With Zobrist in the outfield on certain days, Baez will be at second base to add his defensive spark. However, Joe Maddon won't hesitate to throw Zobrist in at second to get either Albert Almora Jr or Jon Jay some time in the outfield. It's complicated, to say the least, but like I said, it's a valuable problem to have, as these guys know how to win.
Shortstop: Addison Russell. Javier Baez is a backup but Russell will get 95% of the starts unless there is an injury to him this season.
Third Base: Kris Bryant. Javier Baez is a backup, with the possibility of Tommy La Stella playing there too.
Left Field: Kyle Schwarber will likely get close to the majority of the starts here this year. Having his bat in the lineup is a must for Maddon. Zobrist and Szczur provide backup help, but Zobrist's talents are usually utilized elsewhere in the field at second and in right field.
Center Field: It gets complicated here. Jason Heyward will probably be here for a good percentage of the time as he is a stud defensively. However, the Cubs always have the option of Albert Almora Jr or Jon Jay. Any of these three is a good option, all are starting the season extremely well at the plate and in the field. Ideally, Almora Jr will eventually take over the starting center field job and Heyward goes back to his traditional right field position.
Right Field: Jason Heyward and Ben Zobrist are the two most important cogs here.
Starting Pitcher: The starting pitching have been adequate so far. The rotation so far has been Lester, Arrieta, Lackey, Hendricks, Anderson. Lackey and Hendricks have been hit hard through the early portion of the season.
Relief Pitcher: Hector Rondon, Koji Uehara, Mike Montgomery, Pedro Strop, Justin Grimm, Brian Duensing, Carl Edwards, Jr. This bullpen has depth and potential but has not shown it in several games this season. In the Cubs first seven losses, the starting pitchers were only responsible for three of those losses. The rest was rightfully blamed on the bullpen by the fans on social media.
Closer: Wade Davis is the man this year. He doesn't throw 100+ mph like Aroldis Chapman did for the Cubs last year, but he gets the job done. Davis has looked like a stud and has three saves with a 0.00 ERA and sevens strikeouts this season.
With all of this information, we go back to the fact that only nine (or ten) can start in the Chicago Cubs lineup for a game. Keep in mind that players like La Stella, Szczur, Almora Jr., Jay, Montero can be used any way Joe Maddon wants them to. Pinch hitting, pinch running, defensive substitutions, we have seen it before, and we will see it this year.
The Ultimate lineup that I believe the Cubs can throw out any given day is:
LF-Schwarber
3B-Bryant
1B-Rizzo
RF-Zobrist
SS-Russell
CF-Heyward
C-Contreras
P-Lester
2B-Baez
I believe this lineup contains the best combination of bats and defense out there. This has been an everyday lineup early in the season, and will probably be one that Maddon marks down for important games this year. What is your favorite lineup for the Cubs? If the bullpen starts clicking and the Cardinals keep losing, Cubs nation should have some fun this year.

Tags: Cubs Baseball
,
Miguel Montero
,
Anthony Rizzo
,
,
,
Ben Zobrist
,
Albert Almora Jr
,
Jon Jay
,
Addison Russell
,
Tommy La Stella
,
Kyle Schwarber
,
Jason Heyward
,
Hector Rondon
,
Koji Uehara
,
Mike Montgomery
,
Pedro Strop
,
Justin Grimm
,
Brian Duensing
,
Wade Davis
,
Aroldis Chapman
,
Joe Maddon