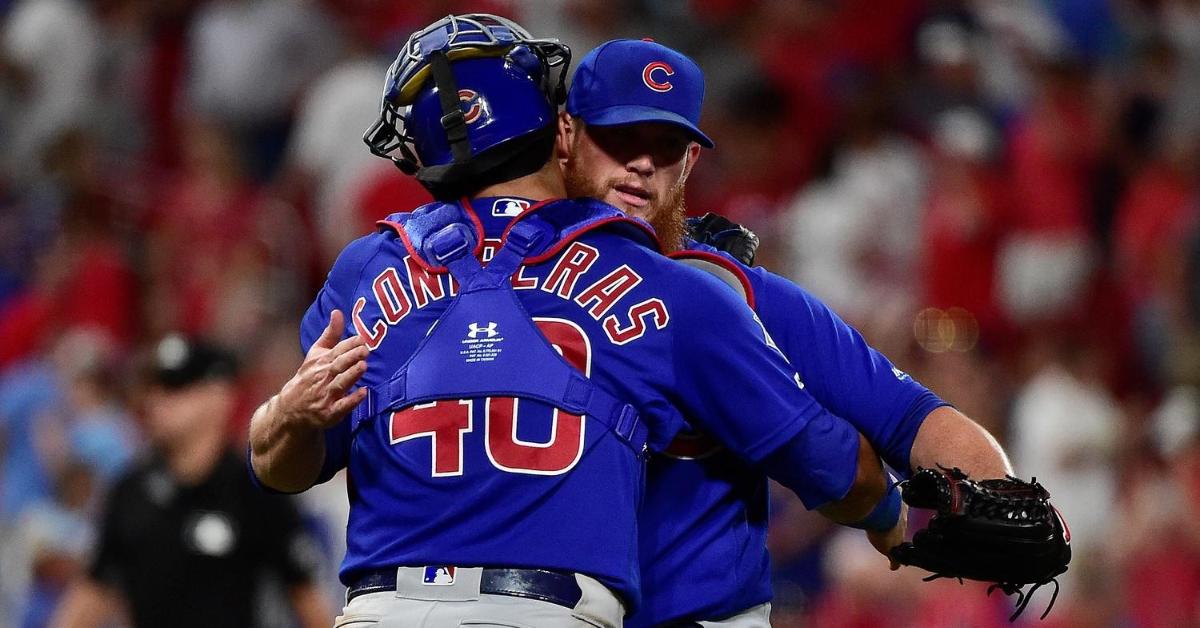 | | |
| --- | --- |
| Commentary: What should Cubs do with the bullpen? | |
---
At long last, we have come to part four of the roster installment as we have reached the dreaded bullpen. It is no secret that part of the Cubs season-long struggles had to do with the bullpen as they were in flux from opening day to game 162. Looking back on the season, Pedro Strop and Steve Cishek, who typically have been counted on in critical situations, had some of the worst seasons in their career as the Cubs used more relievers than any team in the National League a season ago.
With that being said, it seemed as if things started to come together late as the Cubs had the best bullpen ERA in the National League for much of September. A large reason for that turnaround was several minor league signings or under the radar names that proved to be diamonds in the rough for a team that didn't have much going right for them. These players will once again be looked to carry the load, but a lot of work and sorting out still needs to come to bring this part of the team back to the level they were at in 2016.
With rosters expanding from 25-26 players this season, I expect most teams to go with 13 pitchers and 13 position players. This means that most teams will be looking to construct an eight-man bullpen, especially early in the season, to take the load off their starters. For the Cubs, the selection of these eight players will be especially huge as last season, and it proved to be a struggle until the end of the year.
Minor League free agents, Rowan Wick, and Kyle Ryan were pleasant surprises last year and have done more than enough to return to the team this year. Pair them with a healthy Craig Kimbrel, a full season of Brad Weick, and either Alec Mills or Tyler Chatwood, depending on if they get the rotation spot or not, and the Cubs have five arms returning to a unit that saw too much turnover a season ago.
Even with a good chunk coming back, the Cubs will still have three spots to fill, and judging by what is in the minor league system, Chicago will undoubtedly have to continue to scour the free-agent market in hopes of striking rich. Ideally, I wanted Blake Treinen to come here on a one-year deal as I think he would have solidified the eighth-inning role. Now that he is off the board, there are two more free-agent names I would like to see as both Will Harris, and now Dellin Betances are still available.
Both hard-throwing righties have been in the pen for years now and have had great success both in closing games in high leverage situations. Harris fits the Cubs financial crisis much better than Betances, but Betances has a much higher ceiling and is still just 27 years of age. These are the top two names on the free-agent market in terms of relievers, so I don't expect the Cubs to sign either one at this point.
Another free agent that I would like to see a return to Chicago would be Brandon Kintzler, as he was a godsend for the Cubs last year. After a rough 2018, the Cubs elected to decline the team option on Kintzler's previous season, who went about it to pick up his player option to remain with the organization. That proved to be a great decision as not only was Kintzler the most consistent reliever in the pen, but he may have had his best season since 2013, which could bode well for him in free agency.
Yes, at 35 and nearing 36, Kintzler may only get a one-year deal, but after the way he pitched last season, it wouldn't hurt to bring him back. He proved once again that he could pitch in a variety of roles, which is something the Cubs counted on him to do many times when other components of the pen were on the shelf. Do I expect him to perform at the level he did last season? No, but even if he comes close to his career track record, it would be a bonus to what the Cubs had a season ago.
Another free agent arm I would be looking into is Aaron Sanchez from Houston. The former Blue Jay starter has had issues remaining healthy ever since breaking into the bigs in 2015. Ultimately, that has landed him in the bullpen, where he has been very consistent with his production. Sanchez would be a good fit for the Cubs as he fits the mold of a swing or spot start type of reliever, something the Cubs love to have on their team.
Let's say, the Cubs go all the way through winter and fail to sign a big name or even solid relief contributor in Free Agency. That would mean they would either must fill the pen from within or go via the trade. In my opinion, a trade would be out of the question, so inquiring from within would be my answer. With names like Dillon Maples, James Norwood, Michael Rucker, etc., the Cubs have options, but let's be real only Maples and Norwood have been in the bigs the past three seasons and haven't done much once arriving.
I can't believe I am saying this, but the Brandon Morrow signing has me a little bit more excited than I think I should be. After all, this is the same guy that the Cubs signed two seasons ago following a dominating run with the Dodgers. That deal looked like a steal at the time, but Morrow couldn't get out of his own way as injuries, and multiple surgeries forced him to miss the last three months of 2018 and all of 2019.
Now back with the Cubs on a Minor League deal, Morrow is out to prove to everyone that not only is he healthy, but he is ready to step in and contribute now. Morrow will almost be a sure invite to spring training bet and will be given every chance to prove he deserves to be on the roster once again. If healthy, Morrow has proven to be a dominating late-inning reliever who could be exactly what the Cubs are looking for in the 8th inning.
Just imagine what the Cubs bullpen would like if Morrow is indeed healthy and can get back to his 2017 and 2018 form with the Cubs. Not only should you have a healthier and more consistent Kimbrel in the ninth, but you would have Morrow handling the eight with guys like Wick and Weick taking care of the seventh, essentially making things a six-inning game for other teams.
That is precisely the winning combination the Royals had in 2015 where you had Kelvin Herrea in the seventh, Wade Davis in the eighth and Greg Holland in the ninth. Not only does a bullpen puzzle-like what the Cubs could have make things easier on the pitchers, but it also makes things tougher on the Cubs opponents as it shortens the game for everyone.
On the Cubs side of things, Starters will know that if they can give the team five good innings and even six on several occasions, the back of the bullpen will be ready to shut opponents down. This will allow starters to pitch more to the game plan and less to avoid the big inning.
On the flip side regarding opponents, teams will know that essentially the Cubs could shorten the game to six innings if their pen holds up. This puts more pressure on the Cubs opponents as they will know they need to score earlier and more frequently off the starters as things could be hard to come by should the pen pitch to their abilities when healthy. That will prove to be a big advantage moving forward for a team looking to reestablish themselves as real contenders.
Whatever the Cubs do from here forward, will impact the way the Club goes about making their opening day roster decisions. All I know is that the Cubs are not short on options when it comes to the bullpen, and if healthy, some of these options are really intriguing.

Upgrade Your Account
Unlock premium boards and exclusive features (e.g. ad-free) by upgrading your account today.
Upgrade Now

Tags: Cubs Baseball
,
Pedro Strop
,
Steve Cishek
,
Rowan Wick
,
Kyle Ryan
,
Craig Kimbrel
,
,
Tyler Chatwood
,
Brandon Kintzler
,
Dillon Maples
,
James Norwood
,
Michael Rucker
,
Brandon Morrow
,
Wade Davis