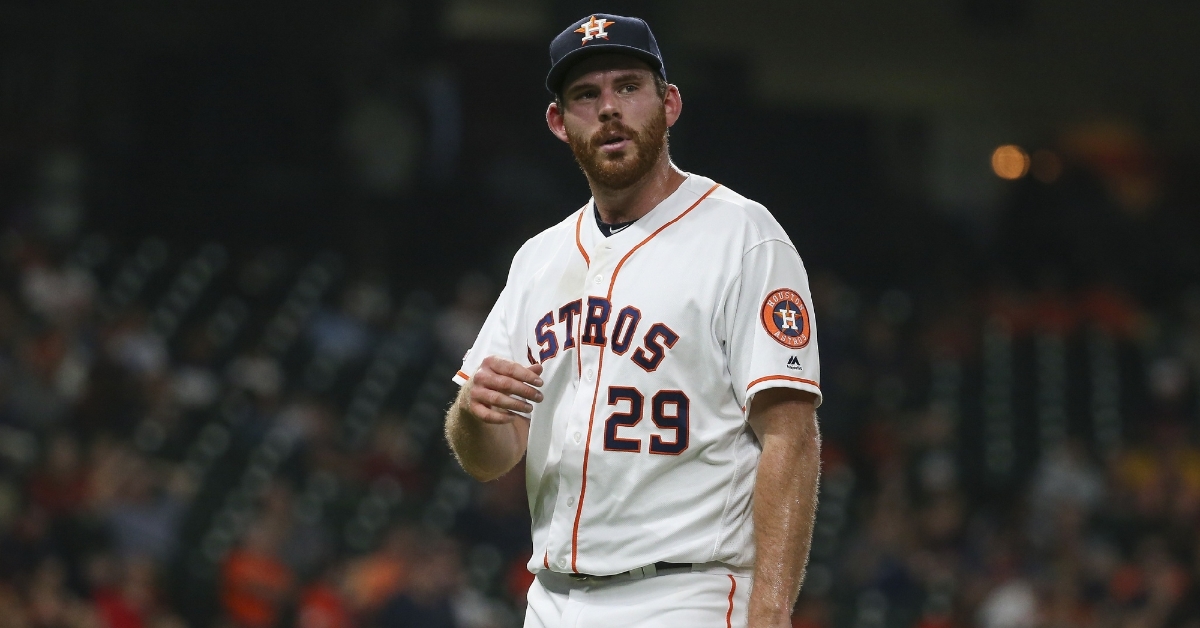 | | |
| --- | --- |
| Cubs add pitching depth with former Astros reliever | |
---
| | | |
| --- | --- | --- |
| Wednesday, December 23, 2020, 5:18 PM | | |
The Cubs are starting to make moves in free agency, although not the moves many want to see. So far, Chicago has been about adding depth at the MLB level and the minor league level. After all, minor league depth is equally as important as the players an organization needs to depend on should injuries, and other things happen at the MLB level.
The most recent of those minor league signings happens to be former Houston Astros right-hander Joe Biagini as he has come to terms with the Cubs for a minor league contract. The 30-year-old Biagini is coming off a horrendous season but only played in a total of four games, so you can't take too much away from that. You can take away his career numbers, which are not that appealing, so this is one of those puzzling signings for the Cubs.
Thus far, across his five professional seasons, Biagini has been a busy man pitching in 221 games, including 22 starts. Although he has logged just under 329 innings as a pitcher, Biagini has plenty of innings under his arm to be a bullpen depth piece, but that would be about it at this point. So far, Biagini has gone 14-25 with a less than appealing 5.07 ERA. I know some of that could be credited to Houston and the park they play in, but that is still not an ERA that you like to see.
A big reason for the insufficient numbers for Biagini comes from his rough 2017 season in which he pitched in 44 games, including 18 starts. He went on to finish 3-13 that season but was 1-11 as a starter. His 5.34 ERA was inflated given how many starts he made, but still didn't show the Toronto Blue Jays anything at that point.
The next season saw Biagini go 4-7 with a 6.00 ERA in 50 games, including four starts, as his career seemed to be ending based on poor production. 2019 saw Biagini put together his best season since 2016, but it still wasn't much to rave about. During that season, he logged a career-high 63 games to go with 65 innings of work. Granted, his ERA was still a bit high at 4.59, his command was much better than in seasons past, and he finished the year with a 3-2 record.
Biagini is a name that has been in the majors for a while now but has played primarily with both the Toronto Blue Jays and Houston Astros. While this move is a bit questionable, to say the least, adding him to the minors as a depth piece certainly will not hurt this team as it gives them more options for both spring training and the minor league season.
I'm sure the Cubs are hoping for something close to his 2016 season, which ended being his best season as a pro to this point. In that year, Biagini pitched strictly in relief, reaching 60 appearances for the first time in his career to go with just under 68 innings. Not only did he pick up a 4-3 record, but he accounted for nine holds, which was third on the team, and one save. His 19 walks were a career-low, and his 62 strikeouts were the second-most in any season, but the most he has logged out of the pen at any point of his career.
The one number to look at in 2016 instead of every other season would be his ERA, as it was the only time it was under 4.00. Not only was it under 4.00, but it barely broke the 3.00 mark finishing off the season at 3.06. Whatever Biagini was doing that year, it was working, and the Cubs are hoping to figure that out and unlock it once again.
While the rest of his career has been a bumpy ride, Biagini was off to a strong start in 2019 before being shipped to Houston. Before pitching 13 games in Houston in 2019 and 17 total if you count 2020, Biagini saw action in 50 games for the Blue Jays that season reaching 50 innings of relief once again.
Not only was he solid posting a 3-1 mark, but his 10 matched his career-high to that point from 2017, while his 17BB to 50K ratio put him in line for his best marks as a reliever. Once again, Biagini figured some things out, as his ERA at the time of the trade was 3.78. However, that ERA rose to nearly 4.7 following the trade.
This is one of those signings the Cubs have been famous for the past three seasons, and I understand why the fans are becoming frustrated with these moves. While adding minor league depth is undoubtedly essential, adding a player who has struggled all but two seasons may not be the way to get fans excited.
Who knows, maybe the Cubs see something the fans don't, and this turns out to be one of those under-the-radar surprise moves like Ryan Tepera, and Jason Adam were last season. I don't see Biagini having the same luck and may not even be on this roster come opening day.