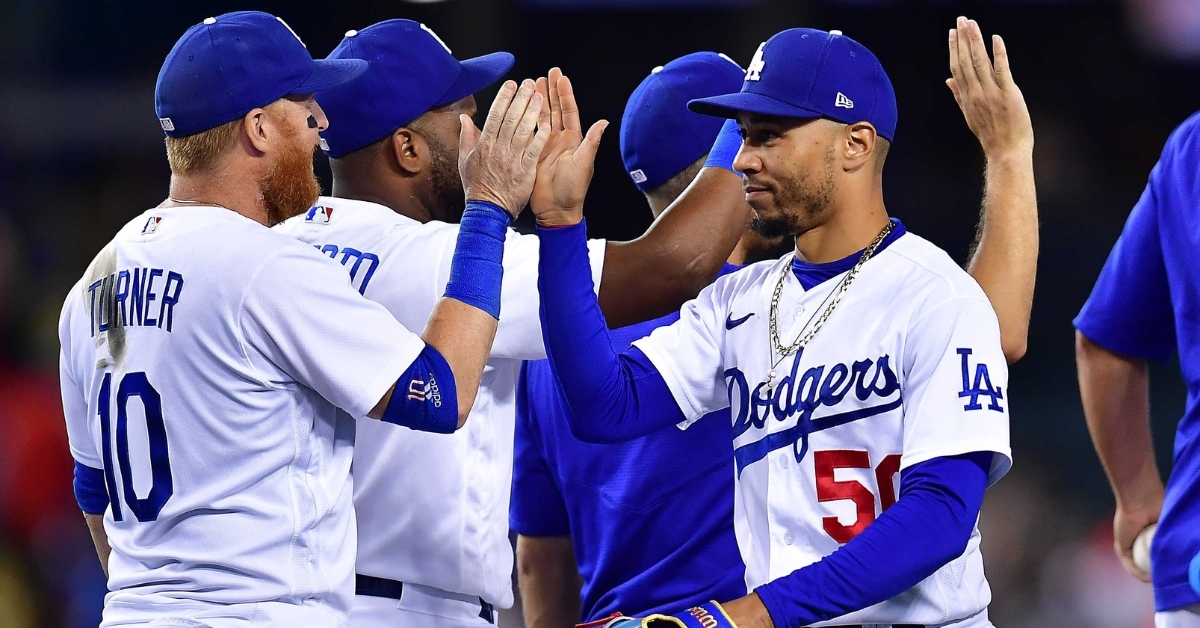 | | |
| --- | --- |
| Cubs battle but lose on four homers by Dodgers | |
---
LOS ANGELES - It is hard enough to beat a team as good as the Los Angeles Dodgers (53-29) when healthy. Trying to beat them short-handed is a different ballgame, which is what the Chicago Cubs (34-49) will try and do this weekend at Dodger Stadium.
Not only was Kyle Hendricks added to the IL on Thursday, but four of the Cubs five opening day starters are now on the IL, along with recently added Alec Mills. Two of those guys could be back this weekend, but there is no guarantee on that, so the Cubs will have to make do with what they have right now.
That meant that it was Mark Leiter Jr getting a fill-in start for the injured Mills as he not only had a challenging task of containing this lineup, but was facing a pitcher in Tony Gonsolin, who could be the Cy Young favorite at this point in the season. Leiter wasn't great, but he was far from terrible either, as the Dodgers used three homers to take down the Cubs 5-3 in game one of their weekend set.
Without a timetable for how long Mills will be out, Leiter Jr could get some extended time in the rotation until some of the other arms come back. In the process, he allowed three of those four homers, but managed to get through five innings, allowing four runs on five hits to go with four strikeouts.
That isn't a terrible outing, but when facing Gonsolin, that is the equivalent of allowing 10 runs as he has been lights out this season. Not only did he get through seven innings, allowing just two runs, but his ERA remains microscopic as that sits at 1.62 on the season. Going a bit further, he improved his season record to 11-0 on the mound, and he has to be the Cy Young front runner right now.
Much like the Yankee lineup that gave the Cubs fits back in early June, this Dodgers lineup is loaded and very dangerous if you are not careful. Mookie Betts showed how dangerous they can be by homering on the second pitch he saw in the bottom of the first to put the Dodgers in front for good 1-0. That was his 33rd career leadoff homer as he continues to climb up the all-time list.
That homer was followed by a Trea Turner double, and the Dodgers were in business only to see Leiter work around that double to get out of the inning without further damage. After retiring the next five hitters following that double, Leiter Jr ran into more trouble in the second as former Cub Trayce Thompson ripped a two-out double down the left-field line to set the Dodgers offense up again.
That was followed by a long Gavin Lux two-run shot two pitches later as the Dodgers opened their lead up to 3-0. Considering how good Gonsolin has been this season, that 3-0 lead could have been 10-0 as the right-hander has given up next to nothing this season. While the Cubs managed to pick up a first-inning hit off the bat of Ian Happ, Gonsolin settled in and retired eight straight before a Nico Hoerner single in the fourth ended that streak.
Despite trailing by three on the scoreboard, Leiter continued to battle, but was bitten by the long ball again, with Justin Turner taking him deep for the Dodgers third homer of the game and a 4-0 lead in the fourth. That would be all Leiter would allow, as he did a good job minimizing the damage despite allowing the home runs.
One thing that this Cubs team has shown, which the fans love to see, is the fight they bring to the field with them every day. Although they are facing a great team and a tough customer in Gonsolin, this team never quit, and they continued to fight. Not only did an Alfonso Rivas single in the fifth help put a runner on base, but it was Christopher Morel's turn to leave the building as his two-run shot cut the deficit in half at 4-2.
That is when David Ross chose to go to his bullpen in hopes of keeping things close until the end. They did just that as the trio of Scott Effross, Brandon Hughes, and Michael Rucker allowed just one run over their three innings of work, with Effross and Hughes tossing scoreless innings.
With Gonsolin out of the game after seven, the Cubs were hoping to cash in off the Dodgers pen with Brusdar Graterol entering first. After just one batter, Graterol would depart with an injury which paved the way for Phil Bickford to enter the game as he finished things off.
Rucker was called on to pitch the eighth, and although the Dodgers offense was held in check for most of the night, you can't keep them down forever as Betts took Rucker deep for his second homer of the night to put the Dodgers in front 5-2 and just three outs to work with for the Cubs.
In that ninth inning, another familiar face toed the rubber as Craig Kimbrel was called on for the save. Kimbrel has had his share of struggles all season, but after a pair of strikeouts to begin the frame, he was on the verge of one of his better outings in a while.
That was until Happ extended the inning with a single and then raced around to score on the Seiya Suzuki double to bring the Cubs within 5-3 and the tying run to the plate. A wild pitch and a Patrick Wisdom walk later, Dave Roberts saw enough and pulled Kimbrel for Alex Vesia. That appeared to be the right move as Vesia battled with Nelson Velazquez only to finish him off with a strikeout to preserve the Dodgers win.
With just six hits, there wasn't much to work with for the Cubs, but Happ led the way with two. Hoerner, Suzuki, Rivas, and Morel had the rest of the hits as the Cubs showed a ton of heart in this loss.

Tags: Cubs Baseball
,
Kyle Hendricks
,
Alec Mills
,
Ian Happ
,
,
Alfonso Rivas
,
Christopher Morel
,
David Ross
,
Scott Effross
,
Brandon Hughes
,
Michael Rucker
,
Craig Kimbrel
,
Seiya Suzuki
,
Patrick Wisdom
,
Nelson Velazquez