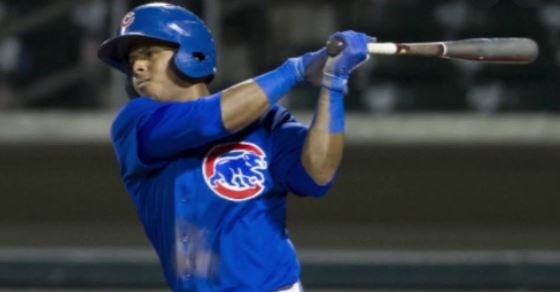 | | |
| --- | --- |
| Cubs best kept secret: Nelson Velazquez | |
---
| | | |
| --- | --- | --- |
| Thursday, October 28, 2021, 9:50 AM | | |
For the Cubs to speed up their rebuild and get back to contending sooner rather than later, a large part of that hinges on the current state of the Cubs farm system. After reaching the best farm system in 2013 and 2014, the Cubs began to call up those elite prospects while trading away others in the process to improve their team.
The result was a win in terms of bringing home a World Series title, but at the same time, some would consider it a missed opportunity as they gutted the farm system in the process. Instead of building a continuous pipeline which the Houston Astros and Los Angeles Dodgers have seemed to have over the past five years, the Cubs saw their top rank system fall all the way down to 28th in a matter of two years, making the future bleak for this organization.
It took a lot of hard work over the past several years, but once again, the Cubs farm system is respectable as they are approaching a top-10 system. A big reason for that is an influx of prospects they acquired through trades the last few seasons, but that doesn't tell the whole story. One thing the Cubs continue to do well with is hit on their draft picks, who are hitters.
Brennen Davis comes to mind as the 2018 second-round pick has risen to the top of the Cubs prospect list while checking in at No. 14 overall. Add in Ed Howard, 2020 first-round pick and 8th overall prospect. Christian Franklin, 2021 fourth-round pick and 21st overall prospect, Chase Strumpf 2019 second-round pick and 22nd overall prospect, Cole Roederer, 2018 second-round pick and former No. 9 prospect in the system, is now 24th and 2020 third-round pick Jordan Nwogu who ranks 26th in the system.
All were drafted within the last four years, and all are big bats that the Cubs will count on a ton over the next several seasons. However, one name has been overlooked a lot in the past few years and has been one of the best-kept secrets in the major leagues. Well, that secret is out as Nelson Velazquez has put his name on the map as a big-time piece for this organization.
Drafted in the fifth round of the 2017 MLB draft, Velazquez got off to a relatively quiet start to his professional career that had many believing his days were numbered with the Cubs. In 32 games with the Cubs rookie league team in 2017, Velazquez managed to hit just .239, but with eight homers and 17 RBIs, he flashed plenty of power potential.
Moving to 2019, where he split time with Eugene and South Bend, Velazquez again struggled with average, combining to hit .231 with 11 homers and 40 RBIs across 103 games. A big reason for that was a .188 average with South Bend, as his eye at the plate took a drastic hit from where it was in 2017. In 2019, Velazquez started to turn the corner and had the organization thinking twice about him as a player.
After starting the season with the Arizona rookie league team, Velazquez returned to South Bend, where he hit a .286 across 72 games. While his power numbers took a significant drop, four homers to 34 RBIs, it was great to see him start to hit for average despite the eye at the plate continuing to be iffy. That brings us to 2021, where Velazquez was the best bat in the Cubs minor league system.
That includes better than Davis, which was very difficult to do considering the season Davis had, but Velazquez was on a whole different level this season. In 103 games between South Bend and Tennessee, Velazquez hit a respectable .270 while belting 20 homers and driving in a system best 73 RBIs.
His 30 walks to 132 strikeouts is still a significant concern, but he made up for that with his approach to the plate and pure power. While most of that damage was done with South Bend, Velazquez proved to be even better with AA Tennessee, where his average increased to .290 across 34 games while hitting eight homers and driving in 27. Add in 17 steals, and he flashed a part of his game that many never saw before.
That kind of season has seen him skyrocket up the Cubs prospect list, where he checks in at 29 for now. I anticipate him landing in the top 15 next
season if he is still a member of the Cubs organization. I want to clarify what I mean by if. Velazquez is eligible for the Rule 5 draft this offseason, meaning if the Cubs don't add him to their 40-man roster, any team can claim him for nothing.
Given the moves the Cubs made over the last two offseasons, it wouldn't shock me to see them non-tender him, but they would be foolish not to, coming off the last two seasons he has had. The Cubs are very fortunate to have landed Velazquez, and they can thank his high school for that as he was declared ineligible for his senior season in 2017. That allowed him to return to Puerto Rico, where the Cubs were one of a few teams scouting him from the beginning before drafting him and signing him to a 400,000 dollar deal.
His tools have always stood out, but his swing and miss rate ultimately slowed his development, at least early on. That is still an issue with his game, but he has done way more than enough to make up for that, which has seen his overall production and development skyrocket. His elite power comes from unbelievably strong hands, which generates a quick bat. In return, it produces some of the best raw power in the system right up there with newly acquired Alexander Canario.
Although his aggressive approach may have to change the closer he gets to the majors, he is starting to tap into his raw power and should have no trouble hitting 25-30 homers every season. While strikeouts will always be part of his game, as long as he can continue to turn on the pitches he has the past two seasons, the Cubs can deal with it because the great numbers will follow.
Once an above-average runner, Velazquez has lost a step or two as he has matured, but that doesn't mean he is slow by any means. He continues to play all three outfield positions, but right field appears to be his natural fit. Looking at the team's direction, Velazquez is the type of hitter the Cubs have wanted to do away with in terms of home runs or bust.
However, his ability to hit home runs, strike out a ton, but yet still hit in the 270-280 range make him an intriguing prospect worth hanging on to. The more he matures as a player, the better his overall approach may become. While Davis stole all the headlines this season, don't sleep on this man heading into next season as he will continue to make plenty of noise.