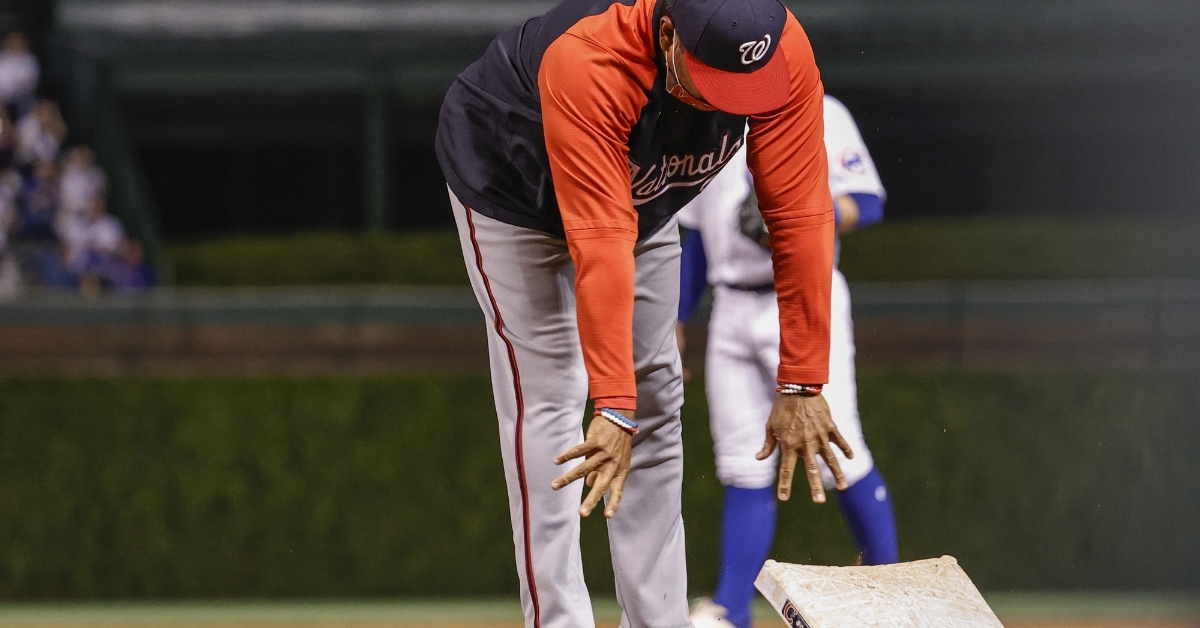 | | |
| --- | --- |
| Cubs fall to Nationals in emotional, action-packed matchup | |
---
| | | |
| --- | --- | --- |
| Thursday, May 20, 2021, 12:54 AM | | |
CHICAGO – Not to be outdone by the iconic, viral ejection of Washington Nationals (17-22) manager Dave Martinez, the players in Wednesday's game at Wrigley Field provided their fair share of excitement, too. In the penultimate meeting of a four-game series, the Chicago Cubs (21-21) had their three-game winning streak ended by way of a 4-3 loss on Wednesday. A nail-biter of a bottom half of the ninth inning saw Javy Baez pull the Cubs within one by way of a solo homer, but the contest ended with Matthew Duffy striking out looking with Kris Bryant on second base.
In a battle of former Cy Young Award winners, Jake Arrieta and Max Scherzer started on the mound. In the first, a hard-hit liner from Joc Pederson traveled right to second baseman Josh Harrison, who made the catch. The ensuing inning saw the Cubs strike first, with Nico Hoerner driving home David Bote via a two-out RBI base knock. Bote singled earlier in the frame, and Eric Sogard went on to draw a two-out walk. Bote scored from second Hoerner's single, but Sogard was tagged out at the plate.
Victor Robles hit a ground rule double in the third and was plated by an RBI single off the bat of Trea Turner, who then stole second. Following a Juan Soto single, Turner scored from third thanks to a wild pitch. Two runners were left stranded when Jason Heyward made a sliding grab in right to rob former Cub Starlin Castro of a hit. Yan Gomes doubled in the fourth and crossed the plate on an RBI single by Robles, who turned his ankle rounding first but remained in the game.
Jason Heyward makes a nice sliding catch to take a base hit away from Starlin Castro, ending the top of the 3rd inning against the Nationals pic.twitter.com/jgVOvrJZvf

— Cubs Highlights (@Cubs_Highlights) May 20, 2021
After getting called up earlier in the day, P.J. Higgins pinch hit for Heyward, who exited the game due to left hamstring tightness, in the bottom of the fourth. Higgins manned first base, and Bryant moved from first to right. First baseman Anthony Rizzo was already forced to miss the matchup due to lower back tightness. Soto led off the fifth with a towering 421-foot blast, which he hit from one knee, that caromed off the videoboard in right. Arrieta notched his first hit of the year with a single in the fifth. Adbert Alzolay entered to pinch run for Arrieta and eventually scored from third on a bases-loaded RBI single by Ian Happ.
Juan Soto just CRUSHED a 421-ft home run...

...off the Wrigley Field scoreboard...

...from one knee.@JuanSoto25_ // #NATITUDE pic.twitter.com/p15b3uxjeZ

— Washington Nationals (@Nationals) May 20, 2021
If not for Robles dealing with an injured ankle, he might have been able to charge the softly hit ball and catch it in the air. Andrew Stevenson took over for Robles in center later in the contest. Scherzer minimized the damage in the fifth by leaving a pair of baserunners stranded but was pinch hit for in the sixth. With Tommy Nance on the mound in the seventh, Turner was called out for leaving the basepath and getting hit in the back by a throw made to first by catch Willson Contreras.
Can someone tell me how Trea Turner is supposed to run to 1st here? Because he was called out for runner interference. pic.twitter.com/SETvzgwNXh

— ZSG (@wagner_seymour) May 20, 2021
Turner was controversially ruled out on a similar play in the 2019 World Series, and, just like in that particular instance, Martinez – a former Cubs bench coach – was thrown out for losing his cool and arguing with an umpire over the ruling. This time, however, Martinez upped the ante by pulling the first-base bag out of the ground, slamming it on the ground and kicking it. Contreras' throw to first followed Turner whiffing at a wild pitch from Tommy Nance and hustling up the baseline while Contreras chased the ball down. Following Martinez's ejection, the Nats placed two men, including former Cub Kyle Schwarber, on base in the seventh but did not score.
Watch @Nationals Mgr. Dave Martinez do his best Billy Martin/Earl Weaver/Lou Piniella impression as he picks up 1st base and kicks it following a disputed baserunning incident.@Cubs #GoCubsGo pic.twitter.com/9RtXPxnSjA

— Billy Krumb (@ClubhouseCancer) May 20, 2021
Pederson doubled off Kyle Finnegan in the seventh, and Daniel Hudson then relieved Finnegan and finished the inning off, with Stevenson helping his cause by making a great diving catch to rob Bryant of a hit. Dillon Maples plunked Stevenson to begin the ninth, and Turner singled after that. Maples then made a risky decision that paid off by fielding a dribbler hit by Soto and throwing to second for a force out that was barely recorded. Soto proceeded to attempt a steal, but Baez, who initially entered the game as a substitution, applied a no-look tag on Soto's helmet after Contreras hurled a bullet to him from behind the plate. After that, Josh Bell grounded out to usher in the bottom of the ninth.
Not all heroes wear capes, but Andrew Stevenson probably should.@astevenson6 // #NATITUDE pic.twitter.com/JXucRgnpqk

— Washington Nationals (@Nationals) May 20, 2021
The definition of a perfect throw ???? pic.twitter.com/4ks8MvV7Pv

— Marquee Sports Network (@WatchMarquee) May 20, 2021
Brad Hand entered with a save on the line and struck out Hoerner on a borderline pitch for the first out. Baez then swatted a solo blast to left, and, following a Pederson strikeout, Bryant singled and stole second. Hand survived, however, with Duffy striking out looking at a fastball thrown over the plate. Duffy actually checked on the swing on the pitch and was visibly perturbed after getting rung up on a pitch he knew he should have swung at. Instead, the Cubs lost 4-3 and missed out at the chance for a four-game sweep on Thursday.
.@javy23baez makes it a one-run game in the 9th!@BinnysBev #CubTogether pic.twitter.com/tM536qyzp7

— Chicago Cubs (@Cubs) May 20, 2021
Aloha, Mr. Hand.

?????@bhand22 // #NATITUDE pic.twitter.com/yBzGxRmBj2

— Washington Nationals (@Nationals) May 20, 2021

Tags: Cubs Baseball
,
Javy Baez
,
Matthew Duffy
,
Kris Bryant
,
Jake Arrieta
,
Joc Pederson
,
,
David Bote
,
Jason Heyward
,
Anthony Rizzo
,
Adbert Alzolay
,
Ian Happ
,
Willson Contreras
,
Kyle Schwarber
,
Dillon Maples