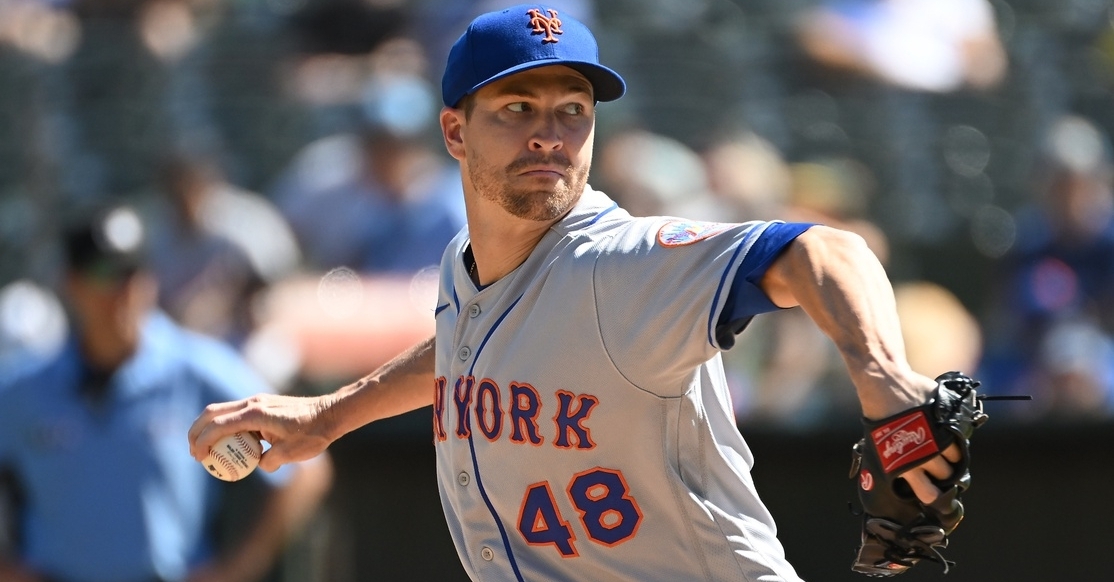 | | |
| --- | --- |
| Cubs free agent focus: Jacob DeGrom and Justin Verlander | |
---
| | | |
| --- | --- | --- |
| Wednesday, November 9, 2022, 10:32 AM | | |
We have reached the MLB offseason, which is often one of the more exciting times for sports fans. From the qualifying offer stage to the winter meetings and then the intense free agent portion, baseball free agency has always been fascinating for even casual fans.
When it comes to the Cubs, free agency hasn't been too kind to them in recent seasons, as a lack of spending and free agents that didn't pan out have hampered this team's path in recent seasons. However, the Cubs have been very clear on the direction they want to go as a team, and that all starts with an extensive free-agent period this season to contend again in 2023.
One of the needs for the Cubs this offseason is pitching and not just pitching, but starting pitching. With several solid free agent options, Chicago is looking to swing for the fences and land a bonafide ace that can anchor down their staff for the next several years.
Ideally, that would come from an arm that is young and controllable for several seasons, but when you look at some of the names now available on the open market, it will be interesting to see the Cubs thought process. As expected, Jacob DeGrom opted out of his deal and will likely be the most sought-after starter this winter.
Despite dealing with several injuries the last few seasons, the 34-year-old righty is one of the most dominant starters in the game and has been for the last 4-5 years. After missing the first three months this season, DeGrom returned to make 11 starts and went 5-4 with a 3.05 ERA.
He was excellent, but it was a down year when you look at how good he was pitching. From 2018 through 2021, DeGrom never had an ERA north of 2.5 and posted two seasons where his ERA was under 2.00. Despite those incredible numbers, his overall record was just 32-21, as run support has always been an issue.
At 82-57 with a 2.52 career ERA, DeGrom has proven that injuries and age aside, he is one of the best pitchers in the game. His fastball tops out at 98-100 MPH while adding a lethal slider and change up to that mix. This guy could land 40-50 million a season for three years, but to have the Cubs name mentioned as a potential suitor for him has to make fans smile.
Another one of the game's top starters has officially hit the market, and this one hits home for the Cubs in Justin Verlander. The 39-year-old is coming off another World Series title with the Astros and is like a fine wine getting better with age. All you have to do is look at this season when he posted an 18-4 mark with a career-best 1.75 ERA, as he should be in line to win another AL CY Young award this season.
Verlander is the rare breed that has had not one but two Tommy John surgeries and has seemed to get better every time. Verlander has had a great career, topping 15 wins five times, including a 21-win season in 2019 where he went 21-6 with a 2.58 ERA.
Looking at all those numbers, you have a guy who has gone 244-133 while posting a solid 3.24 ERA. Verlander may not be the guy that can touch 98-100 anymore, but he can still run his heater up there at 96 while his slider has become a true outpitch.
That could be why he has better than 3000 strikeouts and is well on his way to the hall of fame. When comparing the two starters, most would say that DeGrom is the better option, given his age, but I would argue that I trust Verlander more as he has proven to be more durable.
Verlander also got away as the Cubs appeared to have a deal set in stone to acquire him from Detroit in 2017, only to have it fall through. They ended up settling on Jose Quintana that year while the Astros landed Verlander and the rest is history.
This could be the Cubs shot to land the one that got away, even if it is only for a short time. These guys are top of the rotation arms and have been for years. They are also great veterans in the clubhouse, which will go a long way to helping some of the Cubs younger arms. Both are great options to have atop your rotation if the price is right.