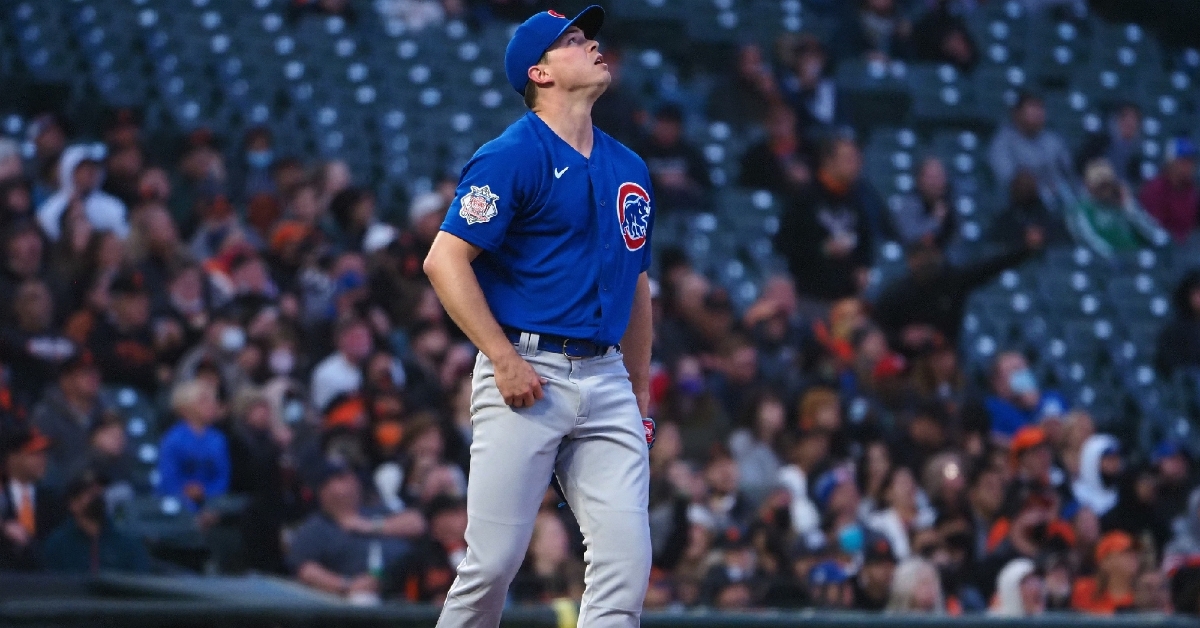 | | |
| --- | --- |
| Cubs give up four home runs, lose second in a row to Giants | |
---
| | | |
| --- | --- | --- |
| Saturday, June 5, 2021, 2:09 AM | | |
SAN FRANCISCO — For the second straight night, Chicago Cubs (32-25) pitching was not exactly on top of its game against the San Francisco Giants (36-21), who homered four times and took care of business at Oracle Park. Jake Arrieta lasted only two innings in his start and revealed after the game that he had been dealing with a stomach-related illness earlier in the day, which contributed to his short outing. After losing 7-2 in Thursday's series opener, the Cubs fell 8-5 on Friday.
Veteran hurler Scott Kazmir, who recently resurrected his career, started on the bump for the Giants and, like Arrieta, tossed just two innings. Willson Contreras singled off him to begin the game, and Kris Bryant then slugged a two-run blast out to left. Patrick Wisdom doubled soon after that but did not score. Kazmir went 1-2-3 through the second frame but did not retake the mound in the top of the third, as Dominic Leone relieved him.
Kris gives us two runs.

You give @KrisBryant_23 five votes. https://t.co/iq0lKgoH7i#KBOOM pic.twitter.com/Nd7koZFnYx

— Chicago Cubs (@Cubs) June 5, 2021
Arrieta forced Buster Posey to ground into an inning-ending double play in a scoreless bottom half of the first but was racked in the second. Brandon Crawford hit a leadoff double and scored on an ensuing RBI single by Evan Longoria. Steven Duggar clubbed a go-ahead two-run homer to right in the next plate appearance. Donovan Solano singled after that, and Mike Tauchman followed that by drawing a walk. With two outs, Alex Dickerson put the Giants up 6-2 with a three-run homer to right. The Giants totaled six runs, six hits and one walk in the second inning.
Duggar does it again ?? pic.twitter.com/bfwTxxql0u

— SFGiants (@SFGiants) June 5, 2021
ADIOS PELOTA! pic.twitter.com/hYjxQNV0iN

— SFGiants (@SFGiants) June 5, 2021
After Wisdom was walked to start off the fourth, Leone gave up a two-run dinger to left off the bat of Joc Pederson, whose two-run bomb on Thursday provided the Cubs with their only runs of the contest. Keegan Thompson, who pitched a scoreless third, quickly gave those two runs back, as Jason Vosler and LaMonte Wade Jr. hit consecutive solo shots off him to kick off the bottom of the fourth. With Daniel Winkler pitching, Ian Happ nearly secured what would have been an impressive sliding catch when Solano singled in the fifth. Nonetheless, Winkler avoided giving up any runs.
.@yungjoc650 has homered in consecutive games!#CubTogether pic.twitter.com/91HOn0WF8B

— Chicago Cubs (@Cubs) June 5, 2021
Jason Vosler with his first @OracleParkSF home run ?? pic.twitter.com/WTHF1qJ31g

— SFGiants (@SFGiants) June 5, 2021
BACK-TO-BACK HOMERS pic.twitter.com/qQccMqVws8

— SFGiants (@SFGiants) June 5, 2021
Zack Littell issued a leadoff walk to Contreras in the fifth and proceeded to make an errant throw to second after fielding a comebacker hit by Bryant. Contreras moved to third because of the throwing error and eventually scored on an RBI groundout by Javy Baez. Sergio Alcantara tripled with two outs in the top of the sixth, but Eric Sogard left him stranded by grounding out after entering as a pinch hitter. With two outs and runners on first and second in the sixth, Baez pulled off a great snag of a hard-hit liner off the bat of Longoria.
Fellow shortstop Crawford answered Baez with a great inning-ending play of his own in the seventh, as he made an incredible diving stop of a grounder hit by Anthony Rizzo and fired a bullet to first for the putout. Baez, who has showcased an uncanny knack for mixing web gems with horrid defensive mistakes off and on this season, faltered in the seventh with a bad throw to Rizzo at first after fielding a routine grounder hit by Solano, who took second and then advanced to third because of a wild pitch from Tommy Nance.
Absolutely unreal.

?? https://t.co/etev0TjKvU pic.twitter.com/RkIabBh5BB

— SFGiants (@SFGiants) June 5, 2021
Nance walked Tauchmann thereafter, but Tauchmann was then thrown out from behind the plate by Contreras while attempting to steal second. The caught stealing marked the second out of the half-inning, which ended with Nance drawing a groundout, courtesy of Mauricio Dubon. Between innings, Contreras and Rizzo bickered in the dugout, with David Ross holding Rizzo back during the heated confrontation. In his postgame press conference, Ross shrugged off the incident, describing it as nothing more than a competitive disagreement. Dillon Maples breezed through a five-pitch bottom of the eighth, but the Cubs failed to put a man on base in either of the two innings that followed the spat, thus losing 8-5.
Final: Giants 8, Cubs 5. pic.twitter.com/k7Z80bGPz4

— Chicago Cubs (@Cubs) June 5, 2021
Here's the video of Willson Contreras and Anthony Rizzo getting into a heated argument in the dugout. Manager David Ross had to get in the middle of it and separate the two. pic.twitter.com/5nIRPgwIwv

— Cubs Live (@Cubs_Live) June 5, 2021

Tags: Cubs Baseball
,
Jake Arrieta
,
Willson Contreras
,
Kris Bryant
,
Patrick Wisdom
,
Joc Pederson
,
Keegan Thompson
,
Daniel Winkler
,
Ian Happ
,
Javy Baez
,
Anthony Rizzo
,
David Ross
,
Dillon Maples