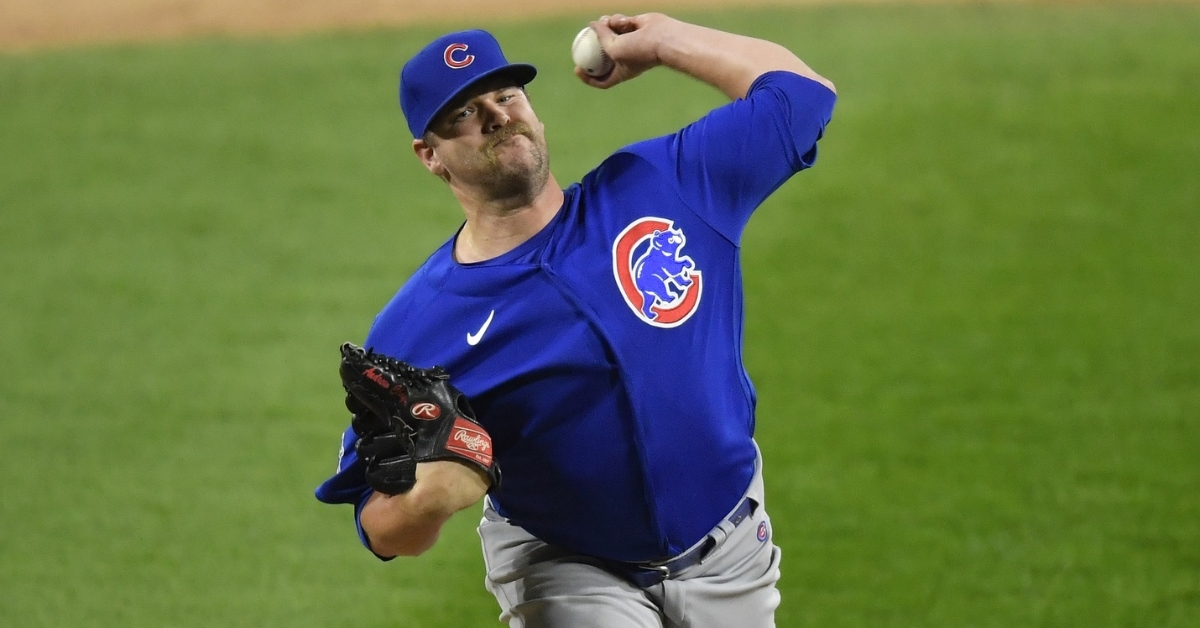 | | |
| --- | --- |
| Cubs linked to a pair of pitchers Andrew Chafin and Matt Moore | |
---
When Jed Hoyer stood in front of the Fans at the Cubs Convention on Saturday, he talked about many things including that the team was still working on a few things to fill out their roster.
Hoyer then hinted that those discussions circled around another bat while also adding to the bullpen.
Less than 12 hours after talking to fans, the Cubs did indeed add a bat as they brought in Trey Mancini on a two-year deal. That means that the Cubs are working on rounding out the bullpen by adding another name into the mix. With all, but Brandon Hughes as righties, if the Cubs are interested in adding to their pen, bringing in a left-hander appears to be the direction they are going.
Despite plenty of reports that the Cubs were linked to Michael Fulmer, the team has zeroed in on two of the best lefties on the market, Matt Moore, and Andrew Chafin are the ones linked to the Cubs at this point.
You can see why the team is interested in both of them, but at this point, it comes down to cost and what both guys want as a contract.
Cubs rumor #1 Matt Moore
When it comes to Moore, 2022 was a massive season for him, as it potentially saved his career. A starter for most of his career, the 33-year-old Moore was always reliable, but never reached the potential many people felt he could. There were times when he showed that potential, but more was needed to get to the level several teams expected him.
Then throw in plenty of arm injuries, and the back end of Moore's career has been a struggle as his career has been hanging on the ballots. Then came 2022, when he signed with the Texas Rangers signed him to a one-year deal and moved him to the bullpen.
That move was a game-changer for Moore, possibly saving his career for the better. Not only did Moore explode out of the pen last season, but his 1.98 ERA ranked in the top five among qualified relievers. During the transition, the Rangers saw his fastball pop to a 94-96 MPH average while he used his curveball much more frequently.
He has suddenly become a very attractive relief option; surprisingly, no one has signed him yet. The problem is becoming his price tag as he is expected to get somewhere between two years and 15 million. That may not be a price the Cubs are willing to pay, even if he is worth it based on his 2022 showing.
Cubs rumor #2 Andrew Chafin
The second name on the list is the one fans want to see return to Chicago, as the Cubs have begun conversations with Andrew Chafin. The 32-year-old Chafin was acquired from the Diamondbacks in 2020 and quickly became a fan favorite before posting great numbers in 2021.
Going back to the 2021 season, Chafin was part of a Cubs bullpen with a three-headed monster. Chafin paired with Ryan Tepera and Craig Kimbrel to give the Cubs the best late-inning combo during the first half of the season. That season, Chafin posted a 2.27 ERA before getting traded to Oakland in July.
He then went on to sign with the Tigers last season, where he put up good numbers again. Like Moore, Chafin is not a hard thrower, as he lives in the 92-93 MPH range with his fastball. However, Chafin does a great job changing speeds and working the corners, which he put on display during his time with the Cubs. He is one of those guys that every fan wants to see return, and there is an outside shot it could be happening.
The cost of getting either one of these guys is the hold up as the Cubs want to avoid the luxury tax this season. After the acquisition of Mancini, the Cubs have roughly 12 million in leftover funds before they hit the first luxury tax threshold. Unless they get very strategic, you are looking at one more free agent that could help this team.
Moore and Chafin would help this team, but both would cost all 12 million, if not more should the Cubs want to add them. I would look for the Cubs to offer a two-year deal with an opt-out after year one in hopes of staying under the luxury tax this season.