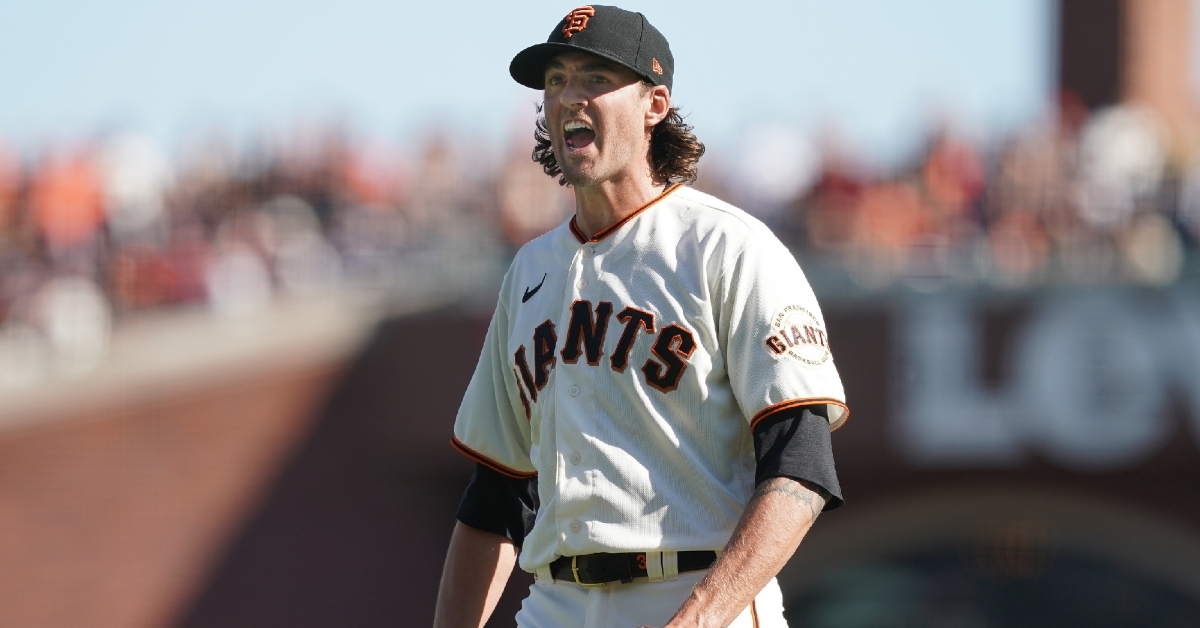 | | |
| --- | --- |
| Cubs linked to standout pitcher Kevin Gausman | |
---
| | | |
| --- | --- | --- |
| Monday, November 8, 2021, 5:14 PM | | |
When the 2021 season came to a close, we heard Jed Hoyer talk about the Cubs plans for the offseason, and pitching was near the top of his list. Roughly a month after that press conference, new GM Carter Hawkins lived by that by plucking Wade Miley off the Waiver market and picking up his 10 million dollar option for next season. Not only is Miley going to give the Cubs a middle-of-the-rotation arm, but a veteran lefty who is coming off one of his best seasons this year.
Even with that move, pitching remains the focus for this team going forward, and they are now linked to one of the more intriguing free agents. I am talking about Kevin Gausman, who is coming off his best season as a pro with the Giants this year.
MLB.com's Mark Feinsand wrote that the Cubs are among the teams that could pursue Gausman.
"The Cubs are unlikely to sign any of the veteran starters in their mid-to late-thirties (Max Scherzer, Zack Greinke, etc), but if they plan to undergo a quick rebuild following this summer's fire sale, adding a top-of-the-rotation arm should be a priority."
After picking up Miley, the Cubs rotation looks to be set with Kyle Hendricks, Miley, and Alec Mills heading into next season.
Guys like Justin Steele, Keegan Thompson, and Adbert Alzolay will continue to battle for starting spots this spring, but no one knows what their future is. Knowing that the Cubs are in desperate need of starting pitching, they may look to fill the rotation with more of a sure thing type of option, and Gausman makes a ton of sense for this team.
The 30-year-old Gausman was always viewed as a possible target for the Cubs, but now it appears that he is considered one of the Cubs top options thus far. Sporting a 64-72 career mark with an ERA of just over 4.00, Gausman has never been viewed as an ace type of pitcher, but that might be changing after his past two seasons.
From 2013 when Gausman broke into the league through 2018, he was nothing more than a back end of the rotation pitcher looking to stick in this league. After spending his first five-plus years with the Orioles, all of which were losing seasons, Gausman was dealt to the Braves in 2018, where it seemed as if his career was about to turn around.
In 10 starts with the Braves, Gausman not only went 5-3, but posted a 2.87 ERA by far the best number in his career. One year later, Gausman fell into his old trap going 3-9 with both the Braves and Reds, but he saw much better results as a reliever than a starter. Knowing that, many people expected Gausman to land his next contract as a relief pitcher, but he continued to view himself as a starter and thus signed a two-year deal with the Giants.
Not only was that a great decision on his part, but it may also have saved his career to the point where he could be in line for a multi-year contract worth 17-20 million per season annually. Following a 3-3 record in the COVID shortened 2020 which Gausman posted a 3.63 ERA, he was even better in 2021, posting his best season to date as a pro. Not only did he win a career-high 14 games to go with just six losses, but his 2.81 ERA was a career-low while also striking out a career-best 227 hitters to go with 50 walks in 192 innings of work.
To say Gausman was a late bloomer is an understatement, but now it could reap the rewards for the Cubs, who need starting pitching both in the short and long-term. Gausman would give them both long-term and short-term security and is coming off a stretch of several great seasons, which leads me to believe he has figured out who he is as a pitcher.
Not only was Gausman impressive, but he was the best pitcher in the National League for the first two months of the season and landed himself in the Cy Young conversation during that stretch.
Although he wasn't as good the second half of the season as his first half, he still had a great season nonetheless and will be a highly coveted free agent this season.
Gausman is a pitcher capable of striking out plenty of hitters, but he also has a high ground ball rate which bodes well at Wrigley Field. Once a pitcher who predicated himself on a 93-94 MPH heater, Gausman has seen his velocity increase significantly as he is now touching 97-98 MPH consistently. Add in a great slider to go with an above-average changeup, and Gausman has three pitches to lean on during his outings.
Gausman may not be the ace-like Max Scherzer, Clayton Kershaw, and other starters, but he put up equally as good of numbers as them, if not better. Fans know the Cubs need pitching help, and Gausman would instantly be the help they would need as he would slide in as the team's No.2 and could even become the ace should his run of success continue.
Expect plenty of rumors circulating the Cubs this season as they look to rebuild a competitive roster. Gausman is the first of what we expect, plenty of starting pitcher names to be linked to Chicago.
So we've now got a pretty clear tier of FA starters the Cubs have to choose from. Here are some names:

Top: Stroman, Gausman

Mid: Gray, Matz, Rodón, DeSclafani

In between: Wood, Cobb, Pineda, Hill

Risk/upside: Bundy, Heaney, Duffy, Kikuchi, Lorenzen, Richards

— FullCountTommy (@FullCountTommy) November 8, 2021