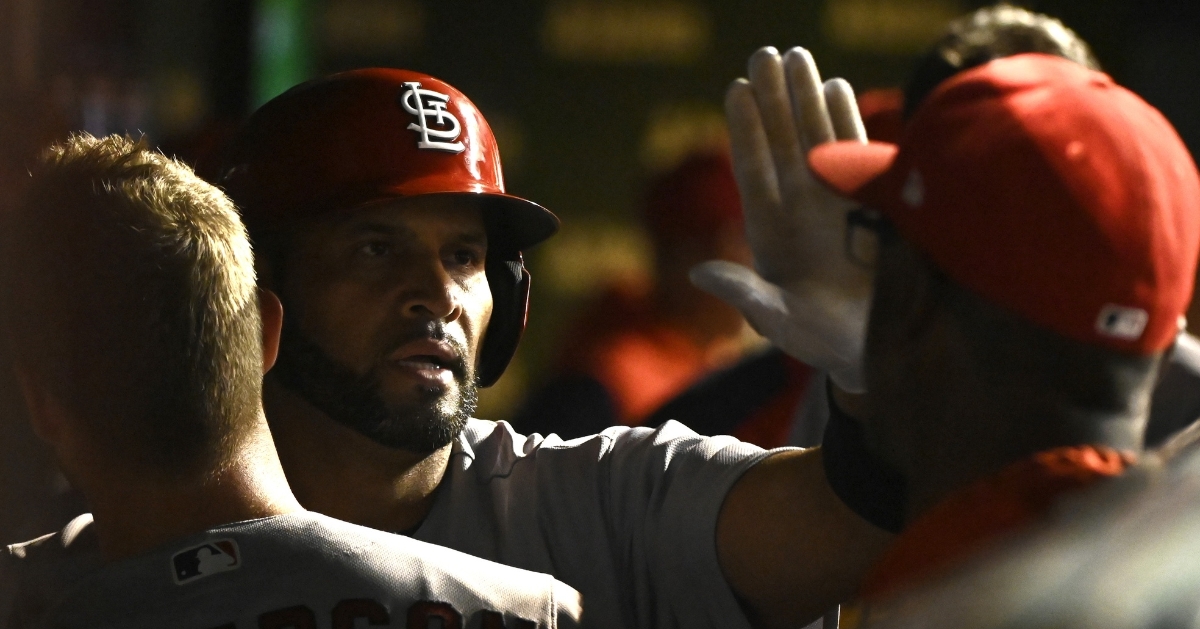 | | |
| --- | --- |
| Cubs lose heartbreaker as Pujols inches closer to No. 700 | |
---
| | | |
| --- | --- | --- |
| Tuesday, August 23, 2022, 8:48 AM | | |
CHICAGO - Regardless of where these teams are in the standings, you can always count on great games when the St. Louis Cardinals (70-51) and Chicago Cubs (52-69) meet up. With a five-game set at Wrigley Field this week, the Cubs have a chance to play spoilers in more ways than one, as the Cardinals brought with them a seven-game winning streak.
In a matchup that pegged lefties Jordan Montgomery against Drew Smyly, this was about as good of a pitcher's duel as you can ask for, with one total run coming across.
Unfortunately, that run belonged to the Cardinals as Albert Pujols hit career home run No. 693 and lifted the Cardinals to a 1-0 win and their eighth straight victory. That was an extra painful way for Smyly to go out as the left-hander gave the Cubs his best outing of the season. Not only did he last seven innings, but that was the lone run he allowed with six strikeouts, as his ERA is now 3.47 on the season.
Despite that solid ERA, Smyly has seen his record fall to 5-7, which is exactly why wins and losses are meaningless for starting pitcher if you can't get the run support. As good as Smyly was, Montgomery was slightly better and continues to show why he was one of the better acquisitions at the trade deadline.
Acquired from the Yankees in exchange for Harrison Bader, Montgomery has been lights out in his four starts with St. Louis, where he has posted a ridiculous 0.35 ERA. That may be great, but Montgomery was at his best on Monday, giving the Cardinals a complete game shutout effort on 99 pitches while allowing just one hit. That was the lone baserunner for the Cubs as both teams brought their A-games to the mound.
Unaware of what was to come, but knowing what was at stake, Smyly came out firing from the first pitch as it was clear his stuff was going to be working. Although he allowed a first-inning walk and then a long single from Pujols in the second, Smyly continued to do his thing and kept the Cardinals off the board. In fact, St. Louis was unable to put a runner in scoring position through six innings as Smyly made life very tough on the Cardinals hitters.
Regarding the Cubs, things were very quiet on the evening, with just one hit coming from their offense. That hit came from Christopher Morel in the third as he laced a two-out double to left and would advance to third on an error. It was the best scoring chance either side had in the game, but Montgomery managed to strand him there to keep things scoreless.
That out was the beginning of the end for the Cubs offense as Montgomery dug deep and retired the final 19 men he faced to pick up the win. He grabbed that win off the bat of Pujols, who took a high fastball from Smyly in the seventh and deposited it over the left field fence for the lone run. It was homer No. 693 for Pujols, who is now tied with Barry Bonds for the total bases earned all time.
The rest of the game saw just one more baserunner reach base, with Nolan Arenado grabbing a ninth-inning walk before the Kervin Castro double play finished things off. Still, Montgomery did what he needed to do and took care of things in the bottom of the ninth to finish off the Cubs. With the Cubs only having one hit courtesy of Morel, the Cardinals only managed four, with Pujols responsible for two. Dylan Carlson and Arenado had the remaining hits as this game finished in just two hours and 16 minutes.
Next on the docket for the Cubs is a split doubleheader on Tuesday, where Javier Assad will make his MLB debut in game one. It was reported that Caleb Killian would start one of those games, but Adrian Sampson will take the ball in game two against Adam Wainwright and Jake Woodford.