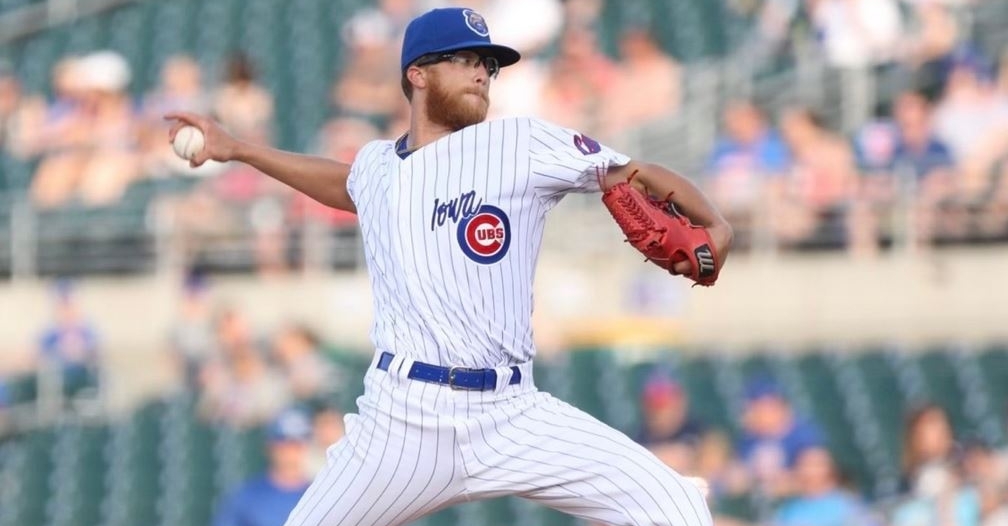 | | |
| --- | --- |
| Cubs Minor League News: Cam Sanders impressive, Nahas pitches gem, Caissie clutch, more | |
---
| | | |
| --- | --- | --- |
| Friday, June 10, 2022, 11:04 AM | | |
Where do we begin with what happened on Thursday? Not only were all seven of the Cubs minor league teams in action, but nine games needed to be played. Things could have been better as there was a pair of doubleheader sweeps, but things could have been worse as plenty of drama came. Regardless of the putrid 2-7 record, it made for a fun night on the diamond.
TOLEDO MUD HENS 1 - IOWA CUBS 0
After struggling from a pitching side for the better part of two weeks, the Cubs finally got a great team outing only to have the offense shut down. Cam Sanders continues to impress for Iowa, allowing just three hits and one run in five innings of work.
Unfortunately, that run was too much to overcome as Eduardo Rodriguez went four innings and struck out nine to set the tone for the 1-0 Toledo win. The lone run came in the fourth inning when Victor Reyes got into a Sanders pitch and took it over the fence for a home. Iowa had two hits in the game, with Dixon Machado and Tyler Payne grabbing those.
First one goes to Toledo, but we'll get another shot in half an hour! pic.twitter.com/83hQi2kSeW

— Iowa Cubs (@IowaCubs) June 10, 2022
TOLEDO MUD HENS 3 - IOWA CUBS 2 (Game 2)
Runs continued to be at a premium in-game number two as Iowa wasted another strong pitching performance. This time it was Mark Leiter Jr. twirling a solid game as the right-hander went four innings, allowing all three runs to go with five strikeouts. He gave way to Erich Uelmen, who tossed two scoreless innings to give the Cubs a chance.
Garrett Hill was a tough customer to solve all game as he went six innings and allowed two earned runs with seven punchouts. Those runs came on the Erick Castillo RBI single in the second as Iowa took a 2-0 lead. Unfortunately, that lead was short-lived as Toledo scored all their runs in the bottom of the third.
Former Cub Trayce Thompson picked up an RBI double and then came home on the Josh Lester RBI double to tie things up. Ryan Lavarnway delivered the game-winning hit with an RBI single as Toledo picked up the double header sweep.
Final from Fifth Third Field. pic.twitter.com/D4SzFsp84S

— Iowa Cubs (@IowaCubs) June 10, 2022
TENNESSEE SMOKIES 10 - BILOXI SHUCKERS 9
While the pitching was the strong suit in Toledo, the ball was flying out of Biloxi as the Smokies held on for the 10-9 win. Max Bain was not at his best, walking four hitters in just two innings as that was the theme all night as the two sides combined to walk 20 hitters while striking out 17.
For the Smokies, it was foot on the gas early as Yonathan Perlaza gave the Smokies a 1-0 lead in the first with a single before the bases-loaded walk to Alexander Canario and Bryce Windham force out made things 3-0. Two innings later saw the Shuckers tie things up at 3-3 before Joey Weimer single in the fourth put Biloxi in front 4-3.
As fans, we always talk about when a player gets promoted and how they will handle things. Jake Slaughter has not only taken his promotion head-on, but looks better than he did in South Bend, tying things up with a solo shot in the sixth. Slaughter wasn't quite finished as he capped off a massive two-run rally with a three-run shot in the seventh to put the Smokies back in front 9-7.
Jake Slaughter is killing it at AA. He has 10 RBI in five games along with three home runs. Two of which he hit tonight including this three-run job to give Tennessee a 9 to 7 lead. pic.twitter.com/Fh4VANtl2K

— Todd ?????? (@CubsCentral08) June 10, 2022
Hoping that would be enough runs to get things done, Thomas Dillard ripped an RBI double off of CD Pelman to bring things even again 9-9. Thankfully Canario had other ideas as his RBI single in the ninth proved to be the winning run in the Smokies 10-9 victory. Slaughter and Canario each had three hits with a combined six RBIs in the win.
SOUTH BEND CUBS 2 - CEDAR RAPIDS KERNELS 0
After struggling to get much of anything going in the first two games, the Cubs once again saw their offense struggle as David Festa and the Kernels staff held South Bend to two runs. Thankfully it was Joe Nahas and Jeremiah Estrada up to the task as some late-game offense led to the 2-0 South Bend win.
Estrada has a 1.17 ERA after two months at high A

Insert normal phrase about Estrada here pic.twitter.com/rpXRBNI51L

— Todd ?????? (@CubsCentral08) June 10, 2022
All the offense came in the eighth inning when reigning player of the month Owen Caissie ripped a game-winning single to put the Cubs up 2-0.
Owen Caissie 2 RBI single

It put the Cubs up to to nothing and then the benches emptied pic.twitter.com/3KUWIPIq8u

— Todd ?????? (@CubsCentral08) June 10, 2022
Things then got a little chippy late as the benches cleared twice, but the Cubs managed to keep their cool and picked up a huge win. Caissie was one of three players to record two hits as he joined Yeison Santana and Yohendrick Pinango. Casey Opitz made his season debut and went hitless in the win.
CUBS WIN, CUBS WIN!

Shutout victory for our @WatchMarquee 2022 debut! pic.twitter.com/qAQATXLXTL

— South Bend Cubs (@SBCubs) June 10, 2022
CAROLINA MUD HENS 3 - MYRTLE BEACH PELICANS 2 (Game 1)
Despite the losses piling up on Thursday, it was nice to see so many strong pitching performances. Luke Little and Tyler Santana combined to give another one as the duo allowed three runs on six hits across six innings with five strikeouts. Only one of those runs was earned as the Pelicans defense struggled.
While those two were doing their thing on the mound, Steven Cruz was slightly better as he got through five innings with six punchouts to pick up the win. All of the Mud Cats damage came in the first two innings with Jefferson Quero and Herbert Perez picking up RBI singles in the first before a second-inning balk led to a 3-0 lead.
The Pelicans scored all their runs in the third inning as the suddenly scorching hot Ezequiel Pagan left the building again with a dinger, but saw his team come up short. Pagan joined Kevin Alcantara as the players with multiple hits in the loss.
#5 ???? https://t.co/gc5oGtUnAO

— Ezequiel Pagán (@PaganEzequiel) June 10, 2022
CAROLINA MUD CATS 2 - MYRTLE BEACH PELICANS 1 (game 2)
It is too often when you can see the Pelicans were held in check-in back to back games. It has been less often to see them get swept in a double header, which was precisely what happened. You have to feel for Richard Gallardo, who did what he needed to do in 4 2/3 innings, only to come up short as Edwin Jimenez and Israel Puello were better.
For Gallardo, this was an excellent bounce-back start after his last two outings were less than pretty. However, a pair of fourth-inning runs proved to be the difference as Jackson Chourio took him deep for the 1-0 lead before a sacrifice fly made things 2-0. That score would hold until the seventh inning as Juan Mora picked up an RBI single to make things 2-1, but that was all they could do. Mora was one of three players to have a hit as Alcantara and Felix Stevens had the other two in a rare quiet night for the Pelicans.
Not our night.#MBPelicans pic.twitter.com/pXH4do5uCH

— Myrtle Beach Pelicans (@Pelicanbaseball) June 10, 2022
ACL BREWERS 7 - ACL CUBS 3
Fresh off an off day, things were looking good as the Cubs held a 3-1 lead through seven. That was until the Brewers offense erupted for six runs late, including four in the ninth, as the Cubs are still looking for that first win. Even with plenty of command issues, Kenyi Perez got through three innings allowing just two hits. With Cubs capitalizing on a wild pitch to take a 1-0 lead in the fourth, it appeared that Perez might find a way to win this game.
That was until Jace Avina tied things up in the sixth with a solo shot. One of the more intriguing prospects to come stateside is Moses Ballesteros, as his two-run shot in the bottom of the sixth put the Cubs back in front 3-1. Following a two-run eighth to tie things up, the Brewers brought home four more in the ninth as they picked up the 7-3 win. Cristian More and Brayan Altuve paced the offense with two hits, with Cristian Hernandez and Pedro Martinez continuing to hit.
DSL PIRATES 7 - DSL CUBS BLUE 4
Unlike in seasons past where the DSL league would see new opponents each day, they are taking the full season approach by playing one team each week. That team happens to be the Pirates this week for DSL Blue as they fell to 2-2 on the season.
After Eligio Paredes did his thing through 3 1/3 innings, the five-run fourth did the Cubs in as the Pirates grabbed the lead and didn't look back. A first-inning RBI double from Geuri Lubo and a second-inning single from Esmarly Tatis had the Cubs in front 2-1 before that five-run frame gave the Pirates the win. The Cubs did their best to come back late, with Jefferson Rojas adding an RBI double with Josefrailin Alcantara picking up an RBI groundout, but it wasn't enough to come back.
DSL ANGELS 8 - DSL CUBS RED 0
There wasn't much to cheer about in the DSL as both teams lost their games. Add in the ACL loss, and all three rookie league teams lost as the Cubs system posted an ugly 2-7 record on the night.
This game was over almost as quickly as it started, with the Angels scoring seven times across three innings, with three coming in the third, two in the fourth, and two in the fifth. When you have an offense that was held to just one Carlos Altuve hit, it is not easy to win, which is why the Cubs lost by that score.