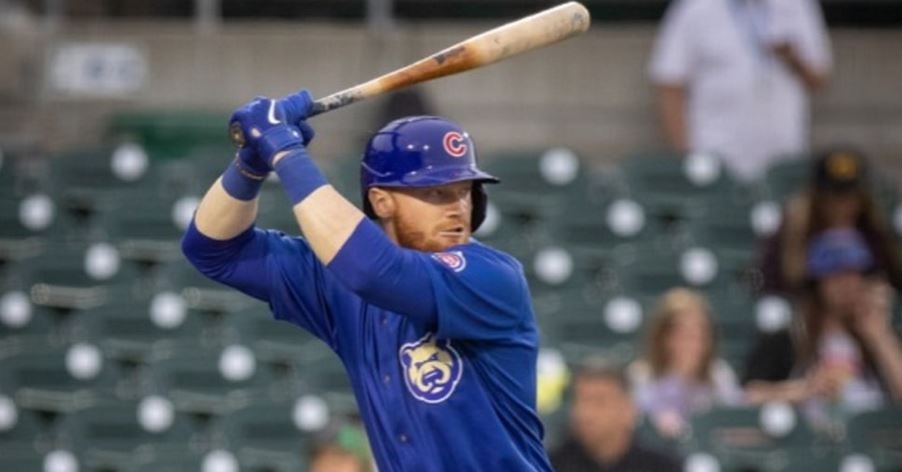 | | |
| --- | --- |
| Cubs Minor League News: Clint Frazier raking, Slaughter with walk-off grand slam, more | |
---
| | | |
| --- | --- | --- |
| Thursday, June 23, 2022, 11:49 AM | | |
Wednesday was as perfect as perfect can get with all four of the Cubs full-season affiliates getting the job done. Mix that with the Chicago Cubs beatdown of the Pirates, and losing was not an option for anyone on Wednesday.
IOWA CUBS 5 - LOUISVILLE BATS 4 (10 innings)
It has been a while since the Cubs had a 2-0 lead in a series, but that is where things sit. Led by a strong Matt Dermody start as he allowed just two runs in five innings, the Cubs had to overcome some shaky outings from their pen as Louisville rallied to tie things up. Thankfully the Cubs would have the last laugh as they picked up a huge extra-inning win.
Trailing 1-0 in the third, the Iowa offense started to heat up, which couldn't have come at a better time. Narcisco Crook has been on fire in June and kept that up with a game-tying RBI double. Clint Frazier answered that with a two-run single as the Cubs led 3-1.
As if one double was not enough for Crook, why not make it two as he added a second RBI double in the fifth to make things 4-1. Looking to finish things off late, Aneurysm Rosario surrendered a two-run shot in the seventh to Chuckie Robinson as the Bats were down just one. Two innings later, Christian Santana picked up the game-tying RBI single in the ninth as this game was ticketed for extras.
In that extra inning, the Cubs had the last laugh as Frazier delivered the game-winning double in the Cubs 5-4 win.
After going 2-for-4 with three RBI including this go-ahead double in extras, @clintfrazier is your @EMCInsurance Player of the Game. pic.twitter.com/4JBJdFEC6x

— Iowa Cubs (@IowaCubs) June 22, 2022
Crook paced the offense with three hits and two RBIs, while Frazier added two hits with three RBIs.
Two road wins in a row! pic.twitter.com/Bb6HrZ9X5F

— Iowa Cubs (@IowaCubs) June 22, 2022
TENNESSEE SMOKIES 11 - CHATTANOOGA LOOKOUTS 7 (10 innings)
If you like the flare for dramatics, then you came to the right place as there was drama in this one. After watching their one-run lead evaporate late, the Smokies were on the verge of stranding a bases-loaded situation in the 10th.
That was until the hottest hitter on the planet in, Jake Slaughter, stood in. Facing an 0-2 count, Slaughter did what he has done all month long, crushed a walk-off grand slam over the field fence and gave the Smokies an 11-7 win.
Led by a pair of homers from Matt McLain and Isiah Gilham off Anderson Espinoza in the first, the Lookouts build a 2-0 lead only to see Matt Mervis tie things up with a homer in the bottom half. Doubles from Mike Siani and Michael DeLeon had the Lookouts back in front 4-3 before the Cubs ripped off four unanswered runs to take the lead.
Andy Weber cashed in with a fifth-inning RBI single to tie things up. That was followed by a three-run sixth in which Slaughter, Mervis, and Chase Strumpf all had RBI singles to put Tennessee up 7-4.
Mervis with an RBI single in the bottom of the 6th! The Smokies extend their lead over the Lookouts, 6-4. pic.twitter.com/HhAhTA387z

— Tennessee Smokies (@smokiesbaseball) June 23, 2022
Strumpf breaks it wide open with an RBI single! 7-4 Smokies in the bottom of the 6th. pic.twitter.com/9RIwmn2UDI

— Tennessee Smokies (@smokiesbaseball) June 23, 2022
As if the home run ball wasn't big enough already, Gilham connected for his second of the day in the seventh to pull the Lookouts within one. The next inning saw Quincy McAfee unload for one of his own, and just like that, it was a tie game and heading to extras.
In that extra frame, Samuel Reyes pitched into and out of trouble as the Smokies were the next ones up to take their cuts. With Bryce Ball taking a walk, Cam Balego picked the perfect time to drop down a sacrifice as both runners moved up. That signaled an intentional walk to Cole Roederer to load the bases as the offense was in business.
With two outs and facing an 0-2 count, Slaughter delivered what might be his best moment as a pro and crushed a walk-off grand slam to lift the Smokies to the 11-7 win.
HE SLAUGHTERED THAT ONE!!!! Jake Slaughter walks it off with a grand slam in the bottom of the 10th! @MiLB #SmokiesBaseball #Cubs #ItsDifferentHere #FlytheW #ClubDub #Walkoff pic.twitter.com/EOqVjhyDbz

— Tennessee Smokies (@smokiesbaseball) June 23, 2022
While Mervis may have led the way again with three hits and three RBIs, the five RBI day from Slaughter was the difference.
In case you missed it, Jake Slaughter hit a walk-off grand slam. How neat is that? pic.twitter.com/oMISI5rEOd

— Tennessee Smokies (@smokiesbaseball) June 23, 2022
SOUTH BEND CUBS 1 - PEORIA CHIEFS 0
Runs were not easy to come by on Wednesday as the two sides combined for nine hits. Fortunately, it only takes one run to win a game, and for the Cubs, that is just what they needed to top the Chiefs 1-0.
Daniel Palencia was on the mound and, despite an ERA above 4.50, has pitched well lately. Wednesday saw Palencia deliver his best outing of the season as he went five innings, allowing three hits and striking out seven to earn his first win. He gave way to Riley Martin and Zach Leigh as they battled some command issues, but kept Peoria scoreless.
While South Bend had strong pitching, so did Peoria, with Zane Mills allowing just one run in seven innings. That run came in the third off the Yohendrick Pinango double as that run proved to be enough in the 1-0 win. Fabian Pertuz paced the offense with two hits, while Pinango, Owen Caissie, and Jonathan Sierra rounded out the hits.
CUBS WIN!
Daniel Palencia steals the show ?? pic.twitter.com/N6iG7pehEB

— South Bend Cubs (@SBCubs) June 23, 2022
MYRTLE BEACH PELICANS 5 - KANNAPOLIS CANNON BALLERS 3
The magic number for the Pelicans is down to one following their win on Wednesday, but it didn't come easy. Trailing 3-0 late in the game, the pelicans offens erupted for five runs over the final three innings to bail out starter Porter Hodge.
Hodge lasted just 3 1/3 and allowed three runs. He walked five and struck out six as this was his worst outing in a while. A part from that, the Pelicans bullpen was lights out as they allowed just one hit the rest of the way and saw Adam Laskey earn the win.
As if allowing three runs in one inning wasn't tough enough on Hodge, he allowed those runs with the bases loaded as three bases-loaded walks saw the Pelicans in a 3-0. Things could have unraveled there in a hurry, but credit to Buddy Bailey and his staff for keeping their team focused.
The Pelicans managed to get one of those runs back on a seventh-inning Ezequiel Pagan single, but the eighth inning saw them do the most damage.
On the board! Ezequiel Pagan hits an RBI single to bring in James Triantos.

Cannon Ballers 3, Pelicans 1 in the top of the seventh. pic.twitter.com/dqcKmGsNRo

— Myrtle Beach Pelicans (@Pelicanbaseball) June 23, 2022
James Triantos drove in the Pelicans second run with an RBI groundout. That was followed up by Pagan and his RBI single as Myrtle Beach rallied to take the lead 4-3.
BIRDS IN FRONT.

Ezequiel Pagan brings in two more runs on a single to bring his total to 3 RBI tonight.

Pelicans 4, Cannon Ballers 3 in the bottom of the eighth. pic.twitter.com/ovWqY3SnOn

— Myrtle Beach Pelicans (@Pelicanbaseball) June 23, 2022
Read Garcia added an RBI knock in the ninth inning for some huge insurance as the Pelicans move within one game of clinching the first half-title.
Pagan had the hot hand all day, picking up three hits with three RBIs. Triantos added two hits to his RBI, while Garcia added the final hit and RBI.
Magic number = 1.

With tonight's comeback victory, the Pelicans will need a win tomorrow or a Charleston loss in the final game of the first half to clinch the championship. #MBPelicans pic.twitter.com/2uLPMWuyHS

— Myrtle Beach Pelicans (@Pelicanbaseball) June 23, 2022