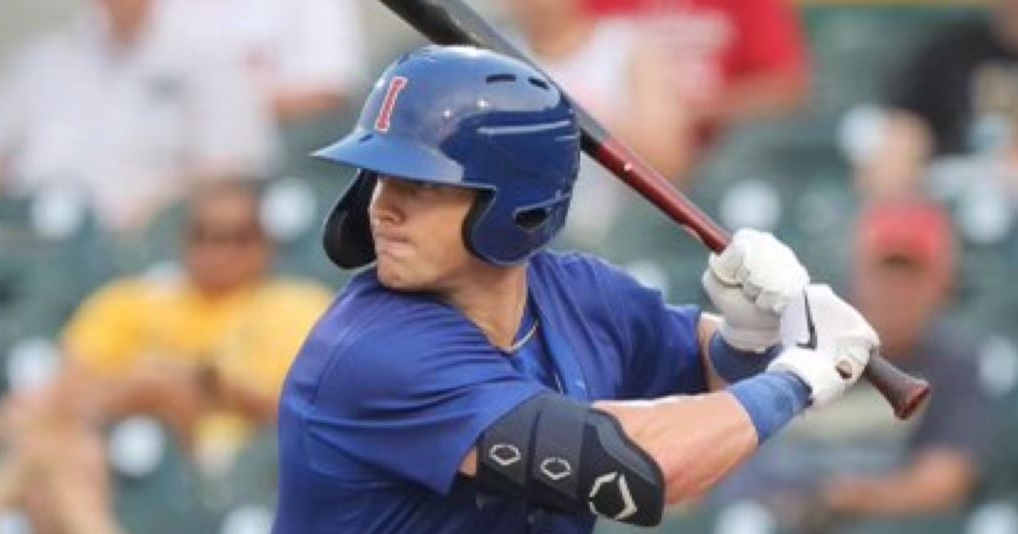 | | |
| --- | --- |
| Cubs Minor League Daily: Deichmann homers, Canario raking, Pelicans 15-3 in May, more | |
---
| | | |
| --- | --- | --- |
| Monday, May 30, 2022, 9:48 AM | | |
It was another rough night on the diamond for the Cubs system as they limped to a 2-3 record on Sunday. Somehow Myrtle Beach was not one of those teams that won, but now it appears South Bend is catching fire.
MEMPHIS REDBIRDS 4 - IOWA CUBS 2
One thing the Iowa Cubs found out this week was that Memphis has good pitching. For the most part, the Cubs offense was held in check, and that continued with their series conclusion being a 4-2 defeat.
Luke Farrell got the start for the Cubs and lasted only four innings, allowing three of the four Memphis runs. Apart from Cayne Ueckert surrendering an unearned run, the rest of the Iowa bullpen was solid, but the offense had a tough time getting anything going.
Farrell not only allowed three runs, but allowed one each of the first three innings, with Alec Burleson picking up RBIs in the first and third and Clint Coulter adding an RBI single in the second. The homer by Burleson in the third was not only his 11th, but was the game-winning run.
Memphis added another run in the sixth off the Kramer Robertson single, and that is when the Cubs offense finally started to show signs of life. Continuing what could be a lengthy rehab stint, David Bote put the Cubs on the board with an RBI groundout in the seventh. The next inning saw Greg Deichmann connect for his first homer of 2022, and the Cubs were within 4-2.
They would fall by that score as Bote had a chance to play the hero in the ninth, only to come away with an inning-ending double play. With nine hits, nearly everyone in the lineup had at least one, but Deichmann and Zach Davis led the way with two. Loss or not, there was some good news in Iowa as Matt Swarmer and Nelson Velazquez are heading to Chicago to make their MLB debut on Monday.
See you Tuesday at Principal Park. pic.twitter.com/L7fS3tmBXp

— Iowa Cubs (@IowaCubs) May 30, 2022
TENNESSEE SMOKIES 7 - ROCKET CITY TRASH PANDAS 4
In what was game one of their second doubleheader of the weekend, the Smokies got off to a great start and managed to hold on for the win. Things haven't been going well for Peyton Remy lately, but the right-hander was much better. Across his four innings, Remy allowed three runs on four hits across his four innings, but, overall, he started to show plenty of improvements before the bullpen stepped in.
Knowing how much he has struggled across his last few starts, the Smokies wanted to help him out as much as possible and used the Alexander Canario two-run shot to take the lead for good 2-0.
No one in the system has more raw power than a Alexander Canario. He almost takes out a jeep on this home run pic.twitter.com/9UkVQmJSxL

— Todd ?????? (@CubsCentral08) May 29, 2022
The long ball continued to play a vital role for the Smokies in the second, with Bradlee Beesley going deep for the first time as a member of the Smokies, putting Tennessee up 4-0 in the second.
Ryan Aguilar managed to get one of those runs back in the bottom of the second with a solo shot, but the Levi Jordan homer in the third proved to be the winning run as Tennessee was rolling 5-1.
Levi Jordan is hitting his way back to Des Moines pic.twitter.com/IPvIZdYadj

— Todd ?????? (@CubsCentral08) May 29, 2022
The final runs Remy allowed came off of, go figure, another homer with Orlando Martinez making things 5-3.
You get a home run and you get a home run you get a home run… pic.twitter.com/v7II8S9CvP

— Todd ?????? (@CubsCentral08) May 29, 2022
That was as close as the Trash Pandas would get, with Chase Strumpf connecting for another homer late to push the lead back to 7-3 before winning 7-4. Canario had a great first game, connecting for three hits with that two-run blast.
Alexander Canario goes 3-3 with 2RBI, as the Smokies take game one! Game two scheduled to begin at 4:35pm. pic.twitter.com/ssJWj9hViZ

— Tennessee Smokies (@smokiesbaseball) May 29, 2022
ROCKET CITY TRASH PANDAS 3 - TENNESSEE SMOKIES 2
With a chance to sweep the doubleheader and earn the series split, the Smokies turned to Dalton Stambaugh, who was very good in his start. Across five innings, Stambaugh allowed two runs on four hits to keep his team close, but a late run off of Scott Kobos lifted the Trash Pandas to the 3-2 win.
While Stambaugh was strong, Coleman Crow was equally challenging, and some would argue was better. He allowed two runs across 5 2/3 innings of work, but both came in one inning, and neither were earned. After witnessing a home run derby in game one, the long ball continued to be the difference-maker, with Preston Palmiero putting Rocket City up 1-0 in the second.
Unlike the first game, where Tennessee scored early and often, it took five innings for the Smokies to cash in as Darius Hill drove in the lone non-homer RBIs with a single, helping to put the Smokies on top 2-1. That lead was short-lived as Livan Soto tied things up with a single of his own in the bottom half of the fifth. The next inning saw Rocket City take the lead for good, with Palmiero delivering the game-winning RBI knock and lifting the Trash Pandas to the 3-2 win.
SOUTH BEND CUBS 7 - GREAT LAKES LOONS 5
Another challenging series under their belt and another strong showing for the Cubs. It didn't come easy as they had to battle back early and then hold off a thunderous rally late. All that matters is they came away with a victory and took the series 4-2.
Daniel Palencia continues to give the Cubs consistent outings every five days, but like most of his outings, he has struggled to get into the fourth after allowing two runs in three innings. Palenica gave way to Riley Martin, Sheldon Reed, Brad Deppermann, and Walker Powell as the bullpen was solid.
Palencia allowed both of his runs in the first inning when Jose Ramos connected for a two-run shot to make things 2-0. That was not the start he was hoping for, but he did recover nicely as the offense backed him. A Yohendrick Pinango single in the bottom of the first tied things up 2-2 before Pablo Aliendo capped off a very impressive month of May with another single, giving the Cubs a 3-2 lead.
Why I love Pablo Aliendo…

This is one mature piece of hitting for a guy that turned 21 years old today. Happiest of birthdays, my friend!!! pic.twitter.com/0CzpjFOygl

— Todd ?????? (@CubsCentral08) May 29, 2022
After having a fantastic game on Saturday, Jordan Nwogu continued his strong showing delivering a fourth-inning sacrifice fly to put the Cubs up two. The Yeison Santana single followed that, and the Cubs were in front 5-2.
Even with that score, the Loons wouldn't go away with Jonny DeLuca connecting for his 13th homer of the season to pul them within 5-3. Looking to add to their lead in the sixth, Jake Slaughter provided the Cubs with the game-winning hit as his RBI double extended the lead to 7-3.
That score would hold until the top of the ninth, when the Loons started to make a ton of noise. Ironically, that noise all came with two outs as this was a rally to remember for the Loons. Eddys Leonard started that rally with a single before the Jorbit Vivas double made things 7-4. That double was followed by three straight walks to bring home another run while the bases remained loaded with two outs. Facing adversity for the first time, Powell made the pitch he needed to make and induced a game inning grounder to secure the win and his first save.
Fly the W!
That caps a 15-3 month at home in May ?? pic.twitter.com/4GBsVGrlWK

— South Bend Cubs (@SBCubs) May 30, 2022
AUGUSTA GREENJACKETS 3 - MYRTLE BEACH PELICANS 1
After their 12-game winning streak ended on Saturday, the Pelicans hit a mini-slump, dropping a second straight game to the Greenjackets. Give Augusta some credit as they played the Pelicans tough all series and came away with two wins.
This was a bizarre game with all three of the Greenjackets runs coming in one inning and the Pelicans outhitting them 5-2. Porter Hodge was the victim of this game as he suffered his first loss of the season after allowing three runs in just 1 2/3 innings. He was relieved by Luis Rodriguez, who tossed 4 2/3 scoreless innings with six strikeouts to bring his ERA to 1.93.
Unfortunately, the Pelicans offense was held in check for the most part, with Jordano Perez allowing two runs in six innings to secure the win. That second inning was a rough one for Hodge and the Pelicans as he uncorked a wild pitch to put Augusta in front before the game-winning Brian Klein double had the Greenjackets in front 3-0.
From there, it was all catchup mode for the Pelicans, who came away with minimal offensive support. Kevin Made managed to end the shutout bid using a fourth-inning RBI double to make things 3-1. That was it for the offense as the Pelicans scored their fewest amount of runs in nearly three weeks. Kevin Alcantara collected two of the team's five hits, with Made, Felix Stevens, and Jacob Wetzel grabbing the rest.
Final from Augusta.

We return home to Myrtle Beach for a series against Delmarva next week.#MBPelicans pic.twitter.com/jGChhtsHpB

— Myrtle Beach Pelicans (@Pelicanbaseball) May 30, 2022