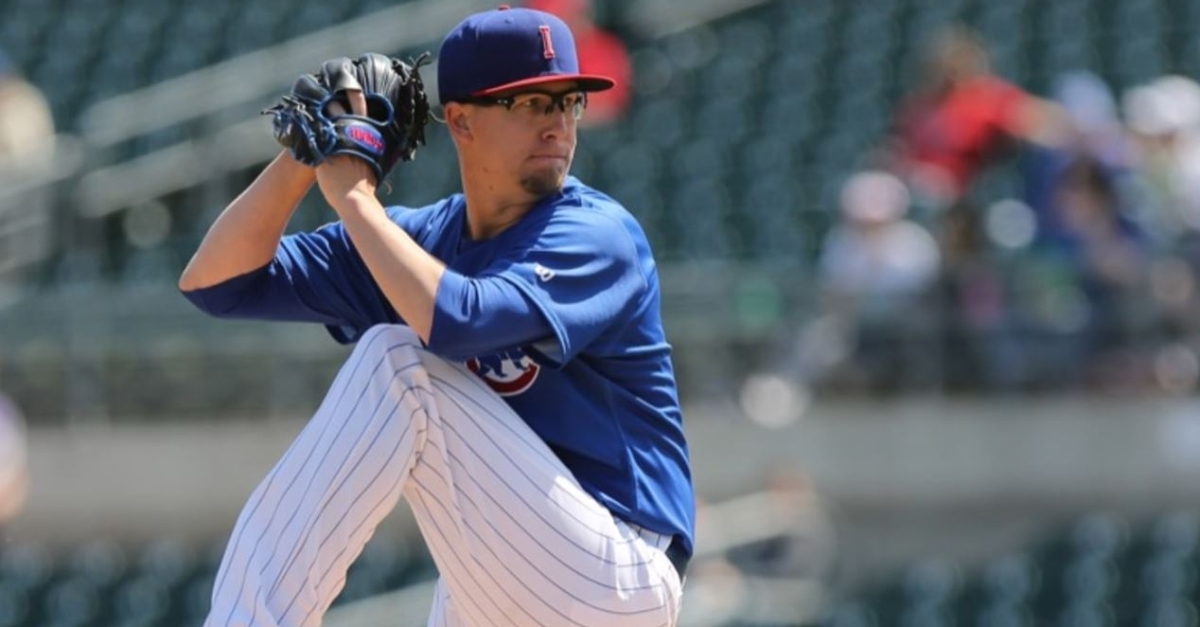 | | |
| --- | --- |
| Cubs Minor League News: Mills' rehab, Mora homers, PCA goes yard, Fabrizio homers, more | |
---
Sometimes the best part of the Chicago Cubs having an off day is that it gives fans a chance to focus on the minor leagues. When it comes to the Cubs and their minor league system, they have a great one as they still lead the minors in overall winning percentage.
Despite posting a 2-3 record on the night, 3-3 if you count the completion of the suspended game, there is still lots to love about what is going on. Fans also saw history being made, which we will get into later.
MEMPHIS REDBIRDS 7 - IOWA CUBS 0
After playing so well the past three weeks, Iowa has cooled off in a big way in Memphis and was held to just three hits on Friday. Former Iowa Cub Aaron Brooks got the start for Memphis and helped set the tone by tossing five scoreless frames and allowing two hits.
For the Cubs, it was Alec Mills getting the ball as he continues to work his way back to the bigs. Although better this time around, Mills still allowed two earned runs in 3 2/3 innings of work. Sean Newcomb also began his rebab stint allowing two runs in just 2/3 of an inning as the Cubs offense was held in check.
Ben DeLuzio will make a petition to play Iowa every game as his monster series continues. After coming away with several big hits already, DeLuzio delivered a Grand Slam in the fourth inning to put Memphis in front for good 4-0. The rest of the Redbirds runs came in the fifth inning, with Scott Hurst plating a pair with an RBI triple while a bases-loaded walk brought home the final run. Dixon Machado, Jared Young, and John Hicks had the hits.
Game five tomorrow night. pic.twitter.com/NcWIC17sHL

— Iowa Cubs (@IowaCubs) May 28, 2022
ROCKET CITY TRASH PANDAS 8 - TENNESSEE SMOKIES 3 (game 1)
In what will be two doubleheaders this weekend, the Smokies dropped game one of a double-dip 8-3. Chris Clarke was saddled with the loss, but wasn't given much help allowing four runs in just two innings. However, none of those runs were earned as the Smokies defense struggled.
Trailing by one in the second after an error led to the Trash Pandas first run, the Smokies got their offense rolling as the Matt Mervis homer put them in front 2-1. That lead was short-lived as an early inning error paved the way for three runs to score, with Rocket City taking a 4-2 lead. Yonathan Perlaza did his part to keep things close, working a bases-loaded walk in the third to pull within 4-3.
Unfortunately, the Smokies bullpen could not keep them there, with Bryce Teodosio delivering a two-run shot in the fifth before two more runs were scored in the sixth to end the game 8-3.
Tomorrow is a new day. pic.twitter.com/F2O5Ua5wN4

— Tennessee Smokies (@smokiesbaseball) May 28, 2022
ROCKET CITY TRASH PANDAS 7 - TENNESSEE SMOKIES 6 (game 2)
The second end of their doubleheader was a bit more exciting despite the Smokies taking another loss. Anderson Espinoza had a start to forget, but at least the Smokies offense put the team in a position to win, but came up short.
In two innings, all six of the Smokies runs came home, with four crossing home in the second. Bases loaded walks by Bryce Windham and Levi Jordan brought home two, while a bases-loaded hit by a pitch to Delvin Zinn and a single by Darius Hill made things 4-0. Much like in the first game, that lead was extremely short-lived as the Rocket City offense responded in a huge way.
Led by the Torii Hunter JR single to make things 4-2, Rocket City took the 5-4 lead as Livan Soto picked a great time to deliver his first homer of the season. Not about to go down without a fight, Tennessee retook the lead in the top of the third off the Windham single, and a wild pitch as Tennessee was holding the 6-5 lead.
That lead would hold until the bottom of the fourth when Aaron Whitefield tied things up with an RBI single. Later, one inning saw the Trash Pandas take the lead for good as Jose Gomez delivered the game-winning knock in what was a doubleheader sweep for Rocket City. The Smokies came away with just four hits as Hill, Windham, Jordan, and Chase Strumpf collected those hits.
Don't worry, we have another game today. pic.twitter.com/wVG5OFmKGc

— Tennessee Smokies (@smokiesbaseball) May 28, 2022
SOUTH BEND CUBS 11 - GREAT LAKES LOONS 4
While most of the talk within the Cubs organization has surrounded Myrtle Beach, the South Bend Cubs are quietly starting to heat up and continue to win games at home. With Manuel Espinoza putting together an impressive 5 2/3 inning start where he allowed four runs (one earned), the South Bend offense came to work and did what they needed to do to win.
One of the hottest hitters on the planet right now is Owen Caissie, and he continued that with a first-inning RBI double that saw the Cubs take a 2-0 lead. After Jose Ramos pulled Great Lakes within 2-1 with a solo shot in the second, Jake Slaughter delivered the game-winning blow as his three-run shot in the third had the Cubs up 5-1.
Things only got better from there with Cole Roederer adding an RBI double in the fourth, which was followed by a bases-loaded walk from Luis Verdugo in the fifth mixed with an Yeison Santana RBI groundout to extend the lead to 8-1. Great Lakes tried to keep things close and made a run in the sixth as an error led to three-run unearned runs to pull the Loons within 8-4.
Thankfully the Cubs bullpen wouldn't allow anything else as Caissie, and Pablo Aliendo added late-game RBIs to secure the 11-4 win. Even with 11 runs, the Cubs managed just eight hits, with Slaughter and Yohendrick Pinango coming away with two. Slaughter also led the way with three RBIs, as did Caissie.
CUBS WIN behind a dominate performance by starting pitcher Manuel Espinoza! Stay tuned for the highlights.#CubsWin #FlyTheW pic.twitter.com/ZkIPYY4vbQ

— South Bend Cubs (@SBCubs) May 28, 2022
MYRTLE BEACH 11 - AUGUSTA GREENJACKETS 5 (completion of suspended game)
MYRTLE BEACH PELICANS 3 - AUGUSTA GREENJACKETS 2
After coming away with another convincing win in the completion of Thursday's suspended game, it was time for Friday's game to get underway. Led by Tyler Santana and Jose Miguel Gonzalez, the Pelicans continued their winning ways and topped Augusta 3-2. The wins not only put that at 4-0 this series, but they have now won 12 consecutive games setting a franchise record.
Early on, it certainly didn't look good as the Pelicans offense was quiet while Santana had to battle through early struggles. In the third, those struggles were magnified when Cal Conley ripped a go-ahead RBI double before a wild pitch gave the Greenjackets the 2-0 lead.
When you look at how potent the Pelicans have been all season, there was no way two runs would hold up. If it were up to Landon Leach, it would as he allowed just a Miguel Fabrizio fifth inning homer through his five innings of work.
Miguel Fabrizio gets us on the board!

A solo home run makes it 2-1 Augusta heading to the bottom of the fifth. pic.twitter.com/J6sG7I1t0G

— Myrtle Beach PeliWINS. (@Pelicanbaseball) May 28, 2022
Still trailing by one in the seventh, the long ball again played dividends for the Pelicans, with Reggie Preciado going deep for the second time this season as that homer lifted them to the 3-2 win.
OMG.

Reginald Preciado hits a two-run home run to give the Birds the lead in the seventh!

3-2 Pelicans as the 12th consecutive win is three outs away. pic.twitter.com/Q8hwmHKAIE

— Myrtle Beach PeliWINS. (@Pelicanbaseball) May 28, 2022
Apart from Jacob Wetzel, everyone in the lineup had one hit.
HISTORY.

With tonight's win, the Pelicans have won 12 consecutive games, a new franchise record in recorded history.

To the moon. #MBPelicans pic.twitter.com/9fWWqOAMga

— Myrtle Beach PeliWINS. (@Pelicanbaseball) May 28, 2022

Upgrade Your Account
Unlock premium boards and exclusive features (e.g. ad-free) by upgrading your account today.
Upgrade Now

Tags: Cubs Baseball
,
Aaron Brooks
,
Alec Mills
,
Dixon Machado
,
Jared Young
,
Yonathan Perlaza
,
Anderson Espinoza
,
Levi Jordan
,
Delvin Zinn
,
Darius Hill
,
Chase Strumpf
,
Cole Roederer