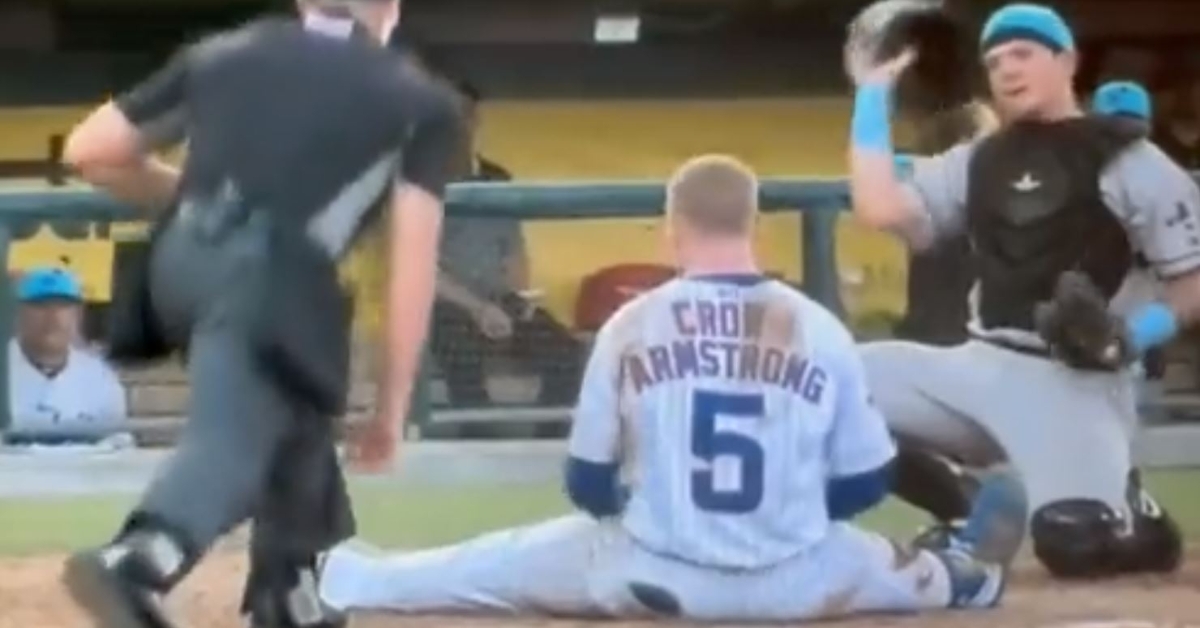 | | |
| --- | --- |
| Cubs Minor League News: Assad impressive, Hodge with gem, PCA with 'El Mago' slide, more | |
---
| | | |
| --- | --- | --- |
| Friday, August 19, 2022, 8:25 AM | | |
It was business as usual for the Cubs Minor League system on Thursday as a full slate of games was on the diamond. Sure, the results were ok at best, going 2-2 on the evening, but several standout performances need to be discussed.
IOWA CUBS 3 - INDIANAPOLIS INDIANS 0
Pitching was the story in Indianapolis on Thursday as four pitchers combined to throw a six-hit shutout. Javier Assad is the biggest story here as he not only got the start, but continues to improve.
Over his six innings, Assad allowed four hits while striking out six to pick up his first AAA win. His ERA now sits at 2.95 since the promotion. Following his departure, you had the combination of Jonathan Holder, Cam Sanders, and Jeremiah Estrada as the three combined to allow just two hits with five strikeouts in three innings.
First Triple-A save for @Jeremiah13Estra pic.twitter.com/yjmP3S1vJL

— Todd ?????? (@CubsCentral08) August 19, 2022
While Assad was pitching well, so was Jerad Eickhoff, who gave up just three runs in five innings of work. The first of those runs came on the David Bote single in the third, while John Hicks added a two-run shot in the fourth to make things 3-0. That would be all the offense the Cubs would need as their pitching did the rest. Hicks led the way with two hits, with Bote, Darius Hill, Alfonso Rivas, Matt Mervis, and Levi Jordan grabbing hits.
That's a shutout for the series lead! pic.twitter.com/OBONg9ExfL

— Iowa Cubs (@IowaCubs) August 19, 2022
BIRMINGHAM BARONS 6 - TENNESSEE SMOKIES 4
Just like that, the Smokies lead to make the playoffs is down to three games. We said earlier that this was a massive week for the Smokies as they had the potential to bury the Barons playoff hopes. Instead, you have a Birmingham team that has taken the first three games of the series, including a 6-4 win Thursday, to pull within three games of the Smokies.
Riley Thompson continues to battle, but is still searching for his first win as he fell to 0-5. Across his 3 2/3 innings, Thompson allowed three runs while walking three and striking out a pair. He turned things over to Walker Powell, who finished the game but was charged with three runs over those 4 1/3 frames. Powell managed to strike out seven, and two of his runs were unearned, making his line look much better.
At times, Alexander Canario may be a streaky hitter, but he is getting on one of his hot streaks again, using an RBI single to put the Smokies in front 1-0 in the third. That lead didn't last long, with Jose Rodriguez tying things up with an RBI single in the bottom of the third before the Barons took the lead for good with a pair of bases-loaded runs in the fourth.
Leading 3-1 in the sixth, Birmingham began to pull away as Luis Curbelo picked up an RBI double to extend the lead to 5-1. The two squads would exchange a pair of runs before the Smokies began to mount a late-game comeback. Down to their final at-bats, you had a couple of homers from Cole Roederer and Yonathan Perlaza to bring the Smokies to within 6-4, but they would fall by that score. Six different players had a hit, including Miguel Amaya, who also took two walks.
SOUTH BEND CUBS 6 - BELOIT SKY CARP 1
That is more like it. After struggling for the better half a week, the Cubs moved back into sole possession of first place by topping the team trailing them. Porter Hodge continues to be one of the bright spots in the Cubs rotation throughout the second half, which continued again.
Hodge recently entered the Cubs top 30 prospect list and then went about his business to toss five shutout innings of one-hit ball. He did struggle at times with his command by walking six, but when you have a 1.85 ERA, no one is complaining. Not only has the pitching been an issue for the Cubs recently, but so has the hitting, as South Bend needed to get off to a hot start.
Not only did BJ Murray Jr put them in front for good in the second with an RBI single, but Pete Crow-Armstrong delivered the game-winning RBI one inning later in exciting fashion. After ripping one into the right field corner for a triple, the throw got away, and Armstrong raced home before using a fantastic slide to score. Luis Verdugo added an RBI double later in the inning to put the Cubs in front 3-0.
Still holding that lead in the sixth, South Bend extended their lead with a wild pitch before Michael McAvene saw the shutout end with a Kyler Castillo sacrifice fly in the eighth. Even then, Beloit wouldn't get any close with Pablo Aliendo adding some late-game insurance with the homer to give the Cubs a 6-1 win.
2 huge insurance runs in the 8th inning courtesy of this @hoosierlottery HR from @pabloaliendo14! pic.twitter.com/yAZJuf1JQ4

— South Bend Cubs (@SBCubs) August 19, 2022
Armstrong was responsible for two of the six hits, with Aliendo, Murray Jr, Verdugo, and Jordan Nwogu grabbing the rest.
The Javy slide pic.twitter.com/KwYDrhewK0

— Todd ?????? (@CubsCentral08) August 18, 2022
ELECTRIC NIGHT! Back in 1st place ??#FlyTheW pic.twitter.com/ZmuVzoUvyu

— South Bend Cubs (@SBCubs) August 19, 2022
RIDING THE PCA
After another electric night at the plate and on the bases, plus a win to put us in solo 1st, Pete Crow-Armstrong spoke with @BKingSports! pic.twitter.com/qGNeszMkEE

— South Bend Cubs (@SBCubs) August 19, 2022
DOWN EAST WOOD DUCKS 12 - MYRTLE BEACH PELICANS 4
Coasting into the playoffs can be a dangerous thing, and right now, the Pelicans are on cruise control. After coming away with the first-half title, Myrtle Beach already knows they will be in the postseason. Despite that, the team's play has gone south as they are in danger of falling into last place.
Fans can handle losses, but the way this team is losing during the second half has to bring up questions for the postseason. Not only did Sam Thoreson get rocked for five first-inning runs in 1/3 of an inning, but Down East added a separate six-run inning to dominate the Pelicans from start to finish.
Things were not that bad early, with Felix Stevens backing Thoreson with some early support using a first-inning homer to go up 2-0. Down East didn't waste any time taking the lead in the bottom half of the inning as RBI doubles from Cameron Cauly and Yosy Galen tied things up before a costly error allowed for three runs to score to make things 5-2.
If that first inning wasn't bad enough for Myrtle Beach, why not head to the sixth when the Wood Ducks pushed across six more runs to take an 11-2 lead. Miguel Villarroel started things off with an RBI single, but the RBI doubles from Daniel Mateo and Cauly did the most damage as the Pelicans were in a massive hole.
Trailing 12-2 in the seventh inning, Myrtle Beach was trying to finish things off positively, with Liam Spence picking up an RBI groundout. Parker Chavers would add a solo shot in the eighth, but that was it in what was another ugly defeat for this group. Chavers was responsible for two of the team's four hits, with Stevens and Moises Ballesteros grabbing the rest. With the rookie league season ending on Tuesday, it will be interesting to see if guys like Cristian Hernandez, Pedro Ramirez, and Rafael Morel can help this club.

Tags: Cubs Baseball
,
Javier Assad
,
Jonathan Holder
,
Cam Sanders
,
Jeremiah Estrada
,
David Bote
,
John Hicks
,
Darius Hill
,
Alfonso Rivas
,
Levi Jordan
,
Walker Powell
,
Alexander Canario
,
Cole Roederer
,
Yonathan Perlaza
,
Miguel Amaya
,
Porter Hodge
,
Luis Verdugo
,
Michael McAvene
,
Pablo Aliendo
,
Jordan Nwogu
,
Felix Stevens
,
Parker Chavers