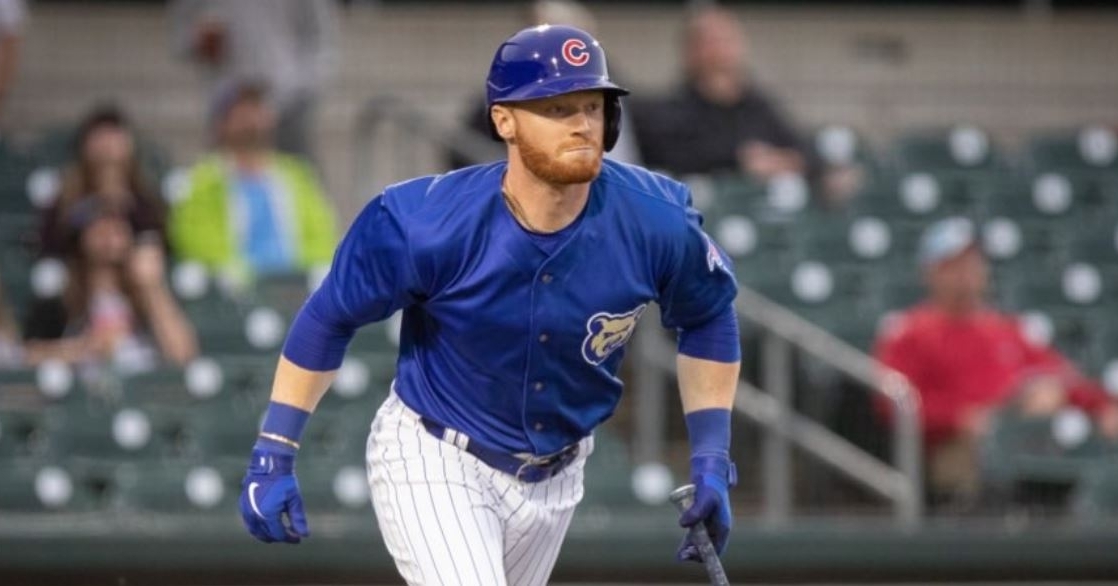 | | |
| --- | --- |
| Cubs Minor League News: Frazier with six RBIs, Pinango and PCA raking, Pels rocked, more | |
---
| | | |
| --- | --- | --- |
| Sunday, July 10, 2022, 8:34 AM | | |
For the second consecutive day, wins were tough to come by as the Cubs posted a dismal 2-4 mark on the diamond. With DSL Blue and Iowa being the only teams to come away with a win, it makes for a 2-11 record the last two nights, which needs to change quickly.
IOWA CUBS 10 - INDIANAPOLIS INDIANS 1
While most of the Cubs system had issues on Saturday, Iowa wasn't one of them as they raced out to a considerable lead and didn't look back. Matt Dermody was as good as ever on the mound allowing two hits in five scoreless frames to go with 10 strikeouts. He was followed by Ben Leeper, Brendon Little, and Steven Brault, who combined to allow one run over four frames.
Dermody was good, but it does help when your offense gives you six runs of support through two innings. Two of those runs came in the first when an error opened the scoring ahead of the Jared Young single to make things 2-0. The second inning is when Iowa put the game away as Jackson Frazier continues to see the ball well and belted a grand slam to make things 6-0.
Jackson Frazier with a grand slam to grow our lead to 6-0! That is good for your @GreatClips Clip of the Game. pic.twitter.com/KDchrPZND6

— Iowa Cubs (@IowaCubs) July 10, 2022
The game's lone run for Indianapolis came in the eighth inning when Mason Martin took Leeper deep for another homer to make things 6-1. The Iowa offense returned with a vengeance in the ninth, pushing across four more runs with Levi Jordan, Frazier, and Narcisco Crook, all adding RBI singles in the 10-1 win. Frazier not only led the offense with three hits but also drove in six runs. Dixon Machado and Crook added two hits, with Nick Madrigal going hitless.
We go for the series win tomorrow afternoon! pic.twitter.com/Pas0pbq2HK

— Iowa Cubs (@IowaCubs) July 10, 2022
TENNESSEE SMOKIES at BIRMINGHAM BARONS (PPD)
WISCONSIN TIMBER RATTLERS 8 - SOUTH BEND CUBS 3
This may be a battle of the top two teams in the division, but right now, the Rattlers have the upper hand. Led by a terrific pitching performance and a six-run second inning Wisconsin raced out to a massive lead to take control of the series.
Manuel Espinoza will have nightmares after this start as he lasted just 1 1/3 innings and was charged with seven runs (five of which were earned). Take that out of the equation, and you had Jarod Wright and Gabriel Jaramillo hold the Rattlers to just one run the rest of the way.
Trailing 1-0 after the Tristan Peters sacrifice fly, the Cubs answered in the bottom of the first when Yohendrick Pinango smacked his 20th double to bring things to 1-1. It was in the second inning when things got out of hand quickly as the Timber Rattlers pushed six runs home to take a 7-1 lead.
That damage was done on a pair of sacrifice flies with three RBI hits as everything clicked for Wisconsin. Despite being down a ton, there was plenty of baseball left to play, and South Bend would do their best to chip away at things early. A Fabian Pertuz sacrifice fly and the Owen Caissie RBI single in the third pulled the Cubs within 7-3, but they wouldn't get any close, falling 8-3.
Pinango continues to have a strong run of play, picking up another RBI while adding three hits. Pete Crow-Armstrong and Pertuz added two hits while everyone, but Scott McKeon had at least one hit.
Going for the split tomorrow, 2:05 ET first pitch. pic.twitter.com/mw1p7Yw5He

— South Bend Cubs (@SBCubs) July 10, 2022
COLUMBIA FIREFLIES 18 - MYRTLE BEACH PELICANS 2
No one saw this coming Saturday night as the Pelicans played their worst game of the season. Not only was this team down 6-0 in the first, but 12-1 after four innings as nothing was in their favor on Saturday.
Jose Miguel Gonzalez was given his first start in place of the recently promoted Luis Devers and couldn't even get out of the first to suffer his first loss. That was a common trend across the board as nearly every pitcher allowed multiple runs in their outing.
Most of the damage in the first came on a pair of RBI singles as Gary Camarillo, and Joshua Rivera had two RBI singles to make things 6-0. That lead grew to 8-0 in the second before Dayton, Dooney connected for a home in the third to push the lead to 10-0.
Trailing 11-0 in the fourth, Felix Stevens ended the shutout with an RBI groundout, but that would be most of the Pelicans offense. Five more runs would score for Columbia before Ezequiel Pagan did his thing by hitting his eighth homer in what was a rough 18-2 loss.
On to tomorrow.#MBPelicans pic.twitter.com/6pYFfBpKFz

— Myrtle Beach Pelicans (@Pelicanbaseball) July 10, 2022
ACL ATHLETICS 4 - ACL CUBS 3
The ACL Cubs continue to battle in virtually every game, but still can't find a way to win. This time, they let a late 3-2 lead slip away as the Athletics pushed across two runs in the seventh inning to win 4-3.
Didier Vargas continues to work his way back to full-season leagues by tossing 3 1/3 innings of work and allowing one run with four strikeouts. You also had Ben Hecht make his season debut by allowing one run in 2/3 of an inning.
The game's early stages belonged to the Cubs, with Miguel Amaya picking up an RBI single in the first to put the Cubs in front before Brayan Altuve doubled the lead in the second with a single of his own. The Athletics would respond over the next two innings to tie things up, but the Rafael Morel double in the sixth looked to be the winning run.
Unfortunately, that was not the case as Dereck Salom triple tied things up in the top of the seventh before the Nelson Beltran double pushed across the winning run to give the Athletics a 4-3 win. Pedro Ramirez raised his average to .321 following a two-hit night, with Morel joining him in that category.
DSL TWINS 4 - DSL CUBS RED 0
Offense has been a massive struggle for DSL Red the past week, and after coming away with two hits on Saturday, that continues to be the case. Juan Bello and company didn't pitch bad, but the results will not be great when the offense can only give you two hits. Adan Sanchez and Darlyn De Leon picked up the hits for the Cubs.
DSL CUBS BLUE 2 - DSL PIRATES 0: While the Cubs offense struggled to score runs, their pitching more than made up for it by allowing just one hit. Diego Duarte started that off by tossing three frames before handing things off to Alfredo Romero and Jair Jimenez. Alfredo has the best outing of the three by striking out six in his three no-hit innings of work.
DSL Blue didn't need much offense, as four hits got the job done. Carlos Altuve had one of those hits by delivering the game-winning run in the second off an RBI double. Jose Escobar would add the second and final RBI in the third off a single, as that would be all the offense the Cubs would need. Raul Guzman and Jefferson Rojas added the remaining two hits.