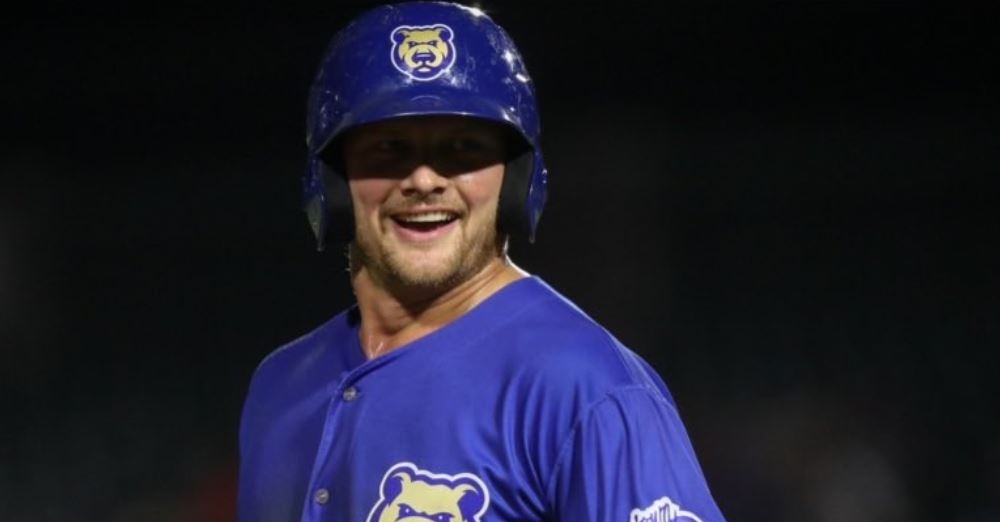 | | |
| --- | --- |
| Cubs Minor League News: Hicks raking, Roederer homers, PCA still impressive, more | |
---
| | | |
| --- | --- | --- |
| Saturday, August 27, 2022, 11:13 AM | | |
For the second night in a row, the Cubs minor league system played .500 ball. Granted, you would like better overall results than that, but as a fan, you have to like what you see from a player performance side.
IOWA CUBS 6 - SAINT PAUL SAINTS 5
Well, they may be the lone team that doesn't have a shot at the postseason, but the Cubs are going go to try and reach .500. Trailing 5-3 in the eighth, Iowa pushed across three runs to take the lead before Jeremiah Estrada closed things out.
Matt Swarmer made another start, which was his best outing since his return to Iowa. The right-hander got through five innings without allowing a run and gave up just one hit. His ERA is 2.66 as he continues to pitch well. With Swarmer doing his thing on the mound, it was only a matter of time until the offense came through, with John Hicks giving Iowa the 1-0 lead with his homer in the fifth.
That lead was short-lived as the Saints pushed across three runs in the sixth as Matt Wallner tied things up with an RBI double before singles by Mark Contreras and Jermaine Palacios put the Saints in front 3-1. Hoping to battle back, Michael Hermosillo picked up a sacrifice fly to make things 3-2 before the teams exchanged runs into the eighth with the Cubs down 5-3.
With just six outs to work with and down by a pair, Iowa would need some late-game magic, and that started with Hicks and his bases-loaded walk to pull Iowa within one. Two pitches later saw Jackson Frazier cash in with one of his biggest hits this season as his single provided the winning runs in the Cubs 6-5 win.
That four-in-a-row feeling pic.twitter.com/JlFXAAMcbu

— Iowa Cubs (@IowaCubs) August 27, 2022
TENNESSEE SMOKIES 6 - ROCKET CITY TRASH PANDAS 2
Sparked by a four-run second, the Smokies were able to defeat Rocket City for the first time this week and inched closer to first place. They also gained a game on Birmingham, as that should be the Smokies focus right now. Before the game, it was announced that Jordan Wicks would enter the Developmental list for the rest of the season.
That meant the Smokies needed a new starter as they turned to right-hander Walker Powell. All he did was deliver a great outing tossing six shutout innings to lower his ERA to 1.96. When you are given four runs of support early in the game, things are much easier, which Tennessee did in the second.
A bases loaded by a pitch to Bryce Windham opened the scoring while the Cole Roederer groundout doubled the lead. The big blow in that inning came from Delvin Zinn, as his RBI double was the game-winning hit and put the Smokies in front 4-0.
A double from Zinn doubles the lead!! 4-0 Smokies in the bottom of the 2nd. #Deuces pic.twitter.com/aPS99ztqgx

— Tennessee Smokies (@smokiesbaseball) August 27, 2022
Tennessee continued to build off that lead with Jake Slaughter picking up an RBI single in the fourth before the Roederer homer made things 6-0 in the sixth.
Slaughter singles to score Windham! It's 5-0 Smokies in the bottom of the 4th. pic.twitter.com/2JJ62oFruo

— Tennessee Smokies (@smokiesbaseball) August 27, 2022
ROEDERER GOES DEEP!!! @ColeRoederer pic.twitter.com/Yvo8HG9OO7

— Tennessee Smokies (@smokiesbaseball) August 27, 2022
Both runs for Rocket City came off Dalton Stambaugh in the eighth, with Livan Soto picking up an RBI single and Logan O'Hoppe adding a sacrifice fly in the loss. Everyone in the Smokies lineup had one hit, with Nelson Maldonado having two to bring his average to .400 in AA games.
That's more like it. pic.twitter.com/tHf0OibgQR

— Tennessee Smokies (@smokiesbaseball) August 27, 2022
WEST MICHIGAN WHITECAPS 5 - SOUTH BEND CUBS 4
One bad inning cost the Cubs another victory as their rally fell short in the end. Kohl Franklin was as good as ever through three innings until he came undone in the fourth. Franklin would get through five innings, but allowed four runs with four strikeouts.
Franklin was given some early support in the first as an error led to the game's first run, while the Kevin Made walk with the bases loaded made things 2-0. That score held up until the fourth when that big inning happened. What started with a Jake Holton RBI triple was followed by singles from Izaac Pacheco and Trei Cruz as the Whitecaps took a 3-2 lead. They added one more run in that inning to make things 4-2 as Franklin was left stunned on the mound.
Still holding that lead, Ben Malgeri picked up the winning RBI in the sixth inning his second sacrifice fly in as many at-bats made things 5-2. Trailing by that score in the ninth, it was the Cubs turn to rally as an error, and a pair of singles from Casey Opitz and Pete Crow-Armstrong loaded the bases with one gone.
With two outs and the bases still loaded, Brennen Davis came through with a huge single to pull the Cubs within 5-4, only to see Luis Verdugo line out to end the game. Armstrong raised his average to .290 with two more hits as Owen Caissie joined him.
Love the fight this team has been showing in the 9th. pic.twitter.com/jAonCfwgQW

— South Bend Cubs (@SBCubs) August 27, 2022
AUGUSTA GREENJACKETS 6 - MYRTLE BEACH PELICANS 5
Despite scoring twice in the ninth, the hits keep coming for the Pelicans as their second-half struggles continued. Grant Kipp made his third start for the Pelicans and was removed from the game after allowing four runs in four innings. That was an issue with all four runs coming in the third inning.
Stephen Paolini started things off that inning with a home run, while Ignacio Alvarez doubled the lead with a single. Add in a sacrifice fly and the Kevin Kilpatrick Jr RBI triple, and the Greenjackets jumped out to a 4-0 lead. Not only did Moises Ballesteros make things 4-1 with a double, but Reggie Preciado pulled the Pelicans within 4-2 in the fourth with an RBI groundout.
An Ezequiel Pagan single in the seventh pulled Myrtle Beach within 4-3, only to see Augusta pick up a pair on the Francisco Floyd single to stretch things back out to 6-3 in the eighth. Down to their final at-bats, the Pelicans were not going down quietly as they began to chip away at the lead.
Newly added Pedro Ramirez started things with a one-out single before the two-out homer from Ballesteros brought the birds within 6-5. That would be all for them as Pagan struck out to end the game. After hitting near .360 in the ACL, Ramirez continued his hitting ways as he collected three hits in his Pelicans debut. Ballesteros, Pagan, and James Triantos had two hits, with Ballesteros leading the way with three RBIs.

Tags: Cubs Baseball
,
Jeremiah Estrada
,
John Hicks
,
Michael Hermosillo
,
Jordan Wicks
,
Walker Powell
,
Bryce Windham
,
Cole Roederer
,
Delvin Zinn
,
Dalton Stambaugh
,
Nelson Maldonado
,
Kohl Franklin
,
Kevin Made
,
Casey Opitz
,
Brennen Davis
,
Luis Verdugo
,
Owen Caissie
,
Ezequiel Pagan
,
James Triantos