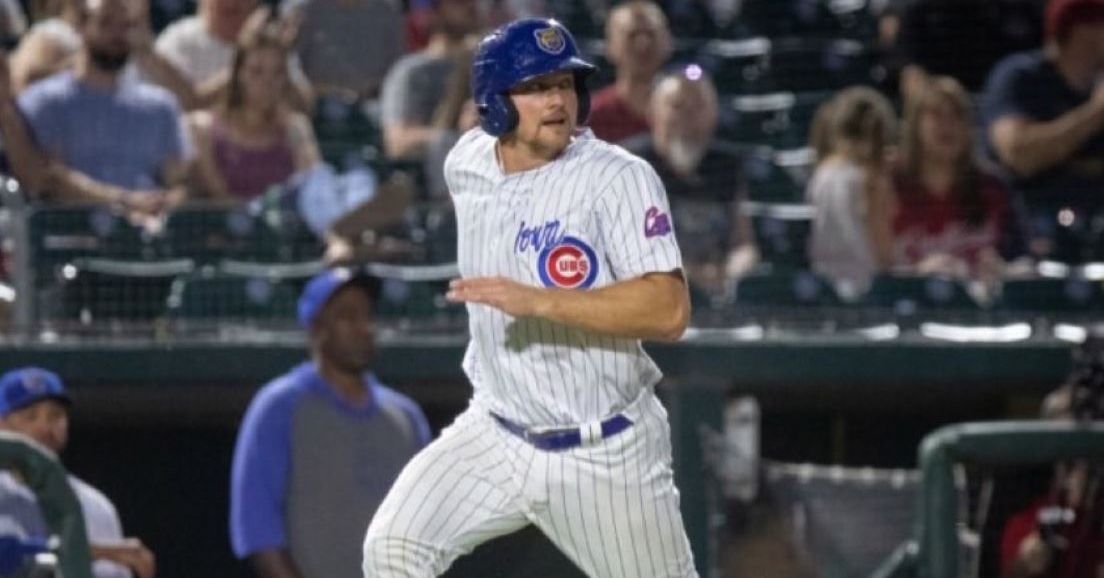 | | |
| --- | --- |
| Cubs Minor League News: Hicks smashes two homers, Wicks dominant, PCA homers, more | |
---
| | | |
| --- | --- | --- |
| Wednesday, August 3, 2022, 10:08 AM | | |
If you are a fan of close games, Tuesday night was the night for you. With three of the Cubs four minor league games decided by one run, not only was their plenty of action, but most of the games were competitive, which is what every fan wants to see.
To make things better, all three of those games turned out to be wins for the Chicago Cubs as the system went 3-1 in minor league action.
TOLEDO MUD HENS 8 - IOWA CUBS 4
The only team that wasn't involved in a one-run game was also the only team that came away with a loss. Led by an offensive barrage that saw the Mud Hens score five times in the first three innings, Toledo doubled up the Cubs for a series-opening win.
Luke Farrell has been pretty strong for Iowa since returning to the Cubs system, but after allowing five runs in four innings, Farrell took the loss. He gave way to Matt Swarmer, Cayne Ueckert, and Dakota Mekkes, as Mekkes was the only pitcher not to allow a run.
With both teams posting zero's in the first inning, Kerry Carpenter put Toledo in front with a solo shot to begin the second. That was followed by an RBI single from John Valente later in the inning as Toledo took the 2-0 lead. It didn't take long for the Cubs to respond, with Greg Deichmann and Trent Giambrone answering with RBI singles in the bottom of the second to pull the Cubs back to even.
Things didn't stay that way long as the recently demoted Spencer Torkelson unloaded for a three-run shot in the third to give the Mud Hens the lead for good 5-2. Home runs continued to play a significant role the rest of the way, with John Hicks picking up a solo shot in the fourth and Ryan Kreidler and Jack Lopez grabbing solo shots for Toledo to make things 7-3. Hicks added a second homer later in the game, but it wasn't for Iowa to come back as they fell 8-4.
With this long ball, John Hicks is now 3-for-3 with a double and two home runs tonight! pic.twitter.com/SG1savz2AK

— Iowa Cubs (@IowaCubs) August 3, 2022
Final from Principal Park. pic.twitter.com/n6Iy09shzN

— Iowa Cubs (@IowaCubs) August 3, 2022
TENNESSEE SMOKIES 8 - ROCKET CITY TRASH PANDAS 7 (F/10)
If you want to be the best, you have to beat the best, which is what the Tennessee Smokies are up against. Sitting in first place right now, the Smokies withstood a six-run ninth inning from the first-half champions before picking up the win in extras.
Jordan Wicks was flat-out dominant in his five innings on the mound as he continues to impress. Not only did he not allow a run, but he surrendered just three hits while striking out eight.
Jordan Wicks was a freaking bulldog tonight against Rocket City. He threw five scoreless innings and struck out eight. Here is every single one. pic.twitter.com/5MFZjUacjX

— Todd ?????? (@CubsCentral08) August 3, 2022
Apart from him, Ben Hecht, Max Bain, and Jeremiah Estrada were great out of the pen, but it was Peyton Remy who allowed six runs without the benefit of a hit in the ninth that led to the Rocket City rally.
Listen very carefully…

This is the sound of Jeremiah Estrada throwing 98 miles an hour pic.twitter.com/BPa38jd1NS

— Todd ?????? (@CubsCentral08) August 3, 2022
The Tennessee offense went to work starting with the second inning as they scored six times over the next four innings. Singles from Andy Weber and Yonathan Perlaza in the second put the Smokies in front 2-0 before the Alexander Canario bomb in the third made things 3-0.
Canario's new found dad strength pic.twitter.com/KDhlqDN0zh

— Todd ?????? (@CubsCentral08) August 3, 2022
That homer was the beginning of a home run barrage for the Smokies as Perlaza grabbed a solo shot in the fourth and Luis Vazquez picking up a two-run shot in the fifth to make things 6-0 Tennessee.
Not to be out done, Perlaza goes yard pic.twitter.com/P5kJ2lnRIM

— Todd ?????? (@CubsCentral08) August 3, 2022
Luis Vazquez gets the third homer of the night for the Smokies pic.twitter.com/cfIryHA9Ln

— Todd ?????? (@CubsCentral08) August 3, 2022
It took seven innings for Rocket City to score, with Livan Soto picking up the RBI hit, but trailing 7-1 in the ninth, things were looking very bleak.
It was in that ninth inning when things began to fall apart for Tennesse as an error not only allowed for another run to score but also opened the flood gates for a six-run frame. Somehow only two of those runs came via a hit, with Kevin Maitan picking up a two-run RBI single to send the game to extras.
Not about to let this one get away; it was Perlaza cashing in with an RBI single in the 10th as the Smokies picked up a huge win 8-7. Perlaza has been on a tear since moving to the leadoff role as he picked up three hits and three RBIs. Weber, Canario, and Miguel Amaya added two hits in the win.
SOUTH BEND CUBS 5 - FORT WAYNE TIN CAPS 4
It didn't come easy, but the Cubs continued their stranglehold on the division by holding off the Tin Caps 5-4. Dalton Stambaugh got the start and, across his five innings, allowed just one run to take the win. Riley Martin took over for him allowing one run in two innings to go with six strikeouts before Jared Wright finished things off.
From an offensive side, Pete Crow-Armstrong got things started in a hurry as his first-inning homer put the Cubs in front for good 1-0.
As the crow flies! @Cubs No. 3 prospect Pete Crow-Armstrong goes deep to straightaway center for @SBCubs: pic.twitter.com/W6Heptznc9

— MLB Pipeline (@MLBPipeline) August 2, 2022
Luis Verdugo doubled that lead with an RBI single later in the first before a second-inning double from Jordan Nwogu extended the lead to 3-0.
Fort Wayne got on the board in the bottom of the third off the Adam Kerner double, but it was the Pablo Aliendo homer in the fourth mixed with the Nwogu single in the sixth that had the Cubs in front 5-1. At that point, Fort Wayne began to rally as they started to make a game out of things.
With a wild pitch making things 5-2 in the second, Joshua Mears pulled the Tincaps within one as his two-run homer in the eighth made things 5-4. That was as close as Fort Wayne would get as Wright bounced back from that homer to post a scoreless ninth and secured another Cubs win.
Verdugo led the way with three hits on offense, while Armstrong, Nwogu, and Fabian Pertuz all had two. The Cubs had 13 hits, with just one player failing to record a hit in the win.
CUBS WIN!
Nothing like starting a fresh series against an in-state rival with a dub ??#FlyTheW pic.twitter.com/lTOWgoxOJB

— South Bend Cubs (@SBCubs) August 3, 2022
MYRTLE BEACH PELICANS 5 - LYNCHBURG HILLCATS 4
Don't look now, but the Pelicans are starting to heat up again after a sluggish start to their second half. It hasn't come easy, and Tuesday was far from easy as the Pelicans needed four runs in the final two innings to secure the walk-off win.
Koen Moreno made his second start of the season, and things continued to be shaky at best for the right-hander. Moreno lasted just three innings allowing two runs, as he walked three and struck out three.
Moreno looking pretty good tonight as he's thrown two scoreless innings #nocurse pic.twitter.com/OrlidfNp4h

— Todd ?????? (@CubsCentral08) August 2, 2022
He gave way to Chase Watkins, who tossed three scoreless frames before the back end of the pen allowed one run in three innings.
Despite Moreno's struggles early, his newly reunited teammate Moises Ballesteros wasted little time making an impact as he homered in his first full season at-bat to put the Pelicans up 1-0 in the second.
Moises… Oh, my! pic.twitter.com/o0ok2OLiy9

— Todd ?????? (@CubsCentral08) August 2, 2022
That would be all the offense for Myrtle Beach for quite a while as Lynchburg took a 2-1 lead in the fourth courtesy of the Junior Sanquinton two-run blast.
Still holding a one-run lead in the eighth, it was the Hillcats that began to pull away as a wild pitch combined with the Victor Planchart RBI single put the Pelicans in a 4-1 hole and just six outs to work with. Like all good teams, the Pelicans wouldn't go away quietly as Juan Mora picked up an RBI single before the Ezequiel Pagan groundout made things 4-3 entering the ninth.
Down to their last at-bats, the Pelicans had some late-game magic as Josue Huma sent the fans home happy with a two-run single to give the Pelicans a walk-off 5-4 win. Huma was the lone Pelican with multiple hits as he had two hits to go with his two RBIs.

Tags: Cubs Baseball
,
Luke Farrell
,
Cayne Ueckert
,
Dakota Mekkes
,
Trent Giambrone
,
John Hicks
,
Jordan Wicks
,
Ben Hecht
,
Jeremiah Estrada
,
Peyton Remy
,
Andy Weber
,
Yonathan Perlaza
,
Alexander Canario
,
Luis Vazquez
,
Miguel Amaya
,
Dalton Stambaugh
,
Riley Martin
,
Luis Verdugo
,
Jordan Nwogu
,
Pablo Aliendo
,
Fabian Pertuz
,
Koen Moreno
,
Juan Mora
,
Ezequiel Pagan
,
Josue Huma