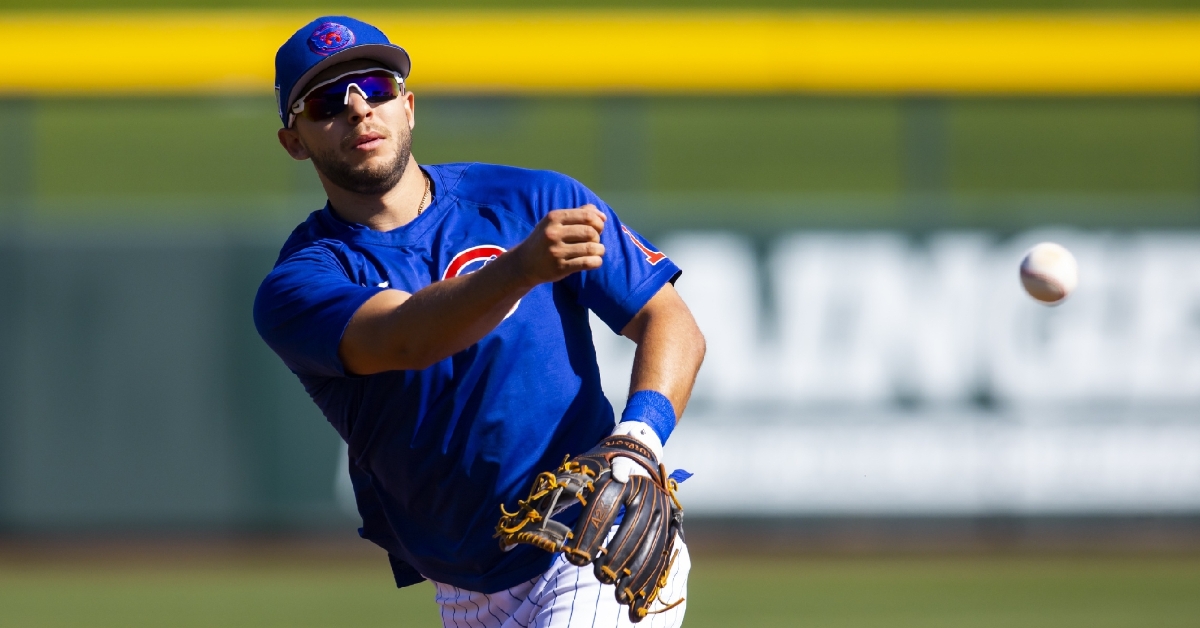 | | |
| --- | --- |
| Cubs Minor League News: Madrigal raking, Amaya impressive, Wetzel homers, more | |
---
One day, after all the full-season teams came away with wins, things were very different on Saturday. Whether it be strong pitching from their opponents, lack of pitching within the Cubs organization, or just having a bad day on the field, the result was not pretty as the Cubs went 0-4.
That could signify things coming in the coming days, as the Cubs will undoubtedly go through some roster changes, with the first one coming on Saturday. With Chris Martin being traded to Los Angeles, Zach McKinstry was brought back in return as he will be arriving in Iowa for the time being.
SAINT PAUL SAINTS 7 - IOWA CUBS 1
Despite needing just one inning to do damage, it was a big inning as the Saints scored seven runs in the second to cruise to another win. Anderson Espinoza had a night to forget on the mound as he walked four, struck out one, and allowed six earned runs in one inning.
Take away that inning; the rest of the night saw the Cubs deliver a strong pitching performance as Eury Ramos, Nicholas Padilla, and Matt Dermody allowed just one run over seven innings, but struck out eight. Even with things going south in a hurry for the Cubs, it wasn't all that bad early on, with Matt Mervis continuing to build on his Minor League-leading RBI total as his single gave the Cubs a 1-0 lead.
Outside of that, it was a long night for the Cubs hitters as Cole Sands struck out seven in his five innings. It was that second inning when things went south as Braden Bishop put the Saints on top for good with a two-run single. Later in that inning, Jake Cave came through with the big hit as his bases-loaded double made things 5-1. Add in a Jermaine Palacios single and bases-loaded walk, and the Saints scored seven runs as the game ended with that 7-1 score.
Despite scoring just one run, the Cubs had their chances as they outhit the Saints 9-7. Nick Madrigal and Narcisco Crook led the way with two hits as Madrigal is now hitting .314 and could be returning to the majors soon.
Final from CHS Field. pic.twitter.com/P6PVT5kHMM

— Iowa Cubs (@IowaCubs) July 31, 2022
BIRMINGHAM BARONS 11 - TENNESSEE SMOKIES 6
Things got ugly in a hurry for Tennesse as the offensive barrage from Birmingham brought them back into a tie for first. After showing significant improvements across his last several starts, Riley Thompson did now have a good outing on Saturday, allowing three runs in two innings.
Walker Powell was even worse as his ERA rose to 3.43 after allowing five earned runs in four innings. One of the biggest Smokies killers this season has been Raudy Read, and he continued that with an RBI single in the first to put the Barons in front for good 2-0. Tennessee did their best to come back with a Bryce Ball single in the bottom of the first before an Alex Destino RBI groundout gave the Barons a 3-1 lead after two.
Radical! The Smokies are on the board after an RBI single from Bryce Ball! Smokies trail 2-1 in the bottom of the first. @bryceball_05 pic.twitter.com/FHfaxAyah2

— Tennessee Smokies (@smokiesbaseball) July 30, 2022
Moving to the fifth, the Barons started to put on a power display, with Ian Dawkins connecting for a solo shot and Craig Dedelow jacking a three-run shot to stretch the Barons lead to 7-1. Ball continued his strong showing by picking up another RBI single in the fifth mixed with an Andy Weber groundout as things stood at 7-3.
Bryce Ball with ANOTHER RBI tonight! Smokies still trail 7-3 in the bottom of the 5th. @bryceball_05 pic.twitter.com/wTDNiOUumv

— Tennessee Smokies (@smokiesbaseball) July 31, 2022
Trailing 8-3 in the eighth, the Smokies continued to battle back as Christian Donahue picked up a bases-loaded walk ahead of the Bradlee Beesley double to bring the Smokies within 8-5. That would be as close as things would get with Birmingham adding three runs in the ninth to just the Miguel Amaya RBI single as the Barons won 11-6. Slaughter, Ball, and Beesley had great nights at the plates as they picked up three hits.
Amaya continues to see the ball well since returning to AA as he is now hitting .360 with six RBIs. Samuel Reyes gave the Smokies two fantastic innings out of the pen, striking out six men in the process.
LAKE COUNTY CAPTAINS 7 - SOUTH BEND CUBS 2
Should the Cubs hold onto their lead and make the playoffs, Lake County may be the one team they don't want to see. After allowing five runs in the first two innings, the South Bend offense couldn't get much going and fell 7-2.
At some point, you have to wonder if Kohl Franklin will ever figure it out this season. Following a 1/3 of an inning outing and allowing four earned runs, his ERA rises north of 8.00 as his rough campaign continues. His command may have been ok, but after allowing the go-ahead single to Alexfri Planes, Johnathan Rodriguez delivered the big blow as his three-run shot proved to be the game-winner with the Captains up 4-0.
Planes continued to build off his first inning RBI with a sacrifice fly in the second as that would be the last run for a while for Lake County. With Adam Laskey and the bullpen doing a good job slowing the Lake County offense down, South Bend had a chance to get something going offensively. That something came in the fifth inning when Jordan Nwogu picked up a two-run single to make things 5-2.
That would be all for the Cubs offense as the Captains picked up a pair of runs in the final two innings and picked up the 7-2 win. There wasn't much to get excited about five hits as Luis Verdugo led the way with two. Several pitchers had a great night in the pen, but Riley Martin set the tone going three scoreless frames with four strikeouts.
Not all golfers fix their divots, but you can bet #SBCubs right fielder Jonathan Sierra does!

Sierra took home tonight's @LavenInsurance Defensive Play of the Game. ???? pic.twitter.com/EJykenodPZ

— South Bend Cubs (@SBCubs) July 31, 2022
Captains take the Saturday clash at Four Winds Field.

We'll try and tie the series tomorrow, as we'll see you on @WatchMarquee! pic.twitter.com/PbsOCuDibM

— South Bend Cubs (@SBCubs) July 31, 2022
AUGUSTA GREENJACKETS 6 - MYRTLE BEACH PELICANS 4
Led by two crooked innings, the Greenjackets were able to grab the lead before holding off the Pelicans late. After an impressive run with the ACL Cubs, Didier Vargas made his season debut with the Pelicans, allowing five runs in four innings. The command was good, with two walks and six strikeouts, but that was about it.
Kevin Alcantara gave Vargas some early support as his RBI double in the first had the Birds in front 1-0. It wasn't until the third when Augusta got on the board as a Brandol Mezquita single put the Greenjackets in front 2-1. Moments later saw Jacob Wetzel connect for his ninth homer to tie things up, but that didn't last long with Augusta ready to break out offensively in the fourth.
Following a Connor Blair single that gave the Greenjackets the lead for good, Geraldo Quintero picked up a clutch RBI triple which proved to be the winning hit, and gave the Greenjackets a 5-2 lead. Like most good teams, Myrtle Beach wouldn't go away quietly as Josue Huma ripped an RBI double to pull the Pelicans within 5-4.
That would be it for the Pelicans offense as the Greenjackets added another run in the eighth before taking care of things in the ninth to win 6-4. A common occurrence on the night was the losing team outhitting the winning team, with Myrtle Beach having eight hits compared to five by Augusta. Huma had two hits to lead the way. Frank Scalzo Jr delivered his best outing of the season, tossing three perfect innings of relief with five strikeouts.
We'll get em tomorrow.#MBPelicans pic.twitter.com/ZSq8D1N34x

— Myrtle Beach Pelicans (@Pelicanbaseball) July 31, 2022
ROOKIE LEAGUE ACTION
When it comes to rookie league action, unlike the full-season leagues, wins have been hard to come by. At least this afternoon, the Cubs were guaranteed to have at least one rookie league win as both DSL teams went against each other.
DSL BLUE had the advantage this time as they topped DSL RED 4-3. Gabriel Agrazal has been solid all season, but after allowing three runs in 2 1/3 innings, his ERA rose to 1.78. Take his outing away, and DSL Blue was lights out on the mound.
After Adan Sanchez put DSL Red in front 1-0 with a first-inning single, Geuri Lubo gave Blue a 2-1 lead with his two-run shot in the second. Blue added another run in the second to take a 3-1 lead before an Alexis Hernandez double and Sanchez walk tied things up in the third. Jairo Diaz lifted the DSL Blue squad to the win by picking up an RBI single in the sixth.
While the DSL Teams went to battle, the ACL Cubs picked up another win topping the Athletics 7-2. That gave the Cubs system two wins on what was otherwise a lifeless night.
It was nice to see Jonathan Holder back on the mound as he tossed two scoreless frames to start the game before handing things off to a plethora of arms. Those arms combined to do a lot of damage as they walked four and struck out 17 hitters.
Regarding offense, all nine of the games runs came after the sixth inning, with the Cubs striking first. Three of those runs came in the seventh off a pair of wild pitches and the Joanfran Rojas double, while a Liam Spence groundout in the eighth gave the Cubs a 4-1 lead. Like in the seventh, when Carlos Amaya answered, the Athletics picked up another run to make things 4-2.
The Cubs put the game away in the ninth, with Raino Coran connecting for a two-run triple ahead of the Early Tatis sacrifice fly to give the Cubs a 7-2 win.

Upgrade Your Account
Unlock premium boards and exclusive features (e.g. ad-free) by upgrading your account today.
Upgrade Now

Tags: Cubs Baseball
,
Chris Martin
,
Anderson Espinoza
,
Eury Ramos
,
Nicholas Padilla
,
Nick Madrigal
,
Walker Powell
,
Andy Weber
,
Christian Donahue
,
Bradlee Beesley
,
Miguel Amaya
,
Samuel Reyes
,
Kohl Franklin
,
Adam Laskey
,
Jordan Nwogu
,
Luis Verdugo
,
Riley Martin
,
Didier Vargas
,
Kevin Alcantara
,
Jacob Wetzel
,
Josue Huma
,
Frank Scalzo
,
Jonathan Holder