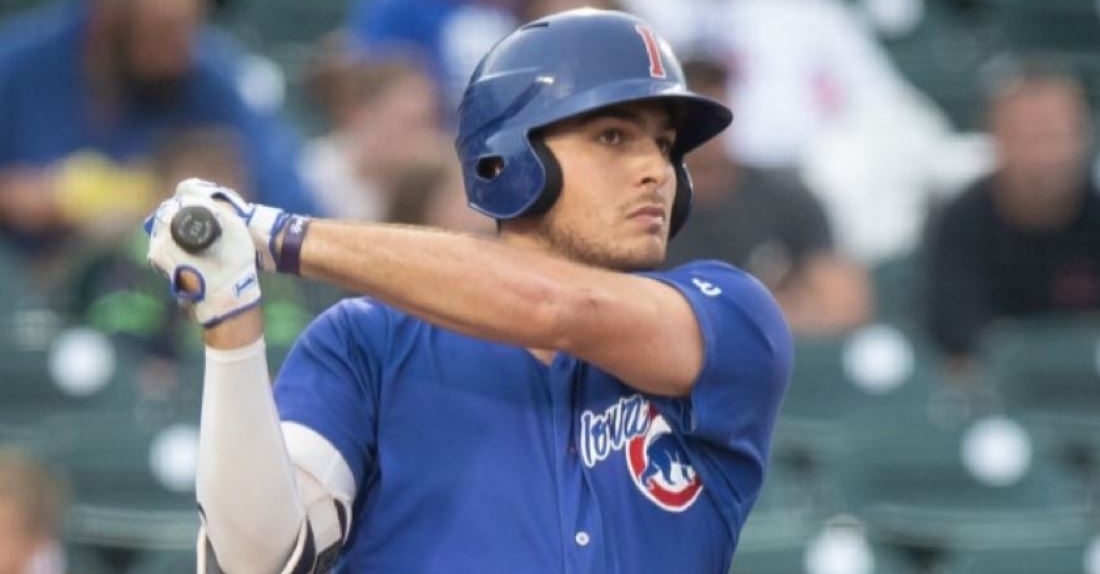 | | |
| --- | --- |
| Cubs Minor League News: Mervis raking, Pertuz with two homers, Devers impressive, more | |
---
| | | |
| --- | --- | --- |
| Saturday, August 6, 2022, 9:48 AM | | |
Friday was just another night on the Minor League diamond as the Cubs system continued to do their thing. While it was the same old same old for Myrtle Beach, other teams like Tennessee and South Bend cooled off after both teams got off to a great start to the week.
You then add in some late-game drama from Iowa, and fans were treated to a great night of baseball action. From a record side of things, the Cubs went 1-3, but it has been the play of several individuals who will make it rough on Jed Hoyer and Carter Hawkins for some late-season roster moves.
IOWA CUBS 5 - TOLEDO MUD HENS 4
Despite trailing 4-1 late in the game, the Cubs offense was not going down quietly as they struck for four runs across the seventh and eighth innings to come from behind 5-4. Matt Swarmer finally returned to the starting rotation, but lasted just 2 2/3 allowing two runs with only one earned. He gave way to a plethora of bullpen arms, including Jonathan Holder, who allowed one run in his first inning of work in AAA this season.
Both of the runs Swarmer allowed didn't come off of hits, with Andre Lipcius connecting for a sacrifice fly in the second while Brendon Davis added a bases-loaded walk in the third to make things 2-0. Hoping to keep things close, Matt Mervis continued his fantastic season as his RBi double in the fourth pulled the Cubs within 2-1 as he inches closer to the 90 RBI mark.
Following that run by Iowa, Spencer Torkelson went deep for the third time in the series to make things 3-1, while a bases-loaded hit by pitch in the seventh stretched the Toledo lead to 4-1. It was at that point when the Cubs began their comeback effort, with Levi Jordan starting things off with a long two-run shot to make things 4-3.
Don't look now, but we have a ball game! Levi Jordan makes it a one-run game with this deep fly. pic.twitter.com/MqMpZWe0g3

— Iowa Cubs (@IowaCubs) August 6, 2022
Still trailing by one in the eighth, Alfonso Rivas started things with a huge triple before coming home on the Narciso Crook fielders choice. After Mervis doubled to right to put runners on second and third, Darius Hill came through with the huge single to give Iowa the 5-4 as Brendon Little finished things off for his first save.
Darius Hill is your @EMCInsurance Player of the Game with this RBI single to give us the lead in the eighth! pic.twitter.com/RY2S1wvoqQ

— Iowa Cubs (@IowaCubs) August 6, 2022
Hill, Mervis, and Rivas all had two hits to lead the way for Iowa.
Three straight comeback wins for the good guys! pic.twitter.com/OtMLzJbGW7

— Iowa Cubs (@IowaCubs) August 6, 2022
ROCKET CITY TRASH PANDAS 4 - TENNESSEE SMOKIES 1
It took four games for the Trash Pandas to top Tennessee this week, and they did so on Friday. With a strong pitching performance by Chase Silseth setting the tone, Rocket City scored all four runs in the first, which propelled them to a victory.
Riley Thompson was the unfortunate recipient of those four runs in what was otherwise a promising outing. Take away that inning, and Thompson went the final three innings of his outing without allowing a run as he walked one and struck out five. He gave way to Walker Powell, who took care of the final four innings allowing just one hit and lowering his ERA to 2.88.
Not only was Thompson strong after the first, but all four of those runs came via the long ball, with Logan O'Hoppe and Sonny DiChiara connecting for two-run shots. That 4-0 lead would hold until the fourth inning when Yonathan Perlaza drove in the Smokies lone run with his 18th homer of the season. With his two hits, Perlaza is now batting .260 with 18 homers, but is over .300 since moving to the leadoff role. Andy Weber joined him with two hits as Tennessee had seven hits in the game.
"Losing's a great motivator." - Yogi Berra pic.twitter.com/NQ59wSmYqm

— Tennessee Smokies (@smokiesbaseball) August 6, 2022
FORT WAYNE TIN CAPS 6 - SOUTH BEND CUBS 5
Talk about a painful way to lose a game. After leading 4-0, entering the seventh, and allowing three runs, South Bend was looking to hold off the charging Tin Caps. That was until two more runs in the bottom of the ninth capped off a walk-off 6-5 for Fort Wayne as they were on the verge of another series loss.
Luis Devers continues to solidify his case as the organizational pitcher of the year this season. After tossing five scoreless innings with six strikeouts, his ERA with South Bend is 0.34. He is 11-3 on the season with a miraculous 1.94 ERA as he has to be considered the best pitcher in the system this year. Apart from Devers, Adam Laskey and Sheldon Reed were not good as they allowed six runs over their four innings of work.
Devers may have been doing his thing on the mound, but Fabian Pertuz made life easy for him as he belted a pair of solo shots in his first two at-bats to give South Bend a 2-0 lead.
First career multi-HR game for Pertuz and it's only the 3rd inning!!
Another no doubt @hoosierlottery homer! pic.twitter.com/6H3OVdDuyY

— South Bend Cubs (@SBCubs) August 5, 2022
Add in a Jonathan Sierra double, and a Pertuz single in the fourth, and South Bend was off and running 4-0 as that score held until the late innings.
With just nine outs to work with, Fort Wayne started to make some noise in the seventh and finally got to Laskey and the Cubs pitching. Olivier Basabe got things started with a two-RBI triple before he came home on the Agustin Ruiz sacrifice fly to make things 4-3. Not about to give up, Pertuz added his fourth RBI in the top of the eight to push the lead to 5-3 before the Albert Fabian homer made things 5-4.
Down to their last at-bats and trailing by one, Jarryd Dale picked the perfect time to deliver a big hit as his RBI triple was the difference in the game as the Tin Caps came all the way back to walk off the Cubs 6-5. Pertuz had a massive day picking up three hits and four RBIs to lead the way for the South Bend offense. He was joined by Sierra, who had three hits, and Luis Verdugo with two as South Bend pounded out 12 hits in the loss.
Final tonight, tomorrow we play two. pic.twitter.com/ByPLk2N68g

— South Bend Cubs (@SBCubs) August 6, 2022
LYNCHBURG HILLCATS 14 - MYRTLE BEACH PELICANS 13
Friday was a bit of a reality check for the Pelicans as even the best teams in Minor League baseball have flaws. After scoring eight runs in the second and 13 runs in total, it was a rare ninth-inning meltdown that saw Lynchburg rally from six down to win 14-13.
The loss is not only a reality check, but it takes away from what was an excellent outing for Didier Vargas. The right-hander went four innings and allowed just four hits before the bullpen melted down. Leading 1-0 in the second after the first-inning RBI triple from Felix Stevens, Myrtle Beach was looking to send a message, and by all accounts, that message was delivered.
Not only did they score eight times to grab a 9-0 lead, but what is more impressive is that none of those runs came via the homer as Josue Huma, Jacob Wetzel, and Ethan Hearn had RBI singles in that inning.
Wetzel Day! ??

The lead continues to grows in the 2nd! pic.twitter.com/JDfjvS1tLD

— Myrtle Beach Pelicans (@Pelicanbaseball) August 5, 2022
Everybody scores!

Hearn checks in with 2 RBI! pic.twitter.com/CZJkW0tzFA

— Myrtle Beach Pelicans (@Pelicanbaseball) August 6, 2022
Add in a wild pitch, bases loaded walk from Juan Mora, and another Stevens RBI, and things were looking great for Myrtle Beach.
While Vargas may have allowed only four hits, he was charged with four runs, all of which came in the fourth inning. To his credit, none of those runs were earned as an error opened the flood gates for two runs while Cesar Idrogo left the building for a two-run shot to make things 9-4. Myrtle Beach was not happy with that inning, and Huma took it upon himself to push the lead back 11-4 with his two-run single.
Following a three-run sixth that saw Lynchburg pull within 11-7, Ezequiel Pagan delivered what looked to be the dagger as his two-run homer in the seventh brought things to 13-7.
Had to include the replay. ??@PaganEzequiel hits the CLUBHOUSE! ?? pic.twitter.com/rLtjygVO0L

— Myrtle Beach Pelicans (@Pelicanbaseball) August 6, 2022
Needing to record just three outs to win this game, the ninth innings was something Pelicans fans have not seen this season and something they never want to witness again.
On the strength of RBI hits and an RBI groundout, the Hillcats not only rallied from a six-run deficit, but took the 14-13 lead on a Joe Donovan double to cap off the seven-run ninth inning. That inning completely took the air out of Myrtle Beach, and they couldn't recover going down in order in their half of the ninth. Pagan picked up four more hits to bring his season average to .300. Stevens and Hearn added three hits, with Huma, Wetzel, and James Triantos grabbing two.
Final.#MBPelicans pic.twitter.com/xgi4P400Ay

— Myrtle Beach Pelicans (@Pelicanbaseball) August 6, 2022
Rookie League
In Rookie League Action, you had the ACL CUBS top the ACL Guardians 6-4 as they used a five-run fourth inning to seal the deal. Cristian Hernandez was part of that inning as his two-RBI double proved to be the winning hit. In DSL Play, you had the DSL Blue squad suspended, leading the Yankees 1-0 in the second, while DSL Red was pounded by the Yankees 17-5.

Tags: Cubs Baseball
,
Jonathan Holder
,
Levi Jordan
,
Alfonso Rivas
,
Narciso Crook
,
Darius Hill
,
Brendon Little
,
Walker Powell
,
Yonathan Perlaza
,
Andy Weber
,
Luis Devers
,
Adam Laskey
,
Sheldon Reed
,
Fabian Pertuz
,
Jonathan Sierra
,
Luis Verdugo
,
Didier Vargas
,
Felix Stevens
,
Josue Huma
,
Jacob Wetzel
,
Ethan Hearn
,
Juan Mora
,
Ezequiel Pagan
,
James Triantos