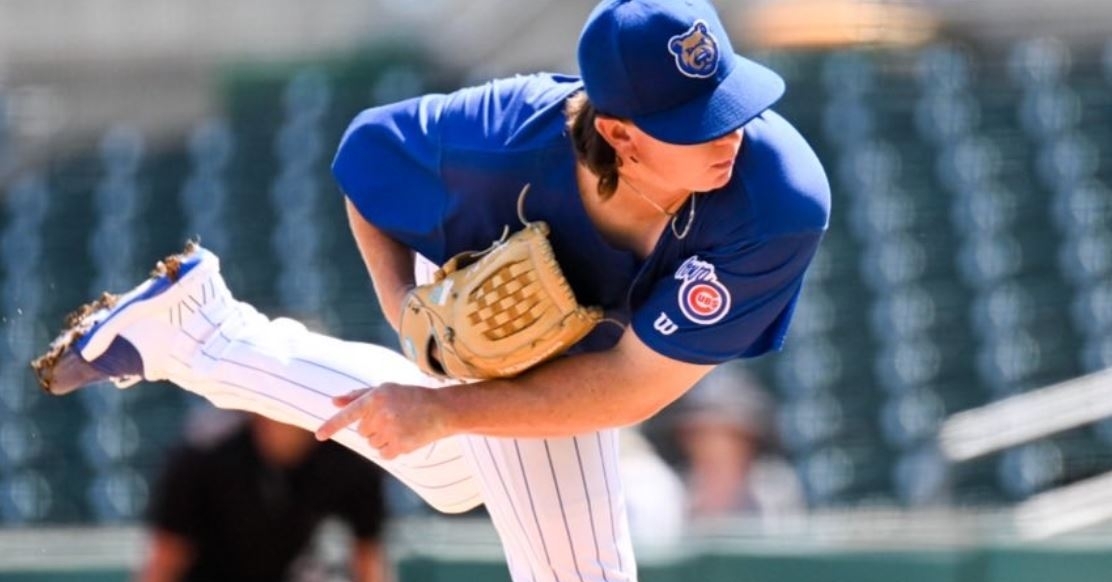 | | |
| --- | --- |
| Cubs Minor League News: Short pitches gem, Mervis raking, Hodge impressive, more | |
---
| | | |
| --- | --- | --- |
| Thursday, August 25, 2022, 1:58 PM | | |
Another night on the diamond and another .500 showing as the Cubs are playing decent ball, but not great. At this point in the season, it is more about player evaluation and watching how much each roster changes from now until the end of September.
IOWA CUBS 4 - SAINT PAUL SAINTS 2
Saint Paul has had the Cubs number most of the season, but in this series, it has been the Iowa pitching stepping up. Wyatt Short got a rare start, and all he did was go five shutout innings allowing five hits and striking out five. He was one of four relievers who did not allow a run as both came off Cam Sanders.
It took three innings for the Cubs to score, with Narcisco Crook and Matt Mervis picking up RBI singles for the early 2-0 lead. Add in the John Hicks homer in the fourth, and the Cubs were out to a 3-0 lead, which they made hold up until the seventh.
With Sanders on the mound, Saint Paul began to chip away using a pair of homers by Braden Bishop and Michael Helman to pull within 3-2. That would be it for the Saints as Mervis put the game away with a solo shot to cap off his three-hit night.
No. 12 prospect Matt Mervis crushes his 25th HR of the season!@IowaCubs | @mmervis12 pic.twitter.com/6KYBJMrS1m

— Marquee Sports Network (@WatchMarquee) August 24, 2022
Not only did Mervis have three hits, but he was a triple away from the cycle.
Two in a row! pic.twitter.com/2Ho1HAl2aL

— Iowa Cubs (@IowaCubs) August 24, 2022
ROCKET CITY TRASH PANDAS 5 - TENNESSEE SMOKIES 4
Despite a late game rally, the Smokies came up short once again as the Trash Pandas extended their lead in the division. On a positive note, Birmingham was hammered by Mississippi, so the Smokies maintained their three-game cushion to earn the second-half playoff spot.
Riley Thompson is slowly, but surely building back his arm strength and was very good on Wednesday. Thompson gave the Smokies six innings, striking out six and allowing just two runs. The Livan Soto homer in the first were the only runs he allowed as Tennessee was down early 2-0.
Over the next two innings, the Smokies battled back to tie things up, with Bryce Ball picking up an RBI double in the first and Zach Davis with an RBI single in the second.
Bryce Ball puts the Smokies on the board with an RBI double in the bottom of the 1st! @bryceball_05 pic.twitter.com/AuOXslZUgI

— Tennessee Smokies (@smokiesbaseball) August 24, 2022
An RBI single from Zach Davis ties the game! 2-2 in the bottom of the 2nd. pic.twitter.com/dRv19pljP4

— Tennessee Smokies (@smokiesbaseball) August 25, 2022
The score would remain tied until the fifth as Rocket City retook the lead off a bases-loaded walk.
Add in the Zach Neto sacrifice fly and a wild pitch in the seventh, and the Smokies found themselves down 5-2, but they were not about to go away quietly. With a pair of runners in scoring position in the eighth, the Smokies benefitted from a passed ball and a balk to pull within 5-4, but couldn't get the big hit to get over the hump. Andy Weber paced the offense with three hits while Davis and Ball added two.
Drink away your sorrows tomorrow at Thirsty Thursday! pic.twitter.com/NhAGBrVQI0

— Tennessee Smokies (@smokiesbaseball) August 25, 2022
WEST MICHIGAN WHITECAPS 2 - SOUTH BEND CUBS 1
Just like that, the Cubs six-game winning streak comes to an end, and it ended in a heartbreaking fashion. Porter Hodge was not only the starter in this one, but the tough luck loser as the Cubs offense was held in check by Carlos Guzman and company. Hodge gave the Cubs six innings of two-run ball with six strikeouts as his ERA sits at 2.08 with South Bend.
Both runs came in the first inning; little did anyone know those runs would be all the Whitecaps would need. Jace Jung, one of the best prospects in baseball, put the Whitecaps in front for good with an RBI single before Trei Cruz delivered the game-winning RBI with a sacrifice fly.
The Cubs were held scoreless until the ninth inning when Yohendrick Pinango came through with an RBI groundout, but that was it offensively for the Cubs. The Cubs had five hits in the game, with Brennen Davis, Pete Crow-Armstrong, Luis Verdugo, Pinango, and Pablo Aliendo responsible for those.
Valiant effort late falls inches shy. pic.twitter.com/aiWBW6CmNl

— South Bend Cubs (@SBCubs) August 25, 2022
MYRTLE BEACH PELICANS 13 - AUGUSTA GREENJACKETS 6
For the 20th time this season, the Pelicans scored double-digit wins and picked up a much-needed win. Even with Sam Thoreson giving the team just 1 1/3 innings, Luis Rodriguez picked up the heavy lifting as he tossed the next 4 1/3 for Myrtle Beach to secure the win.
Thoreson was backed with plenty of offense in the first as the Pelicans raced out to the 3-0 lead. Ezequiel Pagan opened the scoring with an RBI double, while Moises Ballesteros and Jacob Wetzel added RBI groundouts. Not only did that 3-0 lead evaporate quickly, but in two innings, Augusta had a 5-3 lead using a three-run second and two-run third to do most of their damage.
Ethan Workinger started things off with a two-run homer before Keshawn Ogans tied things up with a double. Mahki Backstrom gave the Green Jackets the lead in the third using a two-run double to put them in front 5-3. Not only did that run seem to awaken Myrtle Beach, but they would score 10 unanswered runs to seize complete control of the game.
Pagan was part of that enormous run picking up an RBI groundout in the third, but it wasn't until the sixth when the Pelicans pulled away. With Liam Spence tying the game on a sacrifice fly, Parker Chavers and Pagan added RBI doubles as the Pelicans scored four times to take an 8-5 lead. A wild pitch and Ethan Hearn homer an inning later saw Myrtle Beach extend that lead to 10-5 before adding three more runs on a Hearn double and Spence single to roll 13-6.
Six players had multi-hit games for the Pelicans, but Chavers led the way with four.
Double, single, double, single.

A career night for @parkerchavers! pic.twitter.com/rM4p8ABWdy

— Myrtle Beach Pelicans (@Pelicanbaseball) August 25, 2022
Hearn added three hits with his three RBIs, while Pagan, Josue Huma, Ballesteros, and James Triantos had two. Pagan also drove in a team-high-four runs.
Back in the W column.

In a big way.#MBPelicans pic.twitter.com/2Ks2z58BbP

— Myrtle Beach Pelicans (@Pelicanbaseball) August 25, 2022

Tags: Cubs Baseball
,
Wyatt Short
,
Cam Sanders
,
John Hicks
,
Zach Davis
,
Andy Weber
,
Porter Hodge
,
Yohendrick Pinango
,
Brennen Davis
,
Luis Verdugo
,
Pablo Aliendo
,
Luis Rodriguez
,
Ezequiel Pagan
,
Jacob Wetzel
,
Parker Chavers
,
Ethan Hearn
,
Josue Huma
,
James Triantos