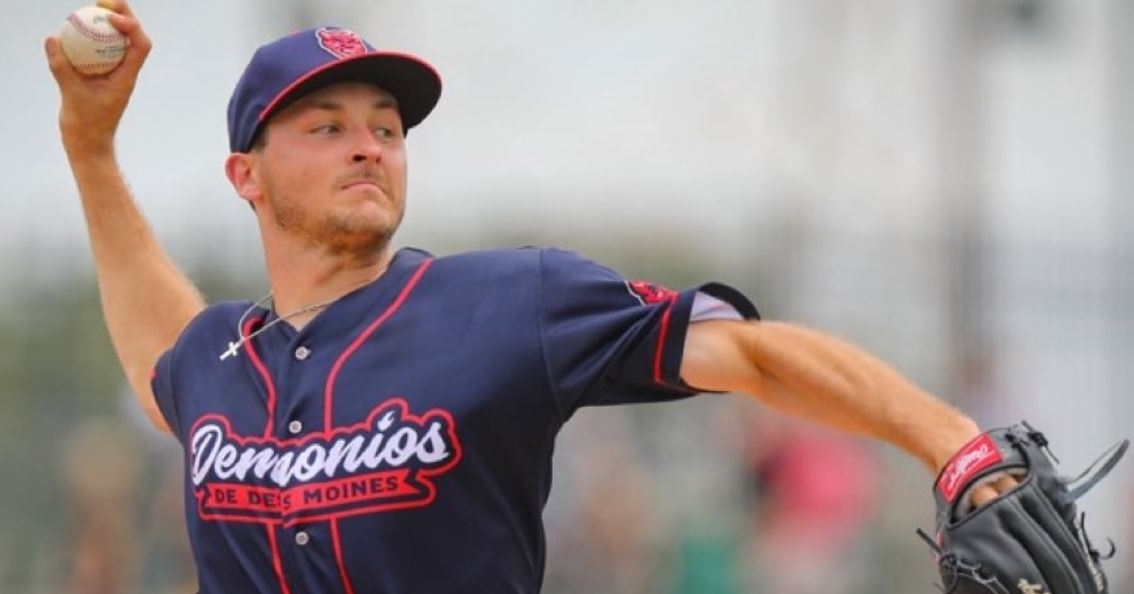 | | |
| --- | --- |
| Cubs Minor League News: Wesneski impressive, Amaya injured, PCA walk-off, Davis homers | |
---
| | | |
| --- | --- | --- |
| Saturday, August 20, 2022, 7:57 AM | | |
Overall, Friday was an excellent night for the Cubs Minor League system as the teams that had to win did, and the ones that didn't have to didn't. That led to the organization posting a 3-2 mark in full-season play, but it is the implications that came from those wins that are important to the playoff push.
INDIANAPOLIS INDIANS 3 - IOWA CUBS 2
It has been a long couple of years for Iowa, but things could be changing soon when you look at the teams in the lower levels. Despite an excellent pitching performance across the board, Mike Borrows and company were slightly better, with the Cubs falling 3-2. Burrows didn't earn the win, but did manage to strike out six across five scoreless frames.
Opposing him was Hayden Wesneski, who finally gave the Cubs the outing they were waiting for. Not only did he match Burrows with five scoreless frames, but he did so by allowing just one hit to go with five strikeouts. He handed things off to Blake Whitney and Wyatt Short, who were charged with all three earned runs.
With the score tied 0-0 in the seventh, Whitney allowed a baserunner before being pulled in favor of Short. Unable to stop the bleeding, Short allowed a second baserunner before Cal Mitchell unloaded for the game-winning homer to make things 3-0. David Bote did his best to power the Cubs back, connecting for a two-run shot in the eighth, but that was it for Iowa, who fell by that 3-2 score. Bote collected two hits with both RBIs, with Darius Hill, Alfonso Rivas, and Matt Mervis among the others who had a hit.
Final from Victory Field. pic.twitter.com/RoDXamHdHt

— Iowa Cubs (@IowaCubs) August 20, 2022
TENNESSEE SMOKIES 4 - BIRMINGHAM BARONS 3
In desperate need of a win to guarantee themselves to be ahead of the Barons at the end of the week, the Smokies turned to Ryan Jensen on the mound to play stopper. Although he lasted just 1 2/3, the combination of Peyton Remy and Eduarniel Nunez backed him up as they didn't allow a run in 5 innings of work.
Jensen struggled with his command from the opening pitch as the right-hander walked four hitters in his outing. That included a pair in the first inning, with one coming around to score on the Alex Destino single to put the Barons in front 1-0. Fortunately, the Smokies not only answered in the second, but once again in the third as they were able to build a nice early lead.
Delvin Zinn picked up a rare hit to drive in the tying run in the second before Zach Davis put the Smokies in front. One inning later, you had Nelson Maldonado extending that lead with a double before coming home on the Miguel Amaya single to make things 4-1. Amaya ended up getting hurt on that same play as fans now wait for word on his injury situation.
Yeah this is no good. Amaya left the game with a trainer, holding his left hand. https://t.co/AOjwmkPSgI pic.twitter.com/hh1D3kiNau

— Greg Huss (@OutOfTheVines) August 20, 2022
That 4-1 score held until the final innings when Birmingham began to mound a comeback off Hunter Bigge. Despite drawing a season high in walks with 11, only one of those walks scored, which came in the first inning. Still, the Barons kept the pressure on late, with Ian Dawkins picking up an RBI single in the eighth to make things 4-2. Bigge worked out of trouble in that inning, but then allowed a second earned run in the ninth off the Luis Curbelo double to bring Birmingham within 4-3.
Fortunately, the Smokies managed to hold on as Kyle Johnson made up for a terrible performance earlier in the week by locking down the save. Chase Strumpf led the offense with two hits, while Alexander Canario joined the others with a hit.
SOUTH BEND CUBS 3 - BELOIT SKY CARP 2 (F/8)
One day after retaking sole possession of first place, the Cubs were locked into another tight battle where they needed a walk-off win to prevail. Since coming over from Myrtle Beach, Luis Devers has been this team's best pitcher, and it hasn't been close. The right-hander continued to do his thing giving South Bend five innings and allowing one run as his ERA with the Cubs is 0.74. Devers also walked zero with a season-high five strikeouts on the South Bend side.
The only run Devers allowed came in the first inning off a rare homer by Dalvy Rosario. Take that away, and he was brilliant again as the Cubs continued to ride his arm. It took South Bend four innings to get to Evan Fitterer, but Pablo Aliendo tied things up 1-1 with an RBI single. Unlike the MLB, MiLB double headers are still seven innings, and with the score tied 1-1 after seven, it was time for extra inning baseball.
With Brad Deppermann on the mound, Beloit took the lead in the eighth off the Kyler Castillo RBI single. Knowing how important this win could be, the Cubs laughed last, using the Pete Crow-Armstrong single to tie things up before an error allowed South Bend to walk things off.
Castillo pulls it, Pertuz turns it, Santana twists it...DOUBLE PLAY!
Last night's @LavenInsurance Defensive Play of the Game was this key double play early. pic.twitter.com/OhAGerKhSe

— South Bend Cubs (@SBCubs) August 19, 2022
SOUTH BEND CUBS 4 - BELOIT SKY CARP 3
Just like that, the Division lead is back to three as the Cubs had to fend off Beloit. In a makeup game from Wednesday's rainout, South Bend built a nice early lead only to see Beloit score all three of their runs in the final inning.
Kohl Franklin not only picked up his second win of the season, but this was arguably his best start of the year. Not only did he get through five innings for just the fourth time this season, but he did so without allowing a run and striking out nine.
After a career night on the hill with 5 shutout innings and 9 strikeouts, @kohlrf got a well deserved trio of gatorade showers along with @BKingSports. pic.twitter.com/DYnQlA1eSP

— South Bend Cubs (@SBCubs) August 20, 2022
He gave way to Dalton Stambaugh, who struggled, but did enough to earn the save.
With Franklin doing his thing on the mound, it was nice to see the Cubs back him with early support as Yohendrick Pinango put the Cubs in front 2-0 with an RBi single in the third.
Yohendrick Pinango drove in 2 and made the @LavenInsurance defensive play of the game with this strike to the plate! pic.twitter.com/5dWLsntW7P

— South Bend Cubs (@SBCubs) August 20, 2022
That score would hold until the sixth inning when Jonathan Sierra delivered what proved to be the game-winning RBI double to make things 4-0.
Down by four and with three outs to work with, Beloit was not going away quietly as they began to mount a comeback against Stambaugh. Federico Polanco delivered the big hit as his first homer cut the Cubs lead to 4-3, but that would be as close as they would get. With three straight wins, the Cubs have opened up a three-game lead in the division and are guaranteed to be in first place when the series ends.
3 WINS IN A ROW!
Now a 3 game division lead! pic.twitter.com/510kLVvnPr

— South Bend Cubs (@SBCubs) August 20, 2022
DOWN EAST WOOD DUCKS 14 - MYRTLE BEACH PELICANS 2
Lately, the Pelicans have been getting the ever-living crap kicked out of them, and that happened again on Friday. Not only has this team fallen under .500 during the second half, but they have played so bad the past few weeks fans are beginning to wonder if they can even win a playoff series.
While the offense didn't help them, the starting pitching wasn't much better as Koen Moreno was roughed up. Across just 2 1/3 innings, the right-hander was rocked for seven earned runs as his ERA sits at 17.28 with the Pelicans. Not only did the bases-loaded RBI double from Ian Moller put the Wood Ducks in front 3-0, but that was the game-winning hit as Down East scored in every inning, but one.
They would add another run off the Abimelech Ortiz homer in the second, followed by three more in the third to take a commanding 7-0 lead. Down 8-0 in the sixth, Myrtle Beach finally got on the board when James Triantos picked up a bases-loaded walk ahead of the bases-loaded hit by pitch to Alejandro Rivero. Those two runs were all the Pelicans would get as Down East added six more runs the rest of the way, including three in the eighth, to win 14-2.
Final.

Birds back for game five tomorrow evening.#MBPelicans pic.twitter.com/TvURQOmbZo

— Myrtle Beach Pelicans (@Pelicanbaseball) August 20, 2022
ROOKIE LEAGUE ACTION
With just three games remaining in the Rookie League season and all three teams eliminated from playoff contention, the next few days are a matter of seeing if anyone gets promoted. For the ACL Cubs, they made quick work of the Diamondbacks, knocking them off 7-2. The big story was that Brennen Davis hitting his first homer since returning to the lineup as he looks to earn enough at-bats to reach AA or AAA by season end.
#cubs @BrennenDavis__ hits a home run during #ACL game. 08-19-2022. pic.twitter.com/q7uMV6eC6K

— John Antonoff (@baseballinfocus) August 20, 2022
For the DSL season, not only has it been a rough year for both DSL Blue and Red, but they are the two worst teams in their division. Even then, they will not go down without a fight as DSL Blue knocked off the Twins 3-2, and DSL RED fell to the Mets 3-2 in a rain-shortened seven innings.

Tags: Cubs Baseball
,
Hayden Wesneski
,
Wyatt Short
,
David Bote
,
Darius Hill
,
Alfonso Rivas
,
Ryan Jensen
,
Peyton Remy
,
Eduarniel Nunez
,
Delvin Zinn
,
Zach Davis
,
Nelson Maldonado
,
Miguel Amaya
,
Hunter Bigge
,
Kyle Johnson
,
Chase Strumpf
,
Alexander Canario
,
Luis Devers
,
Pablo Aliendo
,
Kohl Franklin
,
Dalton Stambaugh
,
Yohendrick Pinango
,
Jonathan Sierra
,
Koen Moreno
,
James Triantos
,
Alejandro Rivero
,
Brennen Davis