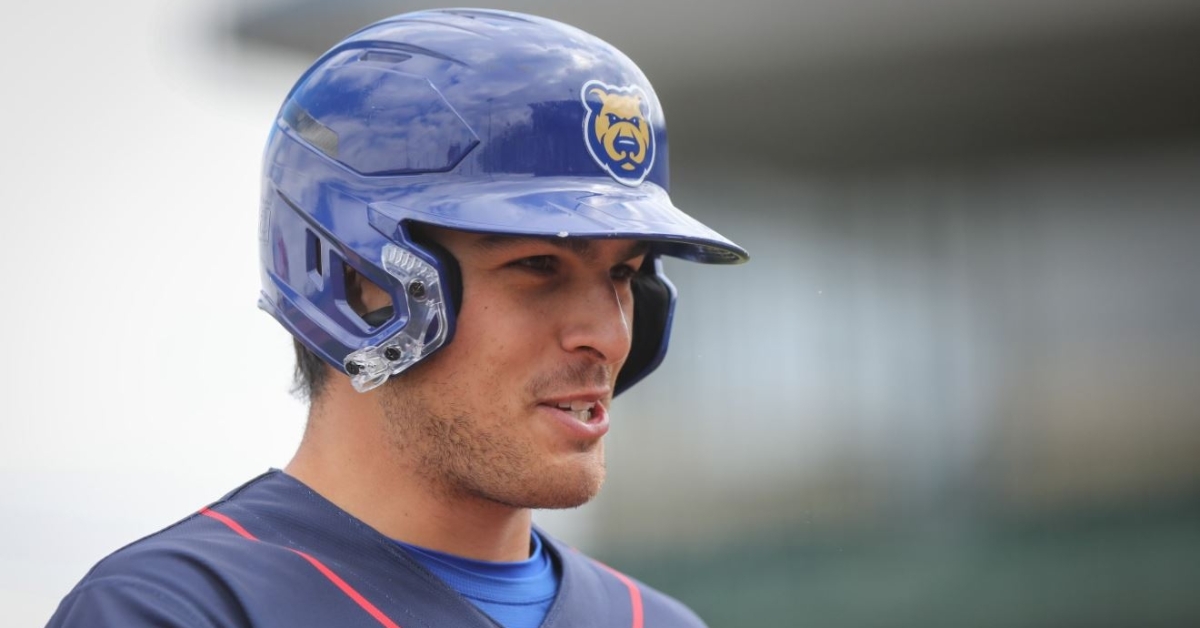 | | |
| --- | --- |
| Cubs Minor League News: Mervis mashes, Devers impressive, Canario raking, more | |
---
On Sunday, the full-season teams stepped onto the field as they looked to finish another week of competition on a strong note. While the results were not the best, with the organization going 1-3, a game was suspended in the fourth that seemed destined for the system to pick up another win.
OMAHA STORM CHASERS 11 - IOWA CUBS 1
Fortunately for Iowa, they had a doubleheader on Sunday, as game one was a complete nightmare. Not only did the offense struggle with four hits, but Chris Clarke had arguably his worst start of the season as he allowed five runs in less than three innings. The bullpen didn't do much better, with Ryan Jensen allowing two runs and Rowan Wick allowing four.
Leading 1-0 after the first-inning RBI single from Nick Eaton, the big inning from Omaha came in the third when they pushed across six runs to take a 7-0 lead. John Rave, Clay Dungan, and Angelo Castellano all had RBI singles in that inning, with Tucker Bradley adding a homer. The lone run of the game for Iowa came in the top half of the fourth, with Dom Nunez working a leadoff walk to make things 7-1. Omaha would end the game with four unanswered runs to close out the 11-1 win.
IOWA CUBS 6 - OMAHA STORM CHASERS 2
Sparked by a massive five-run innings, the Cubs were able to turn the tables and picked up the doubleheader split. Nick Niedert continues to pitch well when needed, giving the Cubs five solid innings of two-run baseball. Both runs allowed came in the fourth as the Nate Eaton homer, paired with a wild pitch, made things 2-0.
Once the fifth inning rolled around, it was all Iowa as their offense woke up from a terrible start. Bryce Windham started the massive inning with a game-tying single before the Matt Mervis blast put the Cubs in front 5-2.
Mervis mashes a lefty. pic.twitter.com/r04kTNG7Ki

— Brad (@ballskwok) July 2, 2023
Nelson Velazquez capped off the scoring with a solo shot in the seventh as Iowa earned the 6-2 win.
Daniel Palencia blows through a couple batters to finish the I-Cubs win. pic.twitter.com/654DHs35I1

— Brad (@ballskwok) July 3, 2023
Split the day pic.twitter.com/1X6OtjdghC

— Iowa Cubs (@IowaCubs) July 2, 2023
TENNESSEE SMOKIES 12 - CHATTANOOGA LOOKOUTS 3 (Suspended)
The team that suffered the worst luck of the day on Sunday was Tennessee, as they had to pick up a suspended game on Monday that saw them leading 12-3. Manuel Espinoza and Samuel Reyes pitched the three innings for the Smokies and allowed three innings during that time.
After BJ Murray Jr opened the scoring with a sacrifice fly in the first, Nelson Maldonado added a two-run single to put the Smokies in front 3-0. Chattanooga bounced back with a pair of RBI singles from Francisco Urbaez and Michael Trautwein to pull within 3-2 while still trailing 4-3 after three.
Once the top half of the fourth inning rolled around, it was the Smokies offense getting on a roll, and the only thing that could stop them was mother nature. Levi Jordan started the massive inning with an RBI double before Haydn McGeary answered with a double to make things 7-3. For McGeary, this has been a tremendous series for him as he had an RBI single earlier in the game to give the Smokies a 4-2.
Things went from bad to worse for the Lookouts in that inning as the next five runs were scored without a hit as four bases-loaded walks to Cole Roederer, Weber, Maldonado, and Pete Crow-Armstrong were paired with a wild pitch to give the Smokies a 12-3 lead before the rain came. This is where things will pick up tomorrow as the Smokies look to finish the job.
Today's game has been suspended due to rain & will resume tomorrow at 4:45pm with gates opening at 4.

Tomorrow's regularly scheduled game will follow & will be a 7-inning game.

Tickets from today's game can be exchanged for any remaining 2023 home game based on availability.

— Chattanooga Lookouts (@ChattLookouts) July 2, 2023
BELOIT SKY CARP 8 - SOUTH BEND CUBS 5
Another team that was the victim of tough luck was the South Bend Cubs, as they let a 5-1 lead get away. Not only that, but seven of the Sky Carp's eight runs came in the final two innings, making this loss even more brutal.
After a terrible first two starts, Luis Devers is starting to find his form as he tossed five innings of one-run ball. He walked three and struck out three as he was good. Karson Milbrandt opposed Devers and matched him pitch for pitch through five innings but did strike out five.
Tied 0-0 entering the third, James Triantos put the Cubs in front 1-0 on an RBI double. That lead didn't last long as Cameron Barstad looked Devers deep for the solo shot to bring things back to even 1-1. That was the lone run Devers would allow, as the Cub's offense took a little while to get back into a groove.
The seventh inning is when most of the damage came as eight runs were scored, four came from each team, with Luis Verdugo, Alexander Canario, and Kevin Alcantara adding RBI singles to open a 5-1 lead.
Kevin Alcántara keeps producing. RBI single to go with a BB today. pic.twitter.com/nSirk5yBaQ

— Brad (@ballskwok) July 3, 2023
Canario had two RBIs in that inning as the Cubs were in a good position to win this game.
Unfortunately for the Cubs, it was a late-game meltdown that did them in as the Sky Carp scored four times in their half of the seventh to tie things up 5-5. Barstad delivered a two-run double to open the scoring, with Tanner Allen homering to tie things up. The Cub's struggles continued into the eighth, with Davis Bradshaw picking up the game-winning RBI triple.
Joe Mack and Jake Thompson added RBI singles later in the inning as the Sky Carp rallied for the 8-5 win.
Series finale tomorrow night in Beloit. pic.twitter.com/f9ANSUN0Jk

— South Bend Cubs (@SBCubs) July 3, 2023
Pics from South Bend at Beloit 1 of 3
Luis Devers, Kevin Alcantara, Michael Arias, Kevin Made pic.twitter.com/tNqyINs72q

— Todd ⚾️🐻🦌 (@CubsCentral08) July 3, 2023
Pics from South Bend at Beloit 2 of 3
Kevin Made, Kevin Alcantara, Felix Stevens, Luis Devers pic.twitter.com/75fg7TuiTI

— Todd ⚾️🐻🦌 (@CubsCentral08) July 3, 2023
Pics from South Bend at Beloit 3 of 3
Luis Devers, Kevin Made, James Triantos X 2 pic.twitter.com/LxQHxSrs7W

— Todd ⚾️🐻🦌 (@CubsCentral08) July 3, 2023
CHARLESTON RIVERDOGS 6 - MYRTLE BEACH PELICANS 5
Late-game meltdowns were far too common in this one as the Riverdogs scored four times in the eighth and ninth innings to come from behind to win. That took away from another strong Jackson Ferris start, who allowed two runs in 3 2/3 innings.
Most of the Pelican's damage came in the third inning when they scored four of their five runs. A wild pitch led to the first run, with Reivaj Garcia picking up a double to extend the lead to 2-0. Andy Garriola made things 3-0 with an RBI single, while the sacrifice fly from Juan Mora gave the Pelicans a 4-0 lead.
Charleston began to chip away at their lead in the fourth, with Odalys Peguero using an RBI triple to make things 4-1 before scoring on a wild pitch. The final run of the game for Myrtle Beach came off the bat of Jefferson Rojas as his sacrifice fly gave the Birds a 5-2 lead. They would make that lead stick until the eighth when a wild pitch and the Peguero sacrifice fly pulled the Riverdogs within 5-4.
One inning later saw the Riverdogs complete the comeback bid as they would score two times in the ninth to take a 6-5 lead and win by that score. Garcia led the way with two hits as the Pelicans collected seven hits as a team.
Charleston takes the Sunday matchup.

One more to go. Monday night baseball tomorrow at 7:05.#MBPelicans | #NextStartsHere pic.twitter.com/Z1ei9Zp0rW

— Myrtle Beach Pelicans (@Pelicanbaseball) July 3, 2023

Tags: Cubs Baseball
,
Ryan Jensen
,
Rowan Wick
,
Bryce Windham
,
Matt Mervis
,
Nelson Velazquez
,
Manuel Espinoza
,
Samuel Reyes
,
Nelson Maldonado
,
Levi Jordan
,
Cole Roederer
,
Luis Devers
,
James Triantos
,
Luis Verdugo
,
Alexander Canario
,
Kevin Alcantara
,
Juan Mora