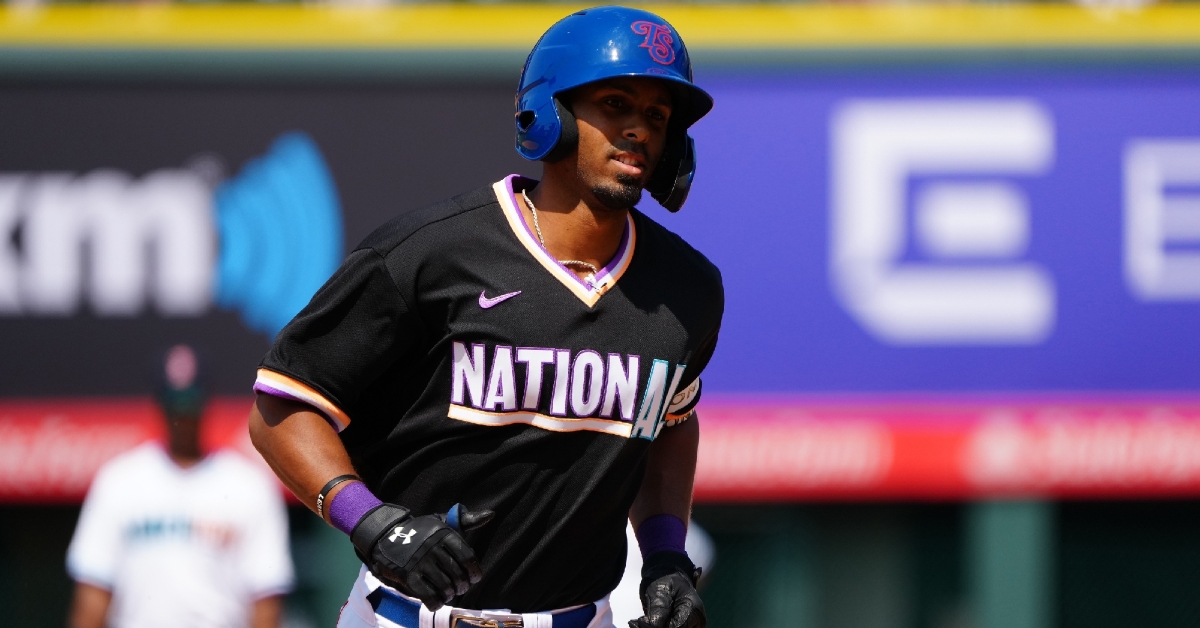 | | |
| --- | --- |
| Cubs Minor League News: Brennen Davis promoted to Triple-A, Alexander Canario stays hot, m | |
---
| | | |
| --- | --- | --- |
| Monday, September 13, 2021, 2:55 PM | | |
Sunday was a very important day in the Cubs minor league system in more ways than one. Not only did the team pick up two wins during the day to go 2-2, but there were several roster moves that are going to be significant for the organization's future. What happens from these recent roster decisions remains to be seen, but the Cubs are focusing on 2022 even if 2021 isn't quite over.
TOLEDO MUD HENS 8 – IOWA CUBS 1
The Cubs couldn't be happier to see this week's series with Toledo come to an end as they dropped five of the six games over the week. Sunday was more of the same as a lack of pitching, and no offense led to another lopsided 8-1 loss. Since arriving in AAA, Luis Lugo has pitched well, and that continued Sunday. The left-hander gave Iowa five solid innings of two-run ball, but the offense and bullpen didn't match that same success.
Despite walking three and striking out zero, Lugo dealt with command issues his entire start, but managed to limit the damage. Both runs he allowed came in the first inning when Riley Greene took him deep for his sixth homer of the season as Toledo took a 2-0 lead and never looked back. The Iowa offense was held scoreless through four innings until Jared Young went deep for his fourth homer of the season, pulling Iowa within 2-1 in the fifth.
Once Erich Uelmen entered the game in the sixth, it was game over as Toledo picked up six runs over the next two innings. Three of those runs came in the sixth off a two-run Grayson Greiner single, and a Daz Cameron sacrifice fly to push the lead to 5-1. One inning later saw more of the same, with Kody Clemons connecting for a solo shot ahead of the Ryan Kreidler homer that saw the Mud Hens build the 8-1 lead and win by that score.
Not only were runs hard to come by, but so were hits as Iowa collected just two hits, both coming from Young. Lost in the middle of another loss was the return of Nico Hoerner, who is back out on a rehab assignment. The Shortstop went 0-2 on the afternoon, and now we await to see the Cubs plans for him as the season comes to a close.
Final from Principal Park. pic.twitter.com/BRj5QWclpT

— Iowa Cubs (@IowaCubs) September 12, 2021
In other Iowa Cubs, No. 1 Cubs prospect Brennan Davis has been promoted to Triple-A and will join the team on Tuesday for the series opener in Omaha.
"Given the opportunity, I'll be ready to perform if and when my name is called," Davis told NBC Sports Chicago. "I'm never going to shy down from an opportunity."
BREAKING: CUBS TOP PROSPECT BRENNEN DAVIS IS HEADED TO THE @IOWACUBS!

(??: Winningham Photography) pic.twitter.com/GyzwDffaA4

— Cubs Zone ™? (@CubsZone) September 13, 2021
CHATTANOOGA LOOKOUTS 6 – TENNESSEE SMOKIES 0
What was once a promising game for the Smokies turned ugly late as the Lookouts pushed across five runs in the eighth inning to pull away 6-0. After a pair of terrible outings, Joe Nahas put together his best AA start of the season, giving the Smokies five innings of one-run ball. Burl Carraway also continued a successful run with Tennessee with a pair of scoreless frames, but neither was rewarded with anything.
Nahas was excellent, which is what the Cubs organization saw from him with South Bend. He allowed just five hits in his outing, but one of those hits provided the Lookouts with their winning run as Chuckie Robinson took him deep in the second for the 1-0 lead. That was the brunt of the offense until the eighth inning when Chattanooga started to get things going in a big way.
With Dauris Valdez called on to pitch, the hard-throwing righty couldn't have asked for a worst outing walking all four batters he faced to force in a run. Bryan King relieved Valdez and immediately served up a two-run Miguel Hernandez single before walking in a run of his own to put the Lookouts on top 4-0. All those runs were charged to Valdez, but Chattanooga wasn't done. Sacrifice flies from Quincy McAfee and Jay Schuyler capped off the massive inning as the Smokies fell to the Lookouts 6-0 in their final home game of the season.
The Smokies collected five hits on the day, with two of them coming from Carlos Sepulveda. Luis Vazquez, Nelson Velazquez, and Tim Susnara picked up the remaining three hits.
That's a wrap on the 2021 Smokies home season. Thank you for making it a great one, fans! We will see you in 2022! #SmokiesBaseball #GoSmokies pic.twitter.com/6ZHmZs7V8F

— Tennessee Smokies (@smokiesbaseball) September 12, 2021
SOUTH BEND CUBS 7 – BELOIT SNAPPERS 6
For the most part, this was not a great week for the Cubs, but they were able to end things on a positive note. Sparked by a big ninth-inning rally, the Cubs managed to erase a three-run deficit and picked up a 7-6 win. Since being added to the starting rotation, Bailey Horn continues to go about his business, giving the Cubs 4 2/3 innings of two-run ball.
Horn was very good in the early going, allowing just a Nic Ready RBI double in the second as his only run allowed through four innings. Down 1-0 in the third, Alexander Canario took it upon himself to put the Cubs on top as his eighth homer gave the Cubs a 2-1 lead.
?High-A South Bend?
OF Alexander Canario homers (8) on a fly ball to left field ??pic.twitter.com/Hok8hkX1Yh

— Cubs Prospects MiLB - ???????????? (@MilbCubs) September 12, 2021
Since coming to South Bend, Canario has been on a tear, connecting for eight homers in just 36 games.
With Horn starting to run out of gas in the fifth, Beloit tied things up on a Connor Scott RBI single before Jake Washer put South Bend back in front 3-2 with a sixth-inning single. With Jose Albertos on the mound, Beloit went right to work using a massive inning to take the lead. What started with another Ready double to tie things up 3-3 ended with a 6-3 Beloit lead as David Martinez and Victor Mesa added RBI singles later in the inning to put the Snappers back in front.
Still trailing by three in the top of the ninth, the Cubs picked an excellent time for their offense to come to life, with Canario coming through again with a two-run double to pull the Cubs within 6-5. Yonathan Perlaza followed that up with a sacrifice fly to tie things up 6-6. Several pitches later, Bryce Ball came through as his RBI single capped off the four-run ninth with the Cubs leading 7-6. That would be all they would need as Danis Correa closed things out for the win.
Canario was a man on a mission from the leadoff spot, collecting a pair of hits to go with four RBIs. Washer added two hits to go with his RBI, while Yohendrick Pinango, Ball, Jake Slaughter, Bryce Wyndham, and Miguel Pabon all had hits.
WHAT. A. COMEBACK! South Bend ends off the series with a four-run ninth and an EPIC comeback victory!#SBCubs | #CubTogether pic.twitter.com/zEmn6d4QAN

— South Bend Cubs (@SBCubs) September 12, 2021
MYRTLE BEACH PELICANS 4 – CHARLESTON RIVERDOGS 0
The Pelicans capped off their road portion of the schedule in a positive manner as they shut out the league-leading Riverdogs 4-0 to climb back to .500. Porter Hodge earned his first win with Low-A since his promotion from the ACL Cubs. In 5 2/3 innings, Hodge was great as he allowed just four hits to go with six strikeouts lowering his ERA to 3.67.
A big reason for his success was the support of the Pelicans offense, which gave him plenty to work with in the first inning. After a pair of walks led off the game for Myrtle Beach, Owen Caissie gave the Pelicans the lead for good as his RBI single had the Pelicans in front 1-0. With Felix Stevens getting hit by a pitch to load the bases, Myrtle Beach continued to keep the pressure on as a wild pitch with two outs pushed across another run ahead of an error that had the Cubs up 3-0.
That 3-0 lead would hold until the top of the fifth inning when Jordan Nwogu laced an RBI double to extend the lead to 4-0. From that moment on, it was all about the bullpen, which started with 2021 sixth-round pick Riley Martin. In 2 1/3 innings, Martin allowed two hits to go with one walk and three strikeouts. This was his best outing as a pro as he gave way to Jarod Wright, who finished the game.
Of the eight hits, Christian Franklin led the way from the lead off spot connecting for a pair of hits to go with a walk. Josue Huma, Peter Matt, and Jonathan Sierra joined Nwogu and Caissie with hits, as did Fabian Pertuz.
Road season ends with a W! First time Charleston has been shutout since June 12th.

We'll return to Pelicans Ballpark for the final series of the season on Tuesday against Augusta. #MBPelicans pic.twitter.com/Xc2jJVz04L

— Myrtle Beach Pelicans (@Pelicanbaseball) September 13, 2021

Tags: Cubs Baseball
,
Luis Lugo
,
Jared Young
,
Erich Uelmen
,
,
Bryan King
,
Carlos Sepulveda
,
Luis Vazquez
,
Nelson Velazquez
,
Brennen Davis
,
Jose Albertos
,
Yonathan Perlaza
,
Josue Huma
,
Jonathan Sierra
,
David Martinez