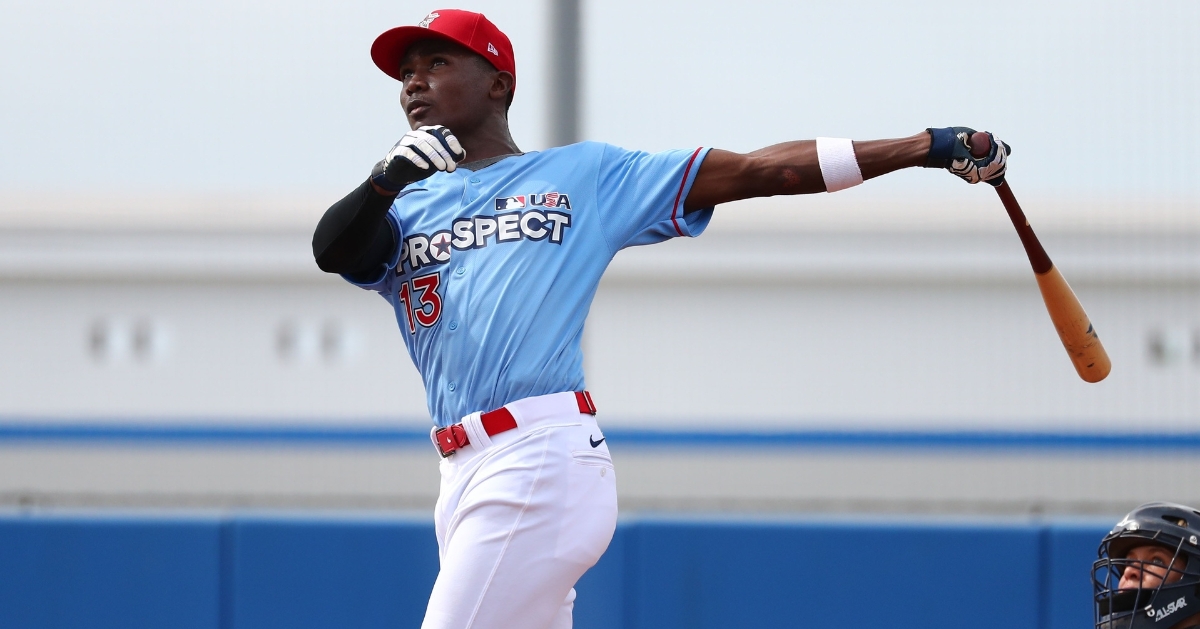 | | |
| --- | --- |
| Cubs Minor League News: Ed Howard impressive, Taylor Gushue with homer, Amaya hitless, mor | |
---
| | | |
| --- | --- | --- |
| Saturday, May 15, 2021, 1:00 PM | | |
All four farmhands were on the field last night, posting a 1-3 record on the evening. However, despite three of the four teams losing, there was a lot to like as the Cubs have plenty of young talent worth keeping an eye on.
Unlike seasons in the past, batting averages, numbers, and wins losses are not going to matter. It does matter in terms of making the postseason or not, but when you lose an entire baseball season, you can expect most organizations are focused on development this year. That is exactly what the Cubs are focused on as they have several players not only making their pro debut this season, but several players are making the jump from a short season to a full season after not having a 2020 showing.
IOWA CUBS 3 – SAINT PAUL SAINTS 4
Sometimes, all it takes is one big inning to win a game. That was precisely the case for Saint Paul last night, as a four-run fifth inning was all the offense they needed in the 4-3 win. Making the start was Kohl Stewart, whose line doesn't look good in the end. Stewart went five innings, allowing four runs on five hits, but once again, all those runs came in one inning. In his first four innings, he was sharp and has been sharp for the early part of 2021.
The Cubs greeted Stewart with some offensive support, with P.J. Higgins showing off the wheels for a first-inning triple. Taylor Gushue may never want to leave Saint Paul as he added a solo homer in the top of the second to push the Cubs lead to 2-0.
Taylor Gushue is your ?@EMCInsurance? Player of the Game! pic.twitter.com/uqDULAafRB

— Iowa Cubs (@IowaCubs) May 15, 2021
That lead held up until the bottom of the fifth when the Saints not only had heavy traffic on the bases but played long ball.
The big blow of the inning came off the bat of Nick Gordan as his three-run shot gave the Saints the lead 3-2. Brent Rooker added a solo shot later in the inning to extend the lead to 4-2, as that proved to be the game-winner. After that, it was all about patience in the eighth inning for the Cubs as a hit by pitch and two walks loaded the bases without a hit. That patience continued with Andrew Romine as he took the third walk of the inning to make things 4-3. The Cubs couldn't get anything else after that, falling 4-3.
Trayce Thompson continues to impress in the leadoff role picking up two more hits to move his average to .357 on the season. Gushue and Higgins joined him with two hits each as they accounted for six of the team's eight hits. Rafael Ortega and Abelito Avelino added the other two hits, with Cameron Maybin and Patrick Wisdom going hitless. Jason Adam returned to Iowa, tossing a scoreless eighth inning.
We fell just short tonight. Game five tomorrow! pic.twitter.com/sFrP4nZmou

— Iowa Cubs (@IowaCubs) May 15, 2021
TENNESSEE SMOKIES 1 – ROCKET CITY TRASH PANDAS 7
For the second straight night, Rocket City pitching gave the Smokies fits as they held them to just one run on five hits. That allowed the offense to settle in as they used a pair of three-run innings to provide all the offense they needed in the 7-1 win. Javier Assad took the ball and was looking for a strong showing. While his zero walks and seven strikeouts were impressive in three innings, he was touched up for three runs on three hits to take the loss.
All three of the runs charged to Assad came at the bottom of the third when Tori Hunter blasted a two-run shot for his first season, only to be followed up by Orlando Martinez and his fourth. Matt Jones extended the lead to 4-0 in the fourth with an RBI ground out, and Rocket City was in complete command.
It took a while for the Tennessee offense to get going, but there were finally able to breakthrough in the sixth. Christian Donahue led that inning off with a single, only to be left standing on first following two strikeouts. Andy Weber wouldn't waste the scoring opportunity ripping his second double of the season to close within 4-1. That would be as close as the Smokies would get as Mitch Nay and his three-run homer in the seventh busted things wide open, leading Rocket City to the 7-1 win.
After starting the season with Low A Myrtle Beach, Darius Hill is now with Tennessee, picking up his first hit with the Smokies. Weber, Christopher Morel, Donahue, and Vance Vizcaino provided all five hits for what a quiet day was offensively. Miguel Amaya saw his hitting streak come to an end going 0-4 but is still hitting 296 this season.
Well deserved, Cam (@camsanders24)!#SmokiesBaseball #GoSmokies https://t.co/9PGHOtUX1Q

— Tennessee Smokies (@smokiesbaseball) May 14, 2021
SOUTH BEND CUBS 4 – BELOIT SNAPPERS 1
The Cubs used a fabulous pitching performance, Derek Casey, to put an end to their losing streak topping Beloit 4-1. Casey was looking to rebound from a terrible first start and did so in a big way. He pitched five innings of scoreless baseball, allowing just two hits to go with six strikeouts. He gave way to Samuel Reyes and Garrett Kelly, who kept the Snappers scoreless until the eighth.
With Casey and the staff doing their part, it was up to the offense to do theirs.
Final line from Derek Casey tonight:
5 IP, 2 H, 0 R, BB, 6 K. pic.twitter.com/TRitVwsa32

— South Bend Cubs (@SBCubs) May 15, 2021
It took a little while but come the fourth inning South Bend provided
all the offense they would need. It started with Yonathan Perlaza as his RBI double got the Cubs on the board. Jacob Olson followed that up with a single of his own to score Perlaza, and just like that, we had a 2-0 game.
Heading to the fifth inning, and you had Reivaj Garcia extending the lead to 3-0 with a single to right. Scott McKeon came around to score on the play. After delivering what will be credited as the game-winning run in the fourth, Olson added a second RBI in the sixth as a sacrifice fly gave the Cubs a comfortable 4-0 lead. Thomas Jones provided all the offense for Beloit, ending the Cubs shutout bid with a solo shot in the eighth before falling 4-1.
It was nice to see Cole Roederer get back into the hit column as he has been scuffling of late. Olson, Perlaza, and Garcia had that hot hand as they collected six of the teams seven hits getting two from each player. While Delvin Zinn may not be hitting as well, he is still reaching base as he and D.J. Artis are making an excellent duo at the top of the lineup.
Good to be back in the win column.

Happy Friday. pic.twitter.com/VuxN0jyf1T

— South Bend Cubs (@SBCubs) May 15, 2021
AUGUSTA GREEN JACKETS 10 – MYRTLE BEACH PELICANS 2
The lone blowout of the evening came in Myrtle Beach, where Augusta crushed the Pelicans. That tends to happen when you have both a five-run and four-run inning as the Pelicans dug themselves a deep hole.
After Richard Gallardo delivered a short-yet promising three-inning start, the Pelicans bullpen was not up to the task taking it on the chin early and often. Didier Vargas, in particular, had it rough as he was charged with five earned runs in 2/3 of an inning, while Tyler Suellentrop was charged with four runs in the ninth inning, although none were earned.
Cam Shepperd had a coming out party on Friday, opening the scoring with an RBI double in the third before emptying the bases in the fourth on another RBI double to give Augusta a 4-0 lead. A Brandon Parker single and Landon Stephens double extending the Green Jackets lead to 6-0 after just four innings of baseball.
With the Pelicans able to weather the storm, they were finally able to break through in the seventh, hoping to start a comeback. Walks by Ed Howard, Matt Mervis, and Yohendrick Pinango loaded the bases with no one out as the Pelicans had a great opportunity. Unfortunately, a Luis Verdugo double ended the threat for a big inning. Although it did push one run across, it killed a potentially massive inning, with Jacob Wetzel adding an RBI single to make things 6-2. Augusta pulled away in the ninth using a pair of bases-loaded walks to Willie Carter and Ricardo Rodriguez to go up 8-2 before the Cade Bunnell single capped off the scoring in a 10-2 defeat.
Howard was not only responsible for two of the Pelicans five hits, but he continues to show great patience for young kid taking yet another walk. Howard was joined by Wetzel, Mervis, and Yeison Santana in the hit category, with Mervis also taking two walks. Although hitless, Pinango took a walk in his own right as he continues to learn the strike zone. Ethan Hearn went 0-3 with a walk out of the nine spot and is still searching for his first hit.
Not our night.

We'll have two chances to bounce back tomorrow with our first doubleheader of the season. #MBPelicans pic.twitter.com/F162hma5ln

— Myrtle Beach Pelicans (@Pelicanbaseball) May 15, 2021

Tags: Cubs Baseball
,
Kohl Stewart
,
Taylor Gushue
,
Rafael Ortega
,
Patrick Wisdom
,
Jason Adam
,
Javier Assad
,
Christian Donahue
,
Andy Weber
,
Darius Hill
,
Christopher Morel
,
Vance Vizcaino
,
Miguel Amaya
,
Derek Casey
,
Samuel Reyes
,
Garrett Kelly
,
Yonathan Perlaza
,
Jacob Olson
,
Cole Roederer
,
Delvin Zinn
,
Richard Gallardo
,
Didier Vargas