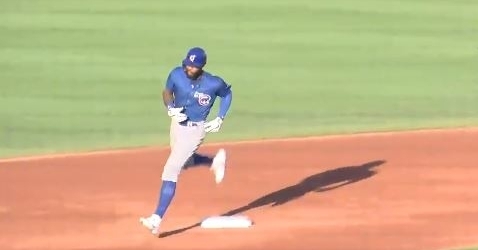 | | |
| --- | --- |
| Cubs Minor League News: Heyward homers in rehab start, Comeback win for South Bend, more | |
---
| | | |
| --- | --- | --- |
| Friday, June 4, 2021, 5:00 PM | | |
There was a ton of action to follow on the minor league circuit, with all four teams in action covering five games. Unfortunately, the Cubs had a tough time picking up wins as they went 1-3 on the evening, with one game being suspended to be completed on Friday. Add that to the Cubs' loss to the Giants, and wins were hard to come by last night.
OMAHA STORM CHASERS 8 – IOWA CUBS 5
After ending a nine-game skid the other day, Iowa was unable to keep that winning streak going falling 8-5 against Omaha. Getting a rare start was Robert Stock, who pitched well in his four innings, allowing just two runs on three hits. Michael Rucker had a night to forget as he allowed six runs in just two innings of work as that was the ultimate undoing for Iowa.
After going hitless in his first game of an MLB rehab stint, Jason Heyward got the Cubs on the board first in the third, lifting a high fly over the fence for a homer and 1-0 lead.
You love to see it...J-Hey homers in his second major league rehab game to give us the 1-0 lead in the third! pic.twitter.com/cbIJznAJVz

— Iowa Cubs (@IowaCubs) June 4, 2021
However, that lead was short-lived as the Omaha offense started to settle in during the fourth. After launching a walk-off homer on Tuesday, Ryan O'Hearn connected for his second homer of the series, putting Omaha on top for good 2-1.
One inning later saw the home run ball continue to make a difference, with Bubba Starling hitting a solo shot ahead of Emmanuel Rivera's two-run shot-making things 5-1 Omaha. A Trayce Thompson sixth inning shot brought Iowa one-run closer, but Starling answered in the bottom of the sixth with a three-run shot as all 10 runs from both sides came off the long ball to this point.
Trayce Thompson hits a 454 foot ?? to get us one run closer! 5-2 Omaha leads in the sixth. pic.twitter.com/G68K02x8JA

— Iowa Cubs (@IowaCubs) June 4, 2021
Down 8-2 in the seventh, Iowa finally started to string together some hits and didn't rely on the home run ball. An Ian Miller triple was the first non-home run RBI in the game as the Cubs were still down 8-3. Add in a Vance Vizcaino single and Thompson double, and the Cubs were within 8-5 but couldn't get any closer falling to that score.
Four players for Iowa recorded multi-hit games, with Thompson, Andrew Romine, Heyward, and Dee Strange-Gordon putting forth those efforts. Tony Wolters continued to see the ball well, picking up another hit while Jake Marisnick went hitless in the game.
Iowa fell short tonight. Game four tomorrow night! pic.twitter.com/Bax7ASHlLX

— Iowa Cubs (@IowaCubs) June 4, 2021
BIRMINGHAM BARONS 5 – TENNESSEE SMOKIES 4
In a continuation of Wednesday night's suspended contest, the Barons used a three-run third inning to take the lead and never looked back in the 5-4 win. Lugo got the original start going two innings but didn't return to finish the game the next day. Most of the damage done for Birmingham came in the third and fourth innings when they pushed four runs across.
Three of those runs came in the third, with Laz Rivera picking up an RBI single before an error led to the second run with a double play pushing home the third. A Joel Booker sacrifice fly in the fourth extended the Barons lead to 4-0 as the Smokies offense searched for answers. It took five innings for Tennessee to come through, but Nelson Maldonado ended the shutout bid using an RBI grounder to put the Smokies on the board.
With Micker Adolfo extending the lead to 5-1 with a sixth-inning homer before the Smokies offense led the comeback charge in the seventh. It all started with Grayson Byrd in the seventh as he connected for his first homer of the season. One inning later saw Darius Hill pick up an RBI double before coming home on the Chase Strumpf single, cutting things to 5-4. That would be as close as Tennessee would get going down in order in the ninth, falling 5-4.
BIRMINGHAM BARONS 1 – TENNESSEE SMOKIES 0 (7 innings)
After dropping their resumption of a suspended game, the Smokies and Barons took the field for their regularly scheduled game with mother nature playing a significant role. Despite an impressive AA debut by Peyton Remy, who allowed just one run in six innings of work to go with seven strikeouts, the Smokies offense managed just two hits as they fell 1-0 in a weather shortened seven-inning game.
The game's lone run came in the second inning when JJ Muno ripped an RBI single off Remy. The rest of the game saw limited offense as both teams combined for four hits. One player who did have a great day was Christopher Morel, as he recorded both hits in the losing effort. Strumpf and Miguel Amaya went hitless in the loss.
SOUTH BEND CUBS 5 – LANSING LUGNUTS 4
It didn't come easy, but the lone team to win on Thursday was the South Bend Cubs climbing back to .500 with the win. After trailing by four runs early, South Bend rallied for five runs late, including two in the ninth inning to complete the comeback and seal the win.
Matt Kachmar continues to give South Bend some length in his starts, going six innings yet again. Despite allowing all four runs allowed, Kachmar showed signs of improvement as he continues to figure out the High-A level. Three of the four runs Kachmar surrendered came in the fourth inning when Ryan Gridley put Lansing in front with a two-RBI double. Gridley would come around to score later in that inning on a Patrick McColl sacrifice fly as the Lugnuts were up 3-0 early.
That lead grew to 4-0 in the sixth after a Kachmar wild pitch, but it was all South Bend after that as their bats came to life off the Lugnuts pen. Needing offense in a hurry, Yonathan Perlaza got the momentum started as his RBI single put South Bend on the board 4-1. Then, with a pair of runners on base, Bradlee Beasley made things 4-2 with an RBI double before Josue Huma sacrifice fly brought South Bend within 4-3.
Still down by a run and facing their last at-bats, South Bend wasn't going to go down without a fight as Bryce Windham showed off the wheels as his RBI triple tied things up 4-4. While one triple is good, why not make it two as Beasley connected for a triple of his own to put the Cubs in front 5-4. After pitching a strong eighth inning, Burl Carraway ran into some ninth-inning trouble yielding to Samuel Reyes, who closed out the game for the save.
Carraway lowered his ERA to 3.12 on the season but still struggled with inconsistent command walking two and striking out one. That has been the theme for him this season, as he hasn't been able to find consistent command for extended periods of time. Beasley had a monster night from the eighth spot, connecting for three hits to go with his two RBI's, including the game-winner.
Perlaza and Jake Washer joined him with multi-hit efforts as the Cubs pounded out 10 hits. Nelson Velazquez picked up a hit after cooling off from his hot start, while Edmond Americaan and Delvin Zinn went hitless from the top of the lineup.
Comeback Cubbies!
3 runs in the 7th and 2 more runs in the 9th give South Bend the win!#FlyTheW #SBCubs pic.twitter.com/TVsHAJgx4W

— South Bend Cubs (@SBCubs) June 4, 2021
MYRTLE BEACH PELICANS 0 – COLUMBIA FIREFLIES 0 (Suspended in the sixth)
For the second night in a row, the Cubs had a game suspended for rain, with Myrtle Beach being the ones involved this time. With a runner on second in the top of the sixth, rain forced things to be pushed to Friday as that is where teams will pick things up tied 0-0.
Pitching was undoubtedly the story in this game, with both teams picking up one hit in the game as Raymond Pena earned the Pelicans lone hit. DavidJohn Herz got the start and continued to dominate Low-level hitters, dropping his ERA to 0.56 on the season following his four scarless innings. Not only that, but Herz also didn't allow a hit to go with nine strikeouts and one walk. It is only a matter of time until he finds his way to South Bend.
UPDATE:

Tomorrow's game following the resumption will now be a 7-inning contest. https://t.co/V71kuqfWJO

— Myrtle Beach Pelicans (@Pelicanbaseball) June 4, 2021

Tags: Cubs Baseball
,
Robert Stock
,
Michael Rucker
,
Jason Heyward
,
Ian Miller
,
Vance Vizcaino
,
Jake Marisnick
,
Nelson Maldonado
,
Grayson Byrd
,
Darius Hill
,
Chase Strumpf
,
Peyton Remy
,
Christopher Morel
,
Miguel Amaya
,
Yonathan Perlaza
,
Josue Huma
,
Samuel Reyes
,
Nelson Velazquez
,
Edmond Americaan
,
Delvin Zinn