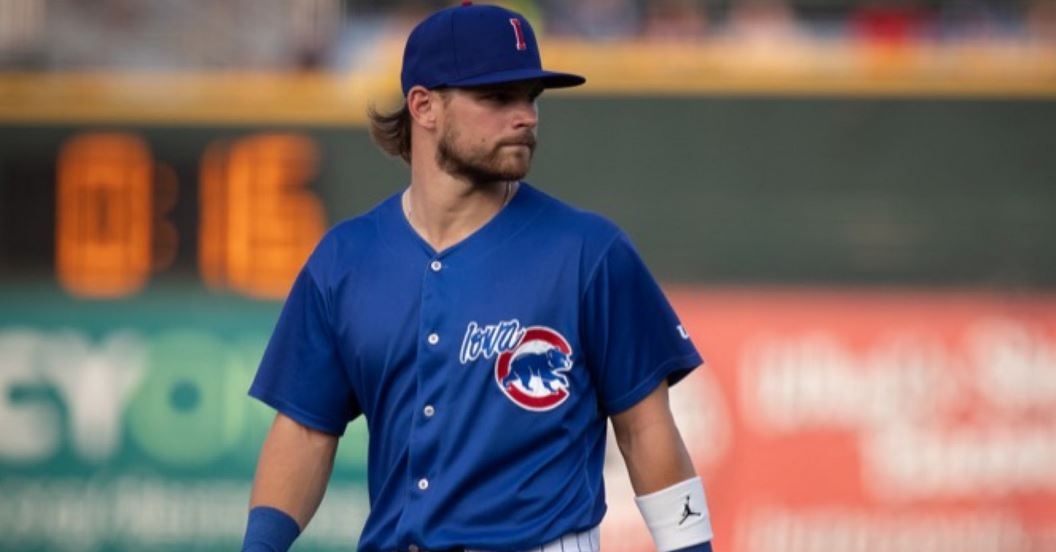 | | |
| --- | --- |
| Cubs Minor League News: Jordan shines, Triantos homers, Howard's defense, Little impressiv | |
---
| | | |
| --- | --- | --- |
| Sunday, September 19, 2021, 3:28 PM | | |
Saturday was the final day fans could see a full slate of minor league games as some of their seasons ended. While the rest of the teams will continue playing on Sunday, three more teams will have their seasons come to an end tomorrow as it will be down to three teams to follow starting Monday.
OMAHA STORM CHASERS 14 – IOWA CUBS 3
The Cubs saw their four-game winning streak against the Storm Chasers come to a screeching halt as Omaha pounded them on Saturday. A large chunk of that damage was done after the sixth inning, where 10 of those 14 runs were scored. Luis Lugo continued to pitch well in the Iowa starting rotation giving the Cubs five innings of four-run ball to keep things close. The bullpen, however, was not good, and that was the downfall.
The Cubs found themselves trailing 1-0 after the first only to tie things up with a Levi Jordan RBI triple in the second. Omaha responded with a pair of runs, with Lucius Fox grabbing the go-ahead RBI single before coming home on the Bobby Witt double to make things 3-1. Iowa continued to keep things close in the fourth, with Jordan picking up his second RBI in the game, pulling the Cubs within 3-2.
Following a Nick Pratto fifth-inning homer to make things 4-2 and a wild pitch in the sixth, extending the lead to 5-2, Brennen Davis came through with a seventh-inning RBI double, keeping the Cubs within 5-3. Davis has hit in all five games since his promotion and is clearly proving he belongs. It was in the bottom of the seventh when Omaha put the game away as Angelo Castellano connected for the first of two late-inning grand slams pushing the lead to 9-3. An Erick Mejia homer later in that inning extended the lead to 10-3 before MJ Melendrez went deep for another Grand Slam in the eighth to close out the 14-3 win.
Jordan and Davis led the way with two hits and grabbed all three RBIs in the loss. Greg Deichmann, Abiatal Avelino, and Andrew Romine were a few players who also picked up hits in the loss.
Final from Werner Park. pic.twitter.com/L90GS8qgFM

— Iowa Cubs (@IowaCubs) September 19, 2021
BILOXI SHUCKERS 1 – TENNESSEE SMOKIES 0 (Makeup of Friday)
In their makeup game from a Friday night rainout, the Smokies and Shuckers were locked into a pitchers' duel that saw Biloxi win 1-0. It was a disappointing final start for Dakota Chalmers, who went five innings on the mound allowing just one hit and striking out 10.
The game's only run came in the final inning, where Burl Carraway walked one of his two men with the bases loaded, giving Biloxi the walk-off walk. Carraway wasn't charged with the loss as that went to Samuel Reyes, but still, a painful way to lose, especially when you out hit Biloxi 5-2. Nelson Velazquez and Christopher Morel tallied two of the five hits.
BILOXI SHUCKERS 4 – TENNESSEE SMOKIES 2
For the second time on the day, the Shuckers used some late-game offense to double up the Smokies 4-2 and secure the DH sweep. Ever since his promotion to AA, Anderson Espinoza has been nothing short of dominating, and that continued. Although he went just 3 2/3 innings, he didn't allow a run, surrendering just three hits and struck out six. He will finish his AA season with a 1.35 ERA.
Unlike their other game where Tennessee couldn't score, Morel made sure that would not be the case this time around, putting the Smokies up 1-0 with an RBI single in the first. Three innings later, and it was Bradlee Beesley coming through with an RBI double as Tennessee was able to double up their lead 2-0. Unfortunately for them, that would be all they could get on offense, which left the door wide open for Biloxi to rally late.
Mitch Longo provided the early spark for their offense, connecting for a home in the fifth before tying things up in the sixth with an RBI single. Down to their last at-bats in the seventh, it was Chad Spanberger going deep as his two-run shot gave Biloxi another walk-off win 4-2. Once again, Morel led the way with a pair of hits to go with his RBI. Beesley, Velazquez, and Grayson Byrd had the other three hits.
QUAD CITIES RIVER BANDITS 4 – SOUTH BEND CUBS 3
Walk-off losses were the theme last night as this game made it three walk-off losses on the night. In fact, South Bend is no stranger to losing via the walk-off against Quad Cities, as five of their last meetings at Quad Cities resulted in walk-off wins for the River Bandits.
Bailey Horn made his final start of the season, and he picked a great time to deliver his best outing. In four innings of work, Horn allowed one run on three hits to go with one walk and four strikeouts. He was acquired in the Ryan Tepera deal and should be a considerable piece moving forward. Taken 486th overall in this year's draft was Zachary Leigh, who continued his outstanding season by striking out three in two innings of work and lowering his ERA to 1.80.
All the damage done to Horn came in the first inning as the Quad Cities had the bases loaded. He picked a bad time to walk his only hitter walking John Rave with the bases loaded to force in a run. Outside that, he was brilliant, and he helped the offense out by taking pressure off them. It may have taken them six innings to score, but the Cubs wanted to make sure Horn was off the hook with Yonathan Perlaza hitting his team-high 15th homer to give the Cubs a 2-1 lead.
One inning later saw Quad Cities play long ball with Jake Means going deep for the second time in this series and 10th on the season to put the Cubs behind 3-2. Still trailing by a run in the ninth, the Cubs had runners on the corners and two outs as Bryce Windham stepped to the plate. What looked like a game-ending grounder turned into a costly error as Edmond Americaan raced home from third to tie the game up 3-3.
With two outs in the bottom of the ninth, Tyler Tolbert kept the inning alive, working a walk before stealing second. That proved pivotal as Parker Bates singled a few pitches later to score Tolbert and handed the River Bandits another walk-off win. The Cubs had six hits in the game coming from three players as Perlaza, Alexander Canario, and Tyler Durna all had two.
Quad Cities walks off South Bend for the second time this week, and the Cubs will suit up one more time tomorrow afternoon. pic.twitter.com/IrOydNwHxc

— South Bend Cubs (@SBCubs) September 19, 2021
MYRTLE BEACH PELICANS 12 – AUGUSTA GREENJACKETS 2
After erupting for 11 runs in the fourth inning Friday, the Pelicans offense was at it again on Saturday, dominating Augusta 12-2. Daniel Palencia picked a great time to win his first game making his final start of the season. Not only did he give Myrtle Beach five shut-out innings, but he allowed just one walk and one hit with seven strikeouts as he lowered his ERA to 3.67.
He received plenty of support from an offense that scored 12 times in three innings, with the first five of those coming in the third. Christian Franklin's first homer of the year opened the scoring with a 2-0 lead, only to see Owen Caissie add a sacrifice fly ahead of the Jonathan Sierra single to give the Pelicans a 5-0 lead.
Christian Franklin drilled his first professional HR to the opposite field gap tonight. pic.twitter.com/K5fxJyQZii

— Brad (@ballskwok) September 19, 2021
After a wild pitch made things 6-0 in the fourth, Myrtle Beach went back on the attack in the fifth, scoring six more times.
Sierra opened that big inning up with the Pelicans second homer as his two-run shot made things 8-0.
Jonathan Sierra's home run accounted for 2 of the 12 runs tonight!

Crack of the Bat Play of the Game presented by @VinesPlumbingSC pic.twitter.com/3PksewskcH

— Myrtle Beach Pelicans (@Pelicanbaseball) September 19, 2021
Josue Huma added an RBI single before groundouts by Franklin, Jacob Wetzel, and Jordan Nwogu, and just like that, the Pelicans were up 12-0 and were not looking back. Augusta did receiver a Tyler Tolve homer in the sixth to end the shutout bid, but that was it for their offense as the Pelicans made quick work of the Greenjackets 12-2.
This seems like the appropriate highlight to cap off the night with.@ehowardIV | #CubTogether pic.twitter.com/STCKqvVUIq

— Myrtle Beach Pelicans (@Pelicanbaseball) September 19, 2021
Ed Howard and Sierra led the way offensively with three hits, but it was Sierra and his four RBIs setting the tone. Nwogu, Caissie, and Huma added multi-hit games as everyone in the Pelicans lineup recorded at least one hit.
ACL CUBS 5 – ACL ATHLETICS 4
The Cubs capped off their impressive ACL season with a 34-26 record aided by their walk-off against the A's on Saturday.
Cubs pitching prospect Luke Little has 5 K's through 2 innings. Here is the 5th one #CubTogether pic.twitter.com/HsCqkbBuDA

— Prospects Worldwide (@ProspectsWorldW) September 18, 2021
Second-round pick James Triantos will be a player to watch next season as he hit a .327 with ACL, including six homers, two of them coming Saturday. The first of those came in the first as he gave the Cubs a 1-0 lead at that point.
James Triantos starting his day off on ???????? with a HR in his 1st AB #CubTogether pic.twitter.com/M9LacK5brV

— Prospects Worldwide (@ProspectsWorldW) September 18, 2021
Following a Pedro Pineda single in the fourth that tied things up, Malcom Quintero answered with a fifth-inning single of his own only to see Jorge Gordon tie things up in the seventh with a single of his own.
That set the stage for Triantos, and he didn't disappoint going deep for the second time in the eighth inning and giving the Cubs a 4-2 lead.
Video of #cubs @JamesTriantos 2nd HR. Note to self: get a shutterless camera. pic.twitter.com/5wM293GrxN

— John Antonoff (@baseballinfocus) September 19, 2021
The A's wouldn't go away quietly as singles from Gordon and Davonn Mackey brought things even once again, with the Cubs coming to bat in the ninth. BJ Murray Jr needed just five pitches to end the game as his second homer of the season provided the Cubs with the walk-off 5-4 win to end their season on a great note. Triantos capped off his season by collecting three hits to go with three RBIs in the win. Murray Jr added a pair of hits while Kevin Alcantara added one. Ismael Mena went hitless and finished his season, hitting .224 after the trade from San Diego this offseason.
DSL CUBS RED 3 – DSL CUBS BLUE 2
With each passing win, the DSL CUBS Red team moves closer to .500 as they sit at 22-26 on the season. They capped off a great 4-1 week of play with a 3-2 win over DSL Blue. Pitching was solid all the way around as several pitchers on both sides provided multiple innings of work and kept offenses in check.
In the first inning, DSL Blue opened the scoring with Leonel Espinoza connecting for an RBI groundout and 1-0 lead. That lead would hold until the bottom of the fourth inning when Anderson Suriel showed off the wheels legging out his fifth triple of the season to put Red on top for good 2-1. Red added to that lead in the seventh when a costly error by Blue allowed Starlin Mateo to reach first, pushing home another run to make things 3-1.
That error proved to be the deciding factor in the game, with Dilan Granadillo picking up an RBI single in the ninth to pull within 3-2 only to see Blue lose by that score. DSL Blue connected for six hits with Granadillo, Cristian Hernandez, Raul Guzman, and Frank Hernandez, to name a few. Cristian Hernandez continues to hit well as his average is .293 this season.
For DSL Red, they were led by Suriel and his two hits to go with his two RBIs as they had just three hits in the game. Pedro Ramirez added the other hit and is still hitting .351 despite a recent slump that dropped his average 45 points.

Tags: Cubs Baseball
,
Luis Lugo
,
Levi Jordan
,
Brennen Davis
,
Abiatal Avelino
,
Samuel Reyes
,
Nelson Velazquez
,
Christopher Morel
,
Grayson Byrd
,
Ryan Tepera
,
Yonathan Perlaza
,
Edmond Americaan
,
Tyler Durna
,
Jonathan Sierra
,
Josue Huma