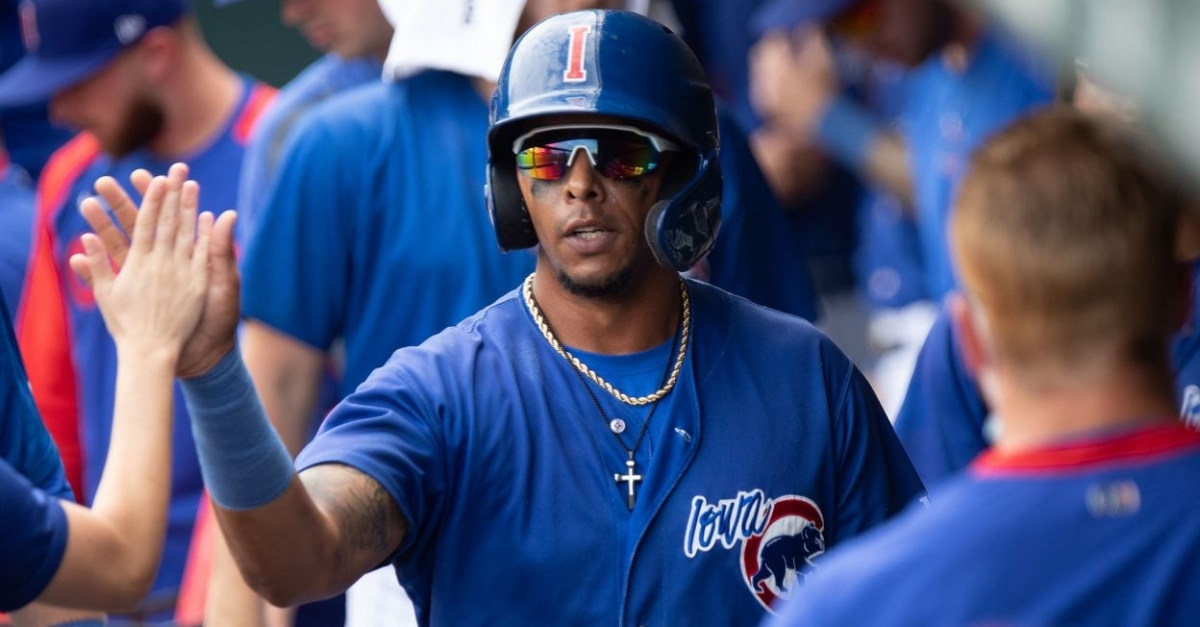 | | |
| --- | --- |
| Cubs Minor League News: Ladendorf impressive in I-Cubs loss, Yohendrick Pinango homers, mo | |
---
Sunday was a sad day for the Cubs organization as three teams saw their 2021 seasons come to an end with no playoff baseball. South Bend, Tennessee, and Myrtle Beach played their final games on Sunday as most full-season leagues came to a close.
The lone exception will be AAA Iowa, who played their final six-game series of the season, but will have two five-game sets across the next two weeks as they will play into October. They will be an exciting team to follow over the next two weeks to see how many players go from AAA to the MLB level and to see if any players from the other Full season teams have an opportunity to play more games this season in AAA.
OMAHA STORM CHASERS 10 – IOWA CUBS 3
The Cubs concluded their series with Omaha on Sunday and did so, dropping the series finale 10-3. The Cubs elected to go with a bullpen game, with Dakota Mekkes getting the start and allowing just one run in two innings. Erich Uelmen struggled in his 2/3 innings of work while Jackson McClelland, Aneurysm Rosario, Blake Whitney, and Brenden Little saw action on the mound.
Outside of the homer by Lucius Fox in the first inning, Mekkes pitched well as he has gotten back on track after a rough go in August. That 1-0 lead didn't last long, with Tyler Ladendorf connecting for his seventh homer in the second to put the Cubs in front 2-1, before a wild pitch in the third extended the lead to 3-1.
Not one. Not two. But THREE home runs for @tyler_ladendorf last week.

His third HR of the series gave us the lead and is our @iaonecall Home Run Call of the Road Trip! ?? pic.twitter.com/NPp8RB09sy

— Iowa Cubs (@IowaCubs) September 20, 2021
The bottom of the third is when the Omaha offense came to life, scoring nine unanswered runs across the next five innings to close out the game.
Four of those runs came in that third inning to help the Storm Chasers grab the lead for good 5-3. Travis Jones opened the scoring in that inning with a homer before the Enmanuel Rivera groundout tied things up 3-3. Following a costly error that put Omaha back in front, MJ Melendrez added an RBI double as Omaha was starting to hit their stride, leading 5-3.
Fox followed up his first-inning homer with an RBI double in the fourth to extend the lead to 6-3 before the Dairon Blanco single made things 7-3 in the fifth. Omaha capped off their scoring with a pair of homers using a Rivera two-run shot in the sixth and a Jones solo shot in the seventh to pick up the 10-3 win.
The Cubs collected six hits in the game, with two coming from Ladendorf and Levi Jordan. Brennen Davis continued his AAA hitting streak with another hit joining Johneshwy Fargas, who has been on a tear since returning to AAA.
Omaha took the series finale this afternoon. pic.twitter.com/aEhojx9ken

— Iowa Cubs (@IowaCubs) September 19, 2021
BILOXI SHUCKERS 5 – TENNESSEE SMOKIES 0
The Smokies season came to an end on Sunday in fitting fashion as they fell to the Shuckers 5-0. The loss handed the Smokies a 46-63 record and a second consecutive rough season. Joe Nahas capped off his season by giving Tennessee a four-inning start allowing four runs on six hits. His 7.98 ERA in AA is not good, but he did pitch well in High-A this season.
Nahas got off to a great start through two innings before the wheels came off in the third. With Hayden Cantrelle coming through with what will be credited a game-winning single, Mitch Longo brought him home with an RBI triple before coming home himself on a Chad Spanberger single to give Biloxi the 3-0 lead.
The Shuckers offense kept the pressure on in the fourth, with Cantrelle using his speed to leg out the second RBI triple of the day to extend the lead to 4-0. A bases-loaded walk to Thomas Dillard in the sixth pushed home the final run of the day as Tennessee couldn't get much going offensively.
Luis Vazquez had a great day at the plate, collecting three of the team's seven hits to finish his season with a .241 average. Carlos Sepulveda, Grayson Byrd, Bradlee Beesley, and Caleb Knight all had hits in the loss. Despite going hitless in the game, Nelson Velazquez had a great season and will garner consideration for the organizational player of the year.
Velazquez finished his season hitting .270, including .290 in AA with 20 homers and 73 RBIs while swiping 17 bases. On the other hand, Christopher Morel hit just a .220, but led Tennessee in homers and RBIs with 17 homers and 64 RBIs.
SOUTH BEND CUBS 5 – QUAD CITIES RIVER BANDITS 4 (10 innings)
The defending Midwest League champions ended their season on a positive note topping the River Bandits 5-4 in extras. Considering how many times the Cubs ended up on the short end of the stick against this team, it was great to end up on the other end even if they finished 52-67 this season.
Jordan Wicks made his final start of the 2021 season and gave the Cubs three innings of one-run ball in a significant step for his development. He gave way to Tyler Santana, who allowed one unearned run through three innings and finished his rookie season with a 1.50 ERA with South Bend and a 1.35 ERA overall.
Wicks ran into some first-inning trouble allowing a Nathan Eaton RBI double, but outside of that, he did what he needed to do to keep things close. A William Hancock sacrifice fly doubled the River Bandits lead 2-0 in the fourth before the Cubs finally started to get the bats working. With just two swings, the Cubs took a 2-0 game and tied things up as Jake Washer went deep for the second time in the fifth, followed by Yohendrick Pinango and his first High-A homer in the sixth.
The Cubs continued to keep the pressure on in the eighth inning as they took a 3-2 lead off a wild pitch. With Bailey Reid now on to close out the game in the ninth, Quad Cities wouldn't go away quietly using the Jake Means sacrifice fly to tie things up 3-3 and force extras. In the extra frame, Sacrifice flies by Yonathan Perlaza and Alexander Canario gave the Cubs a 5-3 lead, but the Canario fly proved to be the difference.
Parker Bates added an RBI single in the bottom of the 10th to pull within 5-4, but that would be it as Dalton Stambaugh secured his first save of the season. Jake Slaughter and Pinango led the way with a pair of hits, while Bryce Windham, Washer, and Edmond Americaan all had hits. Pinango put together a great first full season as a pro, hitting a .289 with South Bend and .276 overall with five homers and 36 RBIs.
Acquired through trades were Bryce Ball and Canario, as each look to be critical pieces for the Cubs. For Ball, the big first basemen hit just a .206, but .207 with South Bend to go with seven homers and 21 RBIs. He also took 40 walks and 62 strikeouts, displaying a great eye at the plate. Canario, on the other, broke onto the scene with South Bend, and now it will be interesting to see what he does for an encore. Despite hitting .224 with the Cubs, Canario belted nine homers and 28 RBIs in just 42 games as the power was on full display.
South Bend holds on to win their final game of the season! Thank you all who tuned in and supported the #SBCubs all season long, we hope to see you next season!#CubTogether pic.twitter.com/q0Tr3JAA2O

— South Bend Cubs (@SBCubs) September 19, 2021
AUGUSTA GREENJACKETS 2 – MYRTLE BEACH PELICANS 1
With a chance to finish their season at .500, the Pelicans fell to 59-61, losing a heartbreaking 2-1 decision to close out their season. Porter Hodge was back on the mound for the Pelicans delivering four strong innings of two-run ball with six punchouts as he finished his season with a 3.74 ERA with Pelicans.
Fellow ACL pitcher Luis Devers gave the Pelicans a pair of scoreless innings to go with four punchouts as he finished his season out in a positive manner. As good as Hodge was, the first inning was not too kind, which follows a trend for much of the season. Not only did Hodge have to navigate through traffic, but he allowed RBI doubles to Justyn-Henry Malloy and Landon Stephens as the Greenjackets built a 2-0 lead early.
Ironically, those would be the lone runs for Augusta as the Pelicans had to scratch and claw for something to happen. In the eighth, their efforts finally paid off, with Fabian Pertuz, Jacob Wetzel, and Owen Caissie taking walks to load the bases with two down. In need of a hit to tie things up, Casey Optiz continued the patient approach as his walk brought home a run to make things 2-1. That would be all the Pelicans would get as they couldn't cash in with the clutch hit needed to end the season on a high note.
Cheers to a great season.

Thank you fans!! #MBPelicans pic.twitter.com/ABJ330EWic

— Myrtle Beach Pelicans (@Pelicanbaseball) September 19, 2021
The Pelicans connected for four hits, with Josue Huma leading the way with two. Ed Howard and Caissie tallied the remaining two for a good showing for the Pelicans this year. Speaking of Howard, the 2020 first-round pick finally saw the field this year and didn't disappoint. The SS/2B got better as the season went on, hitting .225 with four homers and 31 RBIs.
Fellow 2020 selection Jordan Nwogu also made his professional debut this season and delivered a great season. While his .248 average you would like to see higher, he did lead the Pelicans in homers with 10 and RBIs with 40 showing the power that everyone talked about out of school. Acquired in the Darvish trade, Caissie couldn't have asked for a better first season combing to hit .302 across the ACL and Low-A leagues this season, adding seven homers and 29 RBIs to the mix.
We appreciate y'all.#MBPelicans | #CubTogether pic.twitter.com/S0gbGtSmya

— Myrtle Beach Pelicans (@Pelicanbaseball) September 19, 2021

Tags: Cubs Baseball
,
Dakota Mekkes
,
Erich Uelmen
,
Levi Jordan
,
Brennen Davis
,
Luis Vazquez
,
Carlos Sepulveda
,
Grayson Byrd
,
Caleb Knight
,
Nelson Velazquez
,
Christopher Morel
,
Yonathan Perlaza
,
Edmond Americaan
,
Josue Huma